Chris Jones' Positive COVID-19 Test Stages a Massive Challenge for Chiefs in Season-Altering Battle Against Justin Herbert and the Chargers
After a rough start to the 2021 NFL season, the Kansas City Chiefs are finally starting to hit their stride. However, Andy Reid's squad just suffered a significant setback before a pivotal Thursday Night Football matchup against the Los Angeles Chargers. Chris Jones tested positive for the coronavirus (COVID-19), which could spell trouble against Justin Herbert and the Chargers offense.
Chris Jones tested positive for COVID-19
The Kansas City Chiefs have been practicing without Chris Jones after placing him on the reserve/COVID-19 list.
According to ESPN, Jones tested positive for the coronavirus earlier in the week. The Chiefs have also placed wide receiver Josh Gordon and linebacker Willie Gay Jr. on the reserve/COVID-19 list.
The positive test didn't immediately rule Jones out of the Thursday Night Football game tilt against the Chargers. Under the NFL's protocols, he could play if he's symptom-free and has two negative tests 24 hours apart since he's vaccinated.
According to NFL insider Matt Verderame, the Chiefs are not optimistic about the two-time Pro Bowler suiting up against LA.
If Jones cannot go, it would be a huge loss for a Kansas City defense that's playing inspired football right now. So far in 2021, he's recorded 20 tackles, seven sacks, and five pass deflections in 11 games.
The Chiefs need to figure out a way to pressure Justin Herbert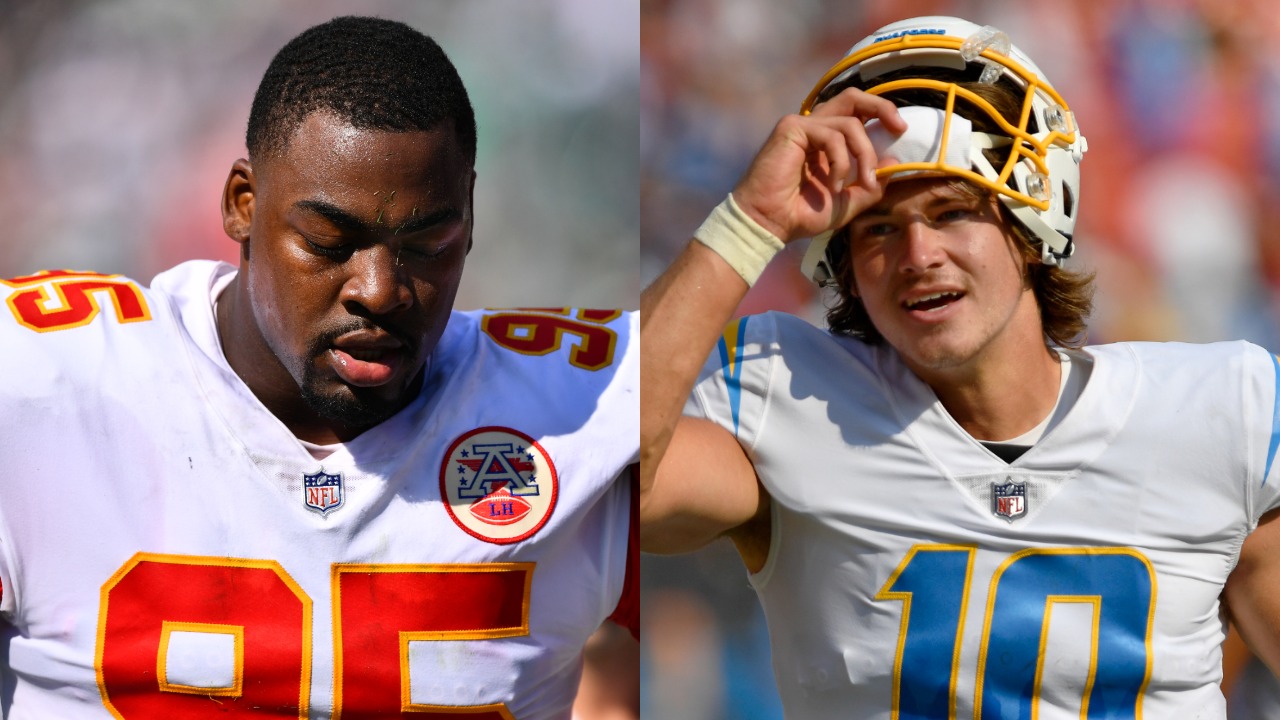 Opposing offenses had their way with the Kansas City Chiefs defense early in the 2021 season. However, Steve Spagnuolo's unit has flipped a switch in recent weeks.
The Chiefs now take their sixth-ranked defense into a high-stakes battle against the LA Chargers at SoFi Stadium.
The biggest key to defeating the Chargers is getting pressure on Justin Herbert. The reigning Offensive Rookie of the Year has been on a tear as of late. The second-year quarterback has led LA to two straight convincing victories over the Cincinnati Bengals and New York Giants.
When Herbert has time to throw, he can make a defense pay. The Oregon product has thrown for 3,822 yards, 30 touchdowns, and 11 interceptions while completing 67.1% of his passes.
In Jones' absence, defensive end Frank Clark would need to step up and lead the pass-rushing efforts. Clark has struggled at times during the season, but Kansas City needs him now more than ever.
Chris Jones is also a disruptive presence in the run game. If he's unable to go, Chargers running back Austin Ekeler could have a field day.
Kansas is trying to fend off the Chargers in the AFC West
One game separates the Kansas City Chiefs and the LA Chargers in the tight AFC West race. The Week 15 matchup could go a long way toward determining which team comes out on top by season's end.
Patrick Mahomes and company are currently in first place with a 9-4 record. However, Justin Herbert's Chargers are right on their heels at 8-5.
LA outlasted Kansas City 30-24 in the first meeting between the two teams in Week 3. Expect a different Chiefs team this time around, though.
Kansas City's offense is still far from perfect, but the defense has been balling lately.
Still, not having Chris Jones on the field would be a massive blow. Jones is one of the most dominant defensive linemen in football, whether rushing the passer or clogging lanes to stop the run.
Veteran safety Tyrann Mathieu understands how important it is for the Chiefs to have Jones on the field.
"The only guy you can really compare him to is Aaron Donald when you talk about inside dominance," Mathieu said, per The Athletic. "It's going to be a big challenge for us to replace him. But we're healthier. Up front, we're able to rotate those guys in and out. All those things will work out for us Thursday."
Even without Jones, it sounds like the Chiefs want to rebound in a major way against their AFC West rivals.
All stats courtesy of Pro Football Reference