Chris Paul Channels Michael Jordan in Historic NBA Finals Debut
Chris Paul waited 16 years to reach the NBA Finals. He put up a historical performance to clinch a spot in those Finals for the Phoenix Suns. Now he's followed that up with a legendary if delayed, NBA Finals debut in the wake of a sometimes-trying playoff run.
Paul wasn't the only player in Game 1 to hit a rare milestone. Indeed, Phoenix's 118–105 victory over the Milwaukee Bucks in the series opener was chock full of historical feats. Suns center Deandre Ayton joined one exclusive group. He just missed joining another, as irony would have it, thanks to Chris Paul.
The Bucks and Suns, two teams that entered Game 1 with a combined six games of Finals experience, did not appear overwhelmed by the big stage. In addition to Paul's heroics, it was a big night for a couple of the big men.
Chris Paul prevented Ayton's bid to join three Hall of Famers
Deandre Ayton had a massive NBA Finals debut. With 22 points and 19 rebounds, Ayton became the first player since Tim Duncan in 1999 with at least 15 points and 15 boards in his first Finals game, per Justin Kubatko, the creator of Basketball-Reference. Ayton got to the milestone first; Bucks star Giannis Antetokounmpo, playing a week after hyperextending his left knee, finished with 20 points and 17 rebounds.
About those rebounds, though. On Milwaukee's final possession of the game, it appeared Chris Paul stole a rebound from Ayton. The former No. 1 overall pick has had a breakout performance in his first playoff appearance and told Gerald Bourguet of The Step Back it didn't bother him.
"Yeah, Book (Devin Booker) got on him; I didn't really care."

Deandre Ayton
Missing out on that final rebound prevented Ayton from joining an extraordinarily elite group. Only three players have grabbed 20 boards in their first NBA Finals game. You may recognize some of the names.
Wilt Chamberlain, 1964 San Francisco Warriors, 22
Larry Bird, 1981 Boston Celtics, 21
Bill Walton, 1977 Portland Trail Blazers, 20
Now, about that Chris Paul performance.
Game 1 of the NBA Finals featured a virtuoso performance from Paul
Chris Paul finished his night with 32 points, nine assists, and four* rebounds on 12-of-19 shooting. Paul hit 4-of-7 from deep on the way. It's made more remarkable by the fact he did all of his scoring over the final three quarters.
Paul did not score in the first period, missing both of his attempts as the Suns worked their way to a 30–26 lead. He became the first player with at least 30 points and eight assists in a Finals debut since Michael Jordan in 1991, per ESPN.
The 32-point debut wasn't Paul's only historical accomplishment in Game 1. He also joined Kareem Abdul-Jabbar and Tim Duncan as the only players age 36 or older to have a 30-point game in the NBA Finals. Abdul-Jabbar did it six times and probably should come up much more often in the never-ending greatest-of-all-time discussions.
He previously broke a Jordan record with his 41-point performance in Game 6 of the Western Conference Finals. And with 73 points, 17 assists, and 28-of-43 shooting over his last two games, Paul became the third Phoenix Suns point guard (and, oh, by the way, the fourth player ever) with at least 70 points and 15 assists while shooting better than 65% over consecutive playoff games, per ESPN.
Paul joins another quite impressive list. Steve Nash, Kevin Johnson, and Oscar Robertson could play a little bit. But Chris Paul still had some more for the history guys.
Chris Paul contributed to a history-making duet in Game 1 of the NBA Finals, as well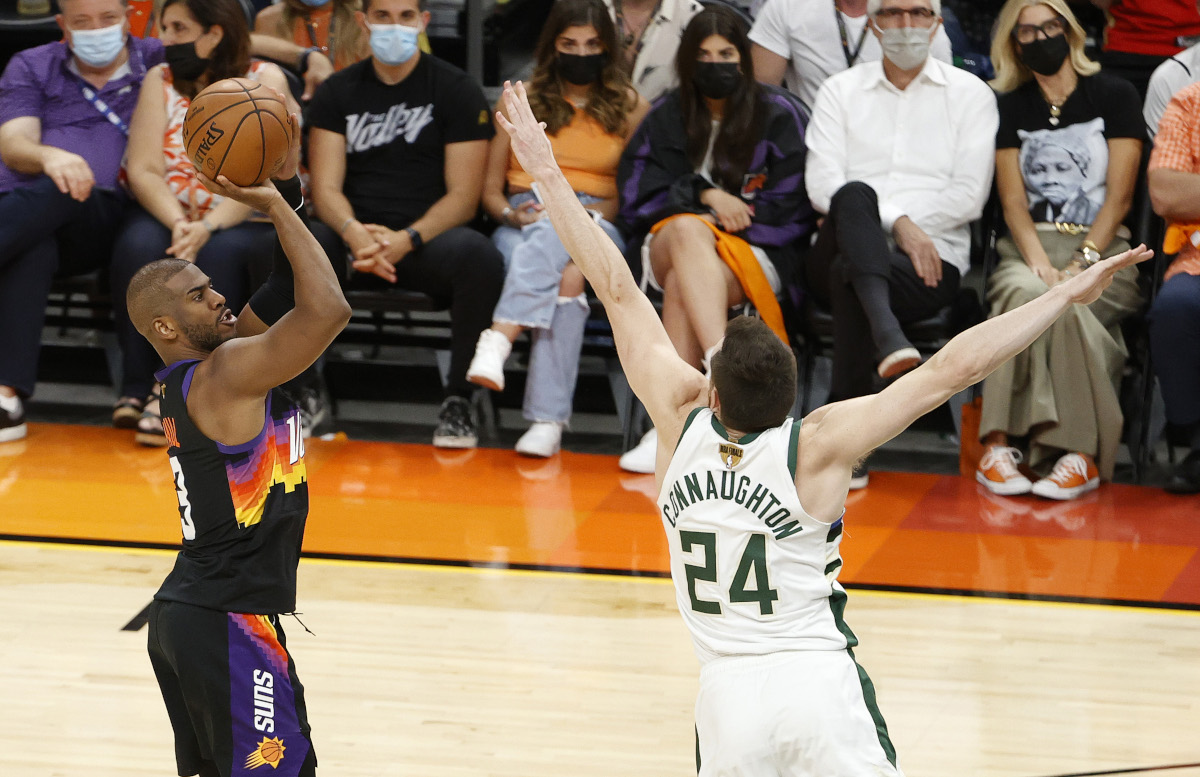 With his 32-point performance in Game 1, Chris Paul ticked off many boxes in the NBA history books. He also gets a mention as part of a high-production tandem.
Paul (32 points) and Devin Booker (27 points) are the first teammates to score at least 25 points apiece in their NBA Finals debuts since 2012 and just the third set to do so since 1980.
Kevin Durant and Russell Westbrook accomplished the double-25 trick for the Oklahoma City Thunder in 2012. The only other duo to pull it off was Shaquille O'Neal and Anfernee Hardaway of the Orlando Magic in 1995. (Phoenix fans, ignore the whole "but those teams both lost" thing.)
The Phoenix Suns came out firing in Game 1. It's the Suns' first appearance in the Finals since losing to Jordan and the Chicago Bulls in 1993.
Chris Paul helped the Suns draw first blood in the series. Game 2 is Thursday, July 8, in Phoenix before the Finals shift to Brew City for Game 3.
RELATED: Never Forget the Milwaukee Bucks Had the Chance to Get Chris Paul and Passed