Chris Paul Could Be the Perfect Fit for the Suns Next Season
Chris Paul isn't putting the brakes on a Hall of Fame-caliber career just yet. After a disappointing tenure in Houston and an offseason trade to the Oklahoma City Thunder, Paul revived his career and has a rebuilding team positioned for the NBA playoffs. Thunder fans should be glad the immediate rumors of Paul being bought out or traded never materialized and he spent the year in Oklahoma City. But if Paul has an opportunity to switch teams this offseason, the Phoenix Suns should be near the top of his list.
Paul brings experience to a young Suns team
It's hard to believe Paul somehow only turns 35 in May. Paul entered the league as the No. 4 overall pick of the then-New Orleans Hornets in 2005 and has built an excellent Hall of Fame resume over that time. With 10 All-Star Games and eight All-NBA selections, Paul would arrive in Phoenix as the most qualified and successful player since Steve Nash left for the Lakers in 2012.
Phoenix entered the 2019-20 season with the league's youngest roster, according to the NBA's official roster survey. The Suns' average age per player was just 24.49 years. Phoenix's 2.80 average seasons of NBA experience per player trailed only the Boston Celtics' 2.73 mark. Adding Paul, who has done a terrific job leading the Thunder this year, as an intelligent veteran would give the Suns a tremendous boost on and off the court.
How can the Suns land Paul?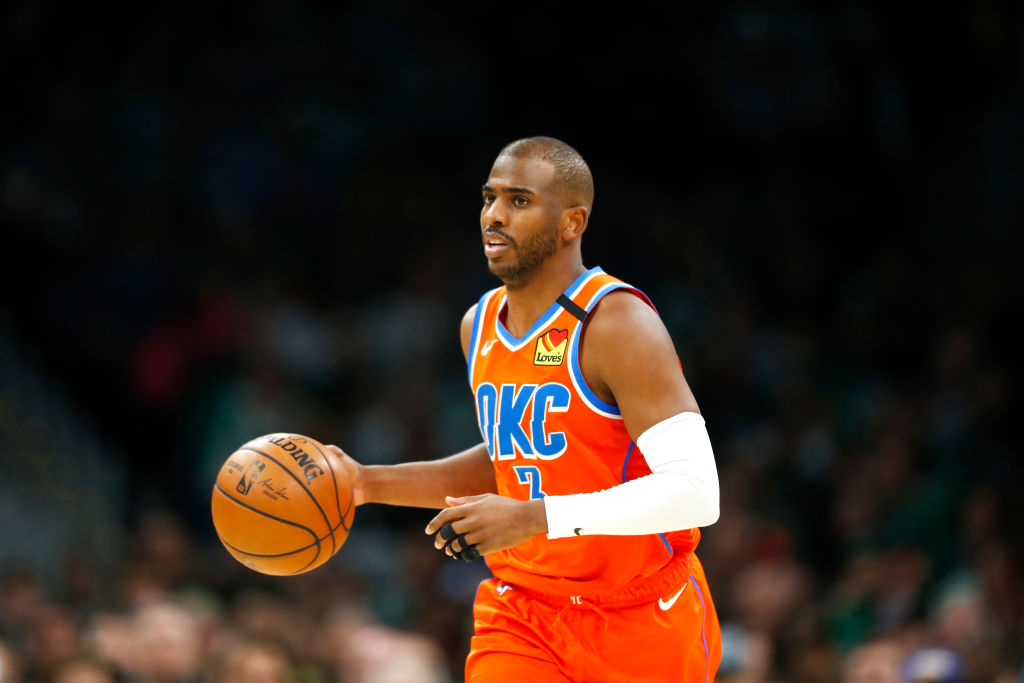 The good news is the Suns currently have the sixth-lowest payroll for the 2020-21 season. The bad news is only bad for teams wanting to employ Paul, who is still owed over $40 million each of the next two seasons. Paul cashed in big with the Houston Rockets and it may require teams to get creative, just as the Thunder did in the Russell Westbrook trade last summer.
Oklahoma City almost certainly isn't going to cut Paul, nor would any team that acquires him in a salary dump. Paul carries a $41.3 million cap hit next season and a $44.2 million hit in 2021. While Paul could opt out of his contract to control his own destiny, he has already dismissed such an idea.
"No chance," Paul told Sports Illustrated in January 2020 about opting out. "That's not happening. Nope."
Why should the Suns consider adding Chris Paul?
Phoenix has already quietly won its most games since the 2014-15 season. Devin Booker is a perennial All-Star and former top pick Deandre Ayton is averaging a double-double. Former Pelicans head coach Monty Williams has done an excellent job in finally getting progress from one of the league's more disappointing franchises of late.
The Western Conference is undergoing an interesting shift of power. Perennial playoff contenders San Antonio and Portland took steps back this season, as did a Kings team that made strides last year. Golden State is poised to have the trio of Draymond Green, Klay Thompson, and Stephen Curry next year, though the latter two are each coming off extended injuries. New Orleans should be in the playoff hunt if No. 1 overall pick Zion Williamson stays healthy.
Landing Chris Paul wouldn't guarantee the Suns a spot in the 2021 Western Conference Finals, let alone a playoff berth. But acquiring a veteran point guard known for his leadership and on-court skillset would at be a step in the right direction for a team with only one winning year since 2010.