Chris Paul Could Soon Team up With an Elite Young Scorer on a Team Hardly Talked About
Chris Paul is an intriguing name so far during the young NBA offseason. Paul is 35 years old, but he is coming off a pretty successful season with the Oklahoma City Thunder, who he ultimately helped lead to the playoffs. Ever since the season ended, though, Paul's name has been linked to rumors with the LA Lakers, New York Knicks, and several other teams. However, there is one dark-horse team that could reportedly acquire him — the Phoenix Suns.
Chris Paul proved that he still has a lot left in the tank
In 2017-18 and 2018-19, Paul played for the Houston Rockets and had a ton of success. He averaged 18.6 points per game and 7.9 assists in 2017-18 and helped the Rockets become one of the top teams in the Western Conference. They ultimately went 65-17 that year and reached the Western Conference Finals. They took a 3-2 lead in the conference finals too but ultimately lost to the Golden State Warriors in seven games.
Paul's scoring numbers for the Rockets then went back a bit in 2018-19. He averaged 15.6 points per game and 8.2 assists. Paul also only shot 41.9% from the field that year, which was the lowest of his career. The Rockets then ultimately lost to the Warriors in the playoffs again, and Houston eventually traded Paul and some picks to the Thunder for Russell Westbrook in the offseason.
During the 2019-20 season with the Thunder, Paul had a great year. He averaged 17.6 points per game and 6.7 assists. He also shot 48.9% from the field, which was his highest percentage since 2009-10 when he was only 24 years old. Paul's play ended up leading the underdog Thunder team to a 44-28 record and the No. 5 seed in the Western Conference. They, however, lost to the Rockets in seven games in the First Round of the playoffs.
He could potentially get traded to the Phoenix Suns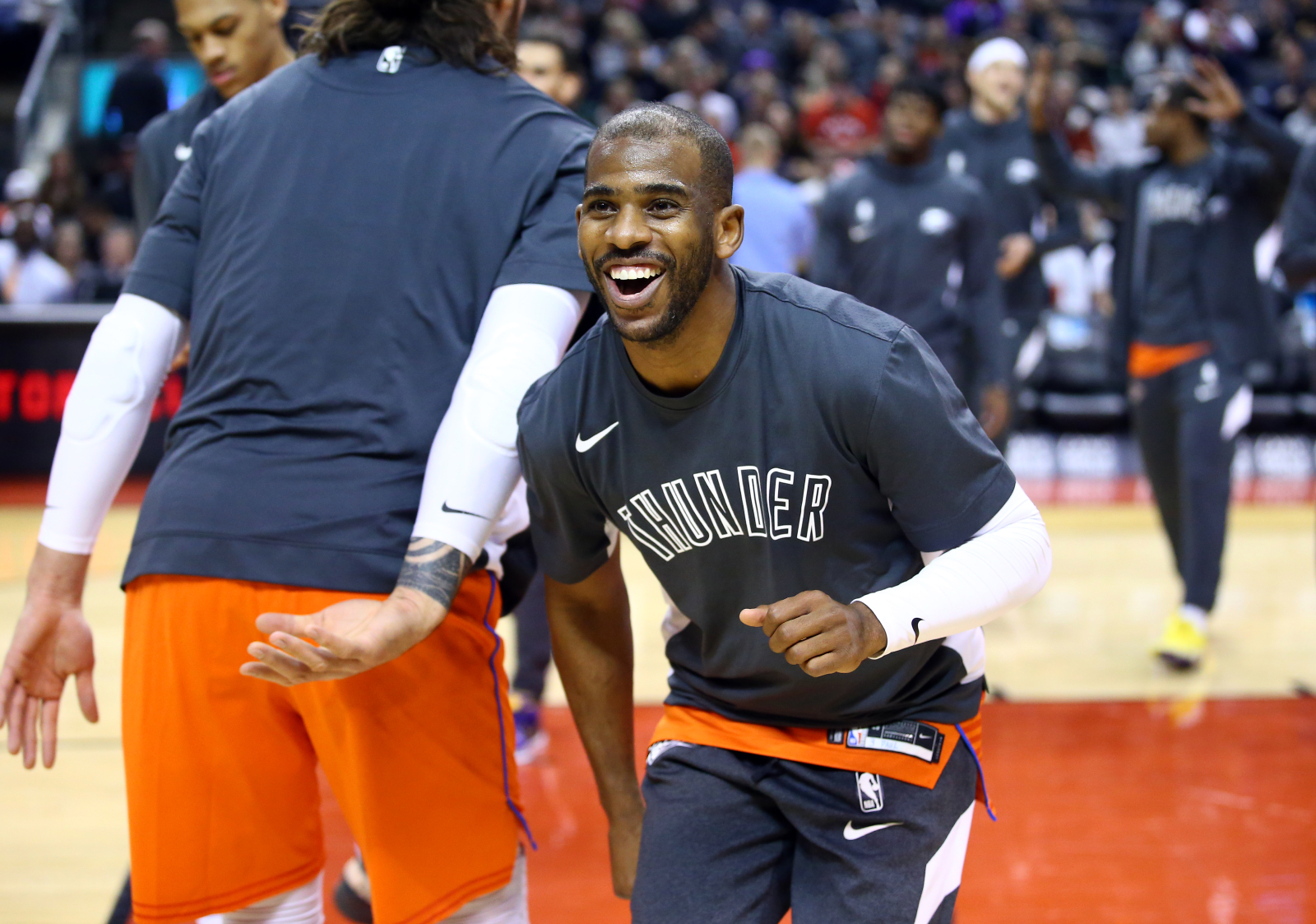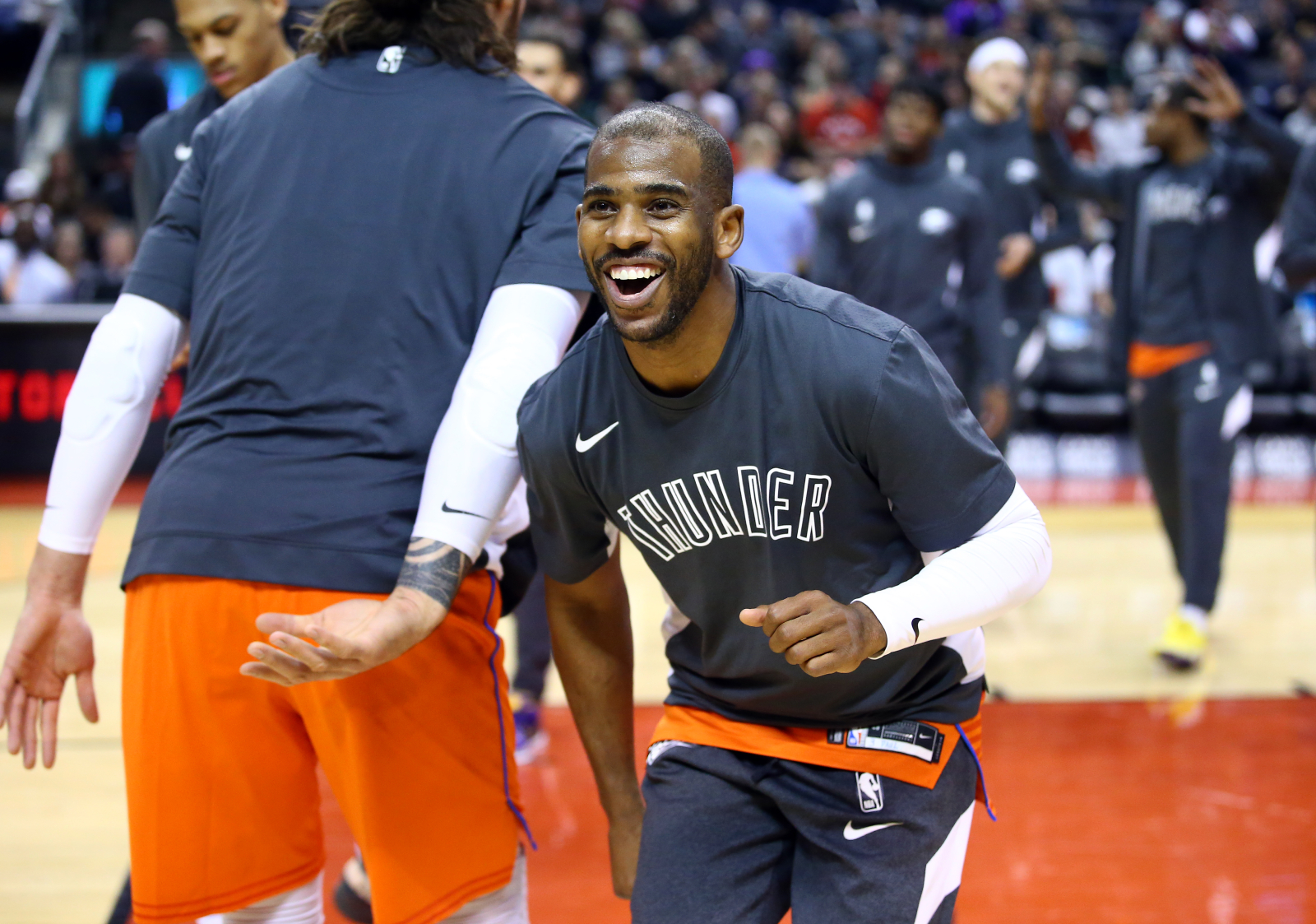 Despite Paul's success for the Thunder this past season, there have been a plethora of trade rumors about the point guard. According to Sports Illustrated, he is owed more than $41 million in the 2020-21 season. He also has a player option worth more than $44 million for the 2021-22 season.
Among the teams linked to Paul in trade rumors so far are the Milwaukee Bucks, Philadelphia 76ers, New York Knicks, and LA Lakers.
However, ESPN's Zach Lowe recently had Bill Simmons on his The Lowe Post podcast, and they both appear to think that another team could be a dark horse to acquire Paul. That team is the Phoenix Suns.
"How about this? … Chris Paul for Ricky Rubio and Kelly Oubre," Simmons said. "It actually works under the cap. OKC would get two more years of Rubio. Oubre's an expiring [contract] they could spin him off if they want. I actually think he has value as a wing and as an expiring deal."
Lowe mentioned that the Suns have some pressure to be in win-now mode after going 8-0 in the NBA bubble.
"I think we're on to something; I think they're going to be hunting around for stuff. I'm glad we brought them up," Lowe said.
So, if the Suns were to land Paul, how would he fit on that team?
Chris Paul and the Phoenix Suns would be a perfect match
The Phoenix Suns were extremely close to making the playoffs in 2019-20 thanks to their incredible performance in the NBA bubble.
They ultimately went 8-0 in the bubble with wins over the Dallas Mavericks (twice), LA Clippers, Indiana Pacers, Miami Heat, Oklahoma City Thunder, and Philadelphia 76ers. Having a veteran like Chris Paul could have gotten them over the hump and into the playoffs.
The Suns have one of the best scorers in the NBA in Devin Booker, who averaged 26.6 points per game this past year at only 23 years old. They also have a top big man in Deandre Ayton, who averaged 18.2 points per game and 11.5 rebounds. He was also only 21 years old. Adding Paul would then not only give the Suns an effective scorer but also someone who could set guys like Booker and Ayton up to score themselves.
Paul would also bring leadership to the Suns as he has played in 109 total playoff games in his career. Phoenix hasn't made the playoffs as a franchise since 2009-10.
Chris Paul certainly proved that he still has a lot left in the tank for the Thunder this past season. He could have an even better year next season, though, playing alongside one of the league's best scorers, as well as one of its top big men on the Phoenix Suns.
Stats courtesy of Basketball Reference