Chris Paul Destroyed Gilbert Arenas in a Pre-Draft Workout and Learned a Lesson in the Process
Chris Paul and Gilbert Arenas were two of the most exciting NBA point guards to watch over the past 15 years. Before the 2005 NBA Draft, Paul had a chance to take the floor with Arenas, who was already in the league. The events of that day have stuck with the 16-veteran throughout his professional career.
Chris Paul was a standout at Wake Forest
Chris Paul attended West Forsyth High School and immediately began turning heads on the basketball court. By his junior season, the Winston-Salem, North Carolina native was already on the radar of college coaches. As a senior, he once scored 61 points to honor his late grandfather.
Paul was named North Carolina's Mr. Basketball and a McDonald's All-American. A five-star prospect per Rivals, he received several scholarship offers from major college basketball programs. CP3 committed to Wake Forest over North Carolina, North Carolina State, and Boston College.
He played at Wake Forest for two years before turning pro. The 6-foot guard averaged 15 points, 6.3 assists, and 3.9 rebounds across those two seasons. Paul was the 2003 ACC Rookie of the Year and third-team All-ACC as a freshman. In his sophomore season, he earned All-ACC and ACC All-Defense honors. He was also named a consensus first-team All-American.
Paul's dominance with the Demon Deacons led to the guard flying up NBA teams' draft board ahead of the 2005 draft.
Paul worked out against Gilbert Arenas before the draft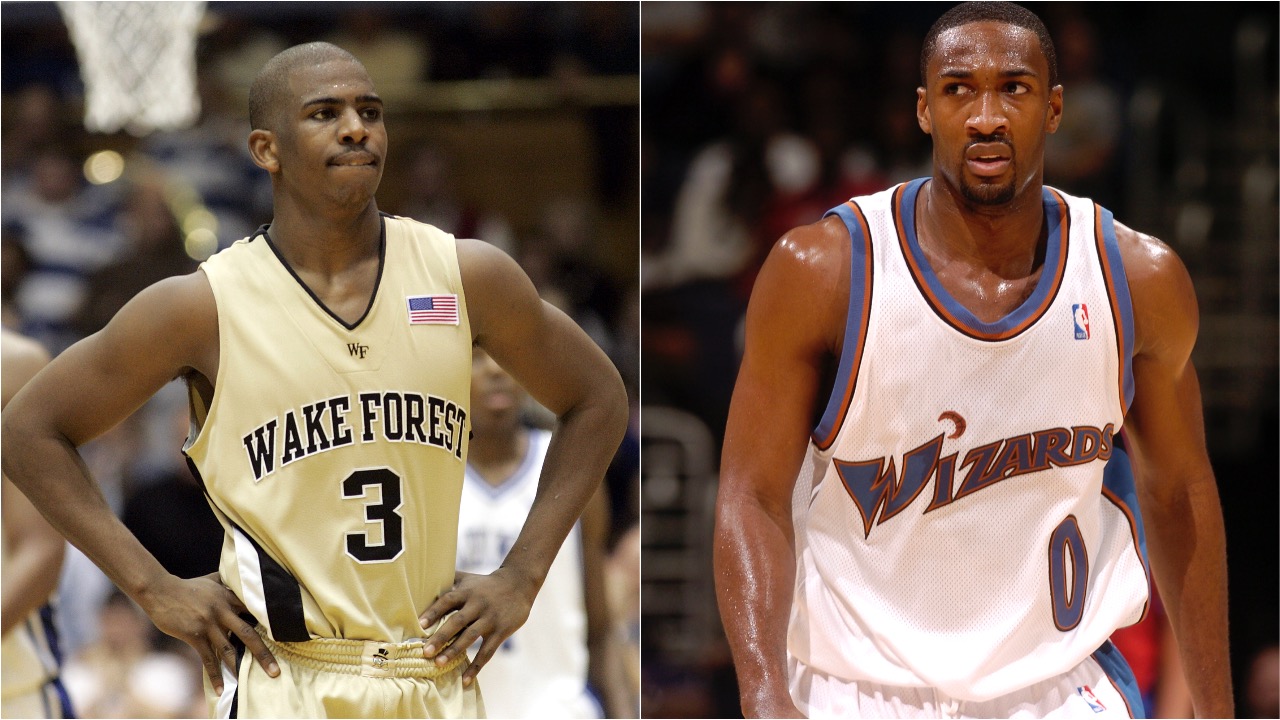 The Golden State Warriors drafted Gilbert Arenas in the second round of the 2001 NBA Draft out of Arizona. He spent his first two seasons with the Warriors before joining the Washington Wizards.
Arenas was the first NBA player Chris Paul went up against before he was drafted. The former Demon Deacons star sat down with Arenas on his No Chill Podcast to discuss their pre-draft encounter.
CP3 worked out with trainer Idan Ravin to prepare for the draft. Ravin set up for the four-year pro to join the prospective first-round pick in workouts. The two players ended up playing one-on-one against each other. "I was killing Gil," said Paul.
The host then told his side of the story. He said Ravin called him up and told him about Paul being a top-5 guard in the draft class. Arenas was under the impression that it would simply be a workout. It was the offseason, so he wasn't in season mode just yet. After years of telling people he won the matchup, he finally admitted that CP3 got the best of him.
Not only did he beat an established NBA guard, but he also learned a valuable lesson that sticks with him to this day.
Chris Paul paid it forward with Josh Hart
As an established NBA player, Gilbert Arenas did not need to take time out of his day to work out with a draft prospect. He did it anyway. The gesture did not go unnoticed by Paul.
The 11-time All-Star had an opportunity to pay it forward in 2017. New Orleans Pelicans guard Josh Hart was preparing for the 2017 NBA Draft. Idan Ravin reached out to Paul to see if he'd be willing to come to work out with the Villanova standout.
He instantly recalled the time Arenas worked out with him. "All I can think about is how Gilbert showed up for me," he said. Paul had a prior obligation the following day but was flexible and opted for an early morning workout.
The workout with Arenas taught him to lend a hand to the younger players who are trying to find their way. It helped him grow as a player, and Phoenix Suns guard has enjoyed a Hall of Fame career.
Chris Paul didn't take it easy on Hart thought. He says he destroyed him that same way he did Gilbert Arenas.
All stats courtesy of Basketball Reference.