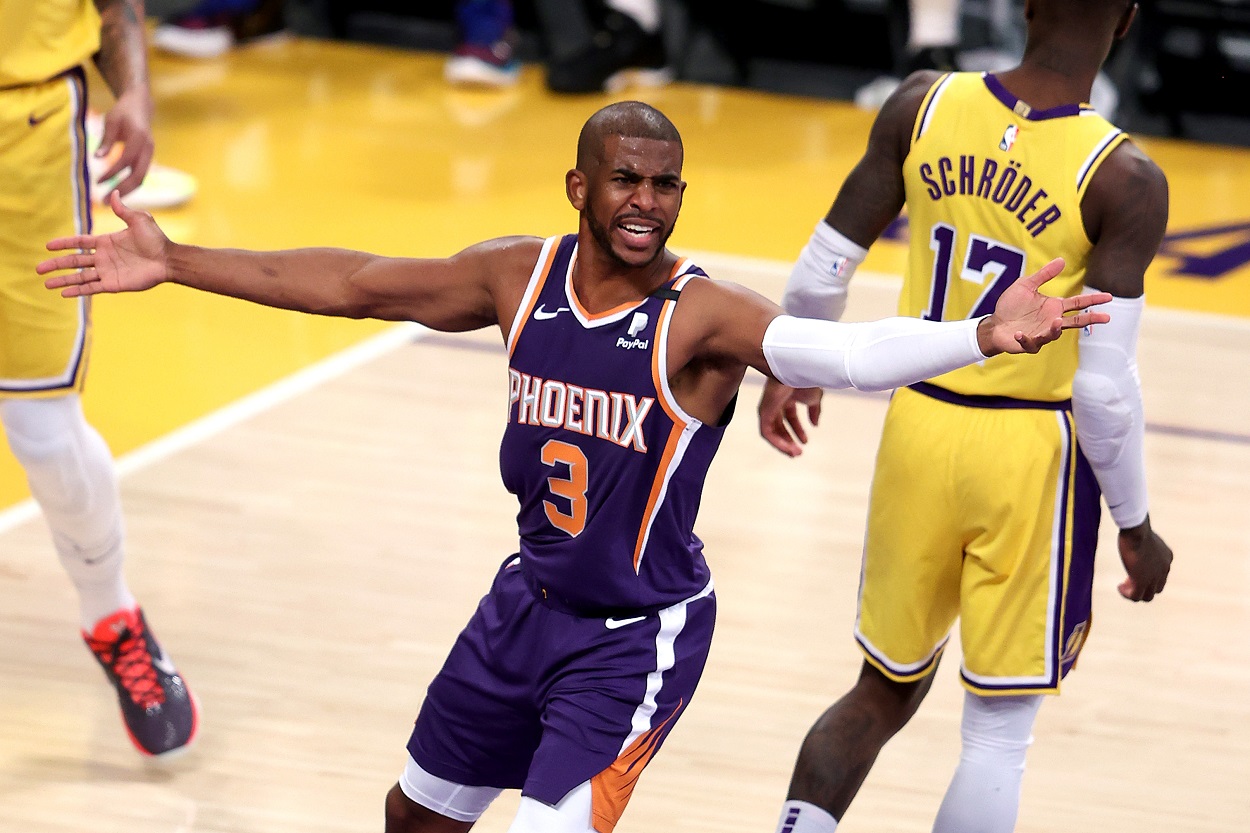 Chris Paul Has Lost 11 Consecutive Playoff Games Refereed by Scott Foster and He's Clearly Less Than Thrilled About It
With the Suns losing to the Lakers in Game 3 of their first-round matchup on Thursday night, Chris Paul has now lost 11 consecutive postseason games refereed by Scott Foster and he's not happy.
Phoenix Suns guard and future Hall of Famer Chris Paul wasn't thrilled with the officiating in his team's Game 3 loss to the Los Angeles Lakers on Thursday night and had no problem discussing it afterward. Although the 11-time All-Star didn't call him out by name (likely not wanting to be fined), Paul specifically took shots at veteran referee Scott Foster, with whom he has a bit of history, and made it a point to note that he's now lost 11 consecutive games in the NBA playoffs in which Foster has been part of the officiating crew.
Chris Paul and Scott Foster have a bit of history
We'll get to what happened on Thursday night in just a moment but let's first run through the brief history between Paul and Foster, specifically what's gone down just in the last few years alone. While still a member of the Houston Rockets, Paul criticized Foster on numerous occasions.
In January 2018, following a Houston win in which he was called for a technical foul that he clearly felt wasn't deserved, Paul called out Foster by name, which you can see in the video above. Just over a year later, following a Rockets loss to the Lakers during which both he and James Harden fouled out, Paul was again visibly upset and told ESPN's Rachel Nichols that he'd actually met with the NBA to discuss the veteran referee.
Paul's frustration with Foster continued in 2020 when his Oklahoma City Thunder lost to the Rockets in seven games in the first round of the NBA playoffs. During the second quarter of Game 7, Foster called a delay of game penalty on CP3 as he was tying his shoes as his coaches were looking at a replay of a foul he'd committed to determine whether or not the Thunder should challenge the call. What was strange was that the cleaning crew was still mopping the floor when the delay of game was called, which resulted in a technical foul. OKC eventually lost by two.
Afterward, Paul again called out Foster by name and alleged Foster had told him not to worry about taking a little extra time to tie his shoes specifically because the floor was still being mopped. But then he got hit with the penalty anyway. And that takes us to Thursday night.
The two had a brief run-in during Thursday night's Suns-Lakers matchup
In the early minutes of the Suns-Lakers Game 3 matchup on Thursday night, Paul was knocked to the ground following an Anthony Davis dunk and nearly fell backwards when trying to get back to his feet. And of all people to crash into, CP3 ran right into Foster, who actually attempted to help. But Paul was having none of it as he quickly shoved Foster's hand away as they both ran up the court, which you can see in the video above.
As for the rest of the game, Paul was clearly frustrated throughout, which may have been due to the fact that he scored just seven points in 27 minutes in the 109-95 loss. Afterward, he vented those frustrations, citing the difference in the number of foul shots the two teams took (the Lakers shot 30 to the Suns' 18), but then got personal in noting that he's now lost 11 consecutive postseason games with Foster on the floor.
Paul has now lost 11 consecutive postseason games in which Foster has been part of the officiating crew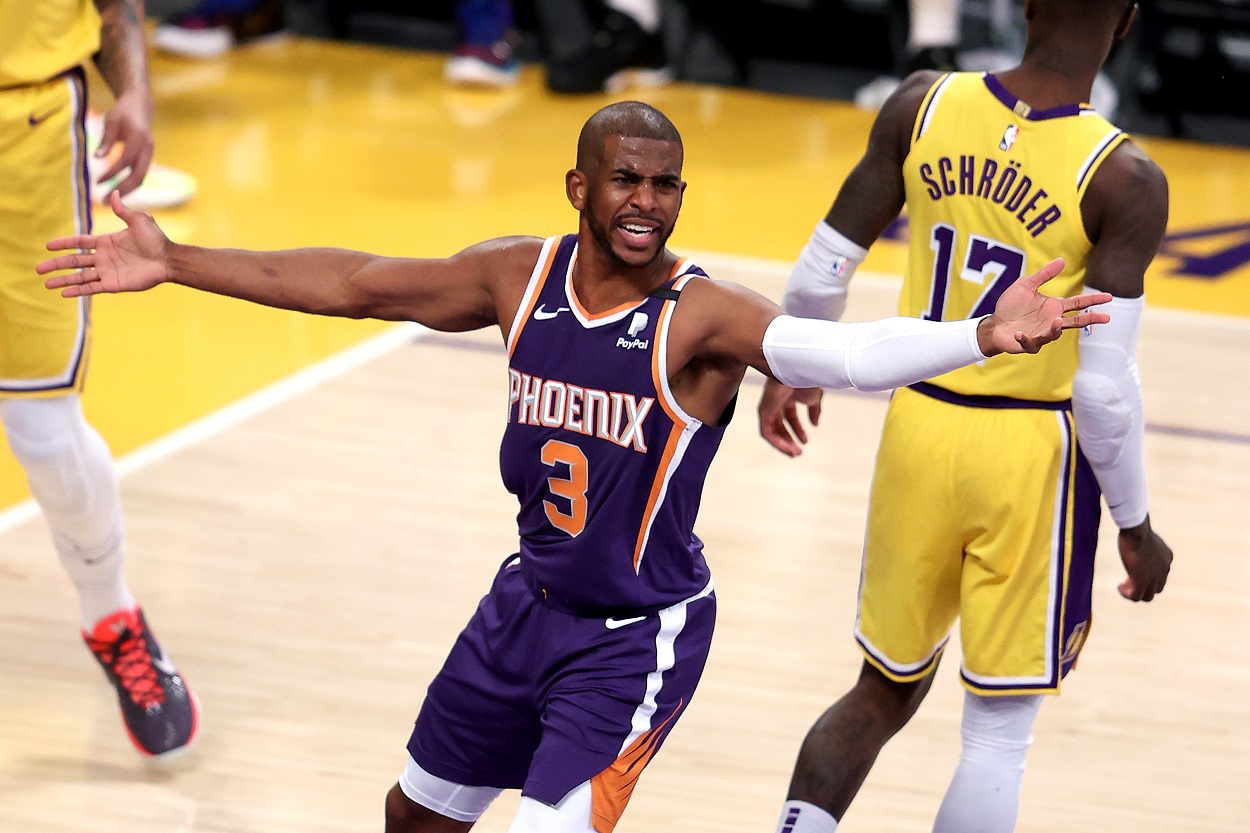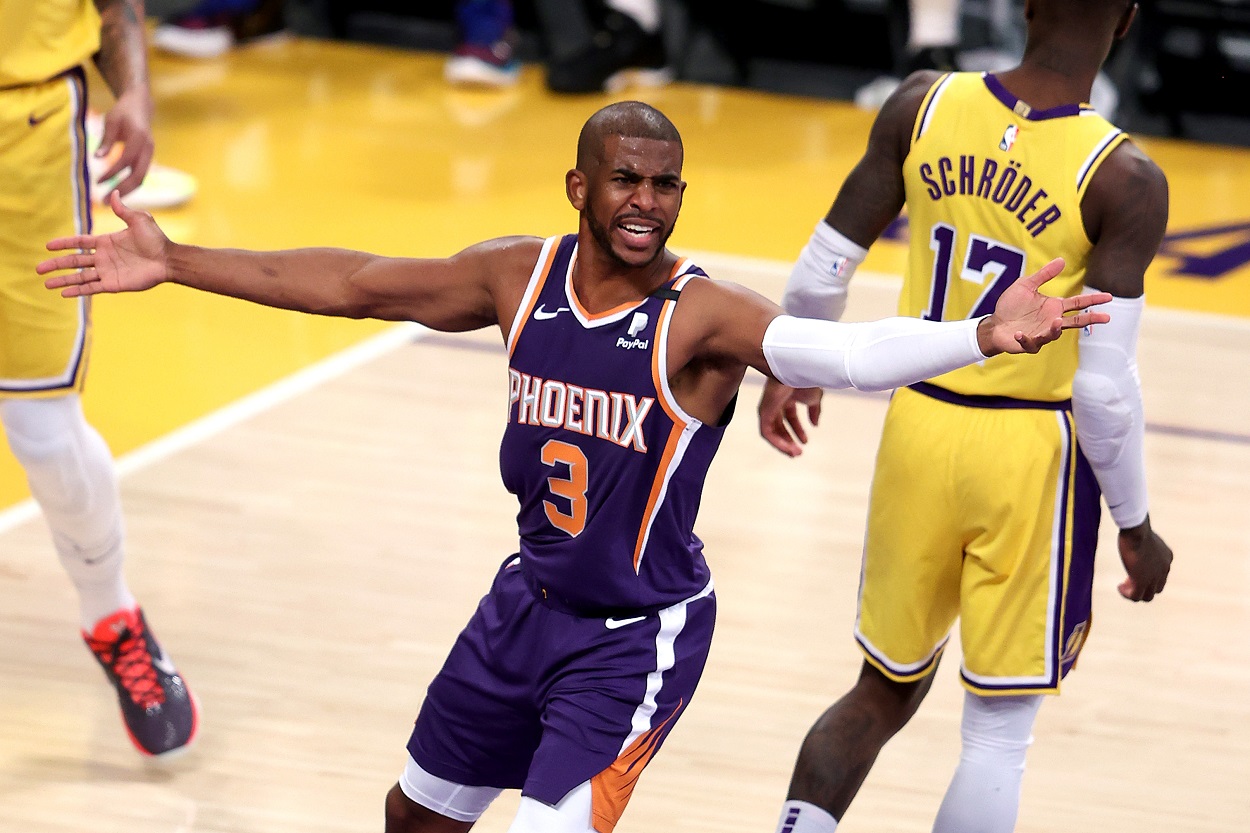 During his postgame press conference, Paul was clearly frustrated with how the officiating had gone in the Suns' loss and, again, while he didn't call out Foster by name this time around, he made it very clear on who he was specifically targeting as he repeated the phrase "11 in a row" multiple times, referencing his 11 consecutive postseason losses with Foster in the floor. There was five with the Clippers, four with the Rockets, one with the Thunder, and Thursday night's loss with the Suns.
Paul and the Suns will try to even their series with the Lakers on Sunday at Staples Center and CP3 has to be praying that Foster won't be on the floor with him.
Stats courtesy of Basketball Reference