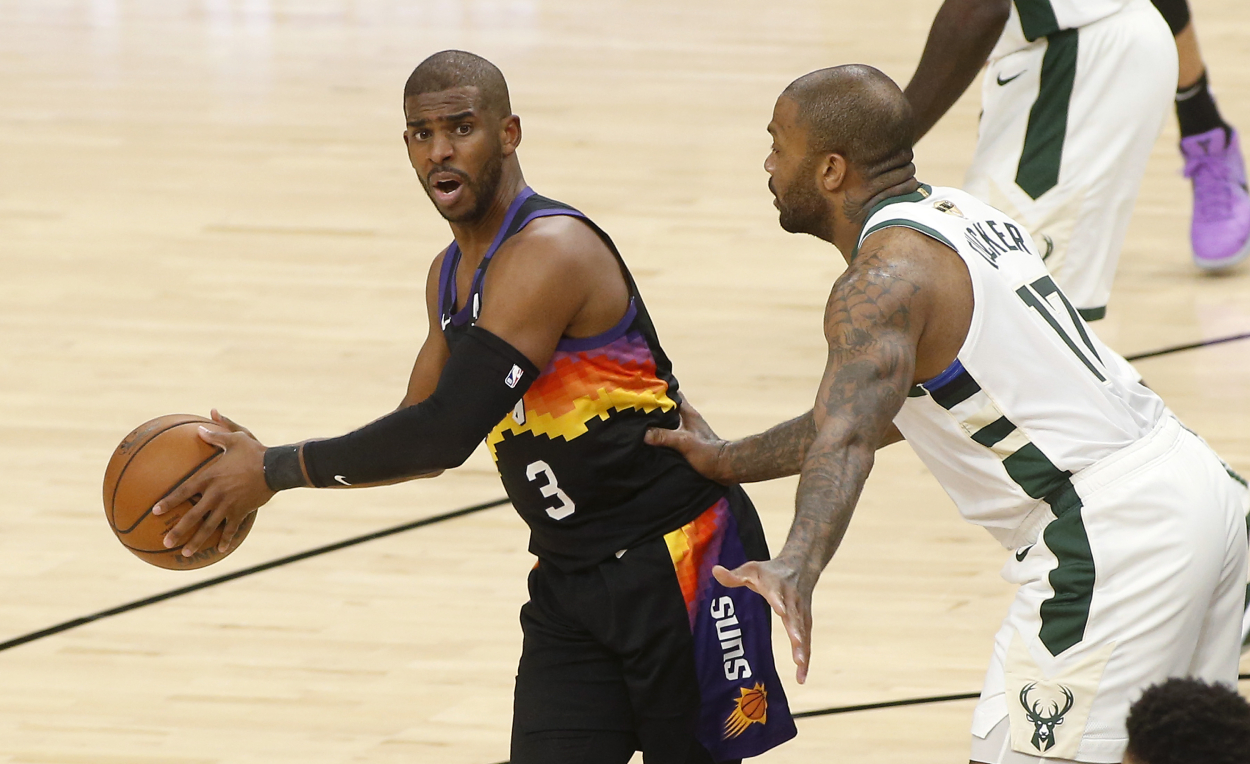 Chris Paul Just Made NBA History in the Worst Possible Way
Chris Paul finally made the NBA Finals for the first time in his career, as he and the Phoenix Suns went on a magical postseason run this year. However, they ultimately lost to the Milwaukee Bucks in the series, which led to CP3 making NBA history in the worst possible way.
For the first time in his career, Chris Paul made the NBA Finals this year but couldn't get the job done as the Phoenix Suns lost to the Milwaukee Bucks in six games. While getting to the finals was certainly a significant milestone for Paul, not being able to win it all is tough, and the loss ultimately led to him making NBA history in the worst possible way.
Chris Paul and the Suns lost to the Bucks in the NBA Finals after leading 2-0
At the start of the series, it looked like CP3 and the Suns were in a great spot to win an NBA championship.
Phoenix won Game 1, 118-105, and Paul had an incredible game, dropping 32 points to go with nine assists. The Suns then took a 2-0 lead after winning Game 2, 118-108. Paul had 23 points and eight assists in the game but also had six turnovers.
The turnover trend then continued for Paul over the next couple of games, as he had four in Game 3, and Milwaukee won 120-100. He then had five in Game 4 and only scored 10 points on 5-of-13 shooting, which led to the Bucks winning 109-103 to tie the series 2-2.
Paul then played better in Games 5 and 6, dropping 21 points, 11 assists, and only coughing up one turnover in Game 5. He then had 26 points, five assists, and only three turnovers in Game 6. The Bucks, though, were already on a roll, and Milwaukee won 123-119 and 105-98 to come back and win the series 4-2.
Chris Paul made NBA history in the worst possible way
Losing a series after leading 2-0 is tough to handle as it is. But, according to ESPN Stats and Info, Paul became the first player in history to lose four best-of-seven series in his career after seeing his team lead 2-0.
The only other player to lose three best-of-seven series after leading 2-0 is Paul's former Los Angeles Clippers teammate, Blake Griffin.
Yes, it takes more than Paul to lose a series, but it's still not the history he wants to make.
The first series Paul lost after leading 2-0 came in 2008 when the New Orleans Hornets eventually lost to the San Antonio Spurs in seven games in the Western Conference semifinals. Paul averaged 23.7 points in those seven games to go with 10.7 assists.
The next one came with the Clippers in the first round of the 2013 playoffs, as the Memphis Grizzlies came back and won in six games. Paul played well in the series, but Griffin hurt his ankle in practice and was limited in Games 5 and 6, only scoring four and nine points after averaging 16.5 in the four previous games.
Paul's other loss after leading 2-0 came with LA in the 2016 first round against the Portland Trail Blazers, as Damian Lillard led the Blazers to a 4-2 win. Paul and Griffin played well through the first four games of the series, but they both missed the last two, leading to the Blazers' wins.
Sure, some of it's bad luck, but Paul has been on the wrong side of playoff losses numerous times and has ultimately made NBA history in the worst possible way. Hopefully, he can eventually get redemption.
What's in store for CP3's future?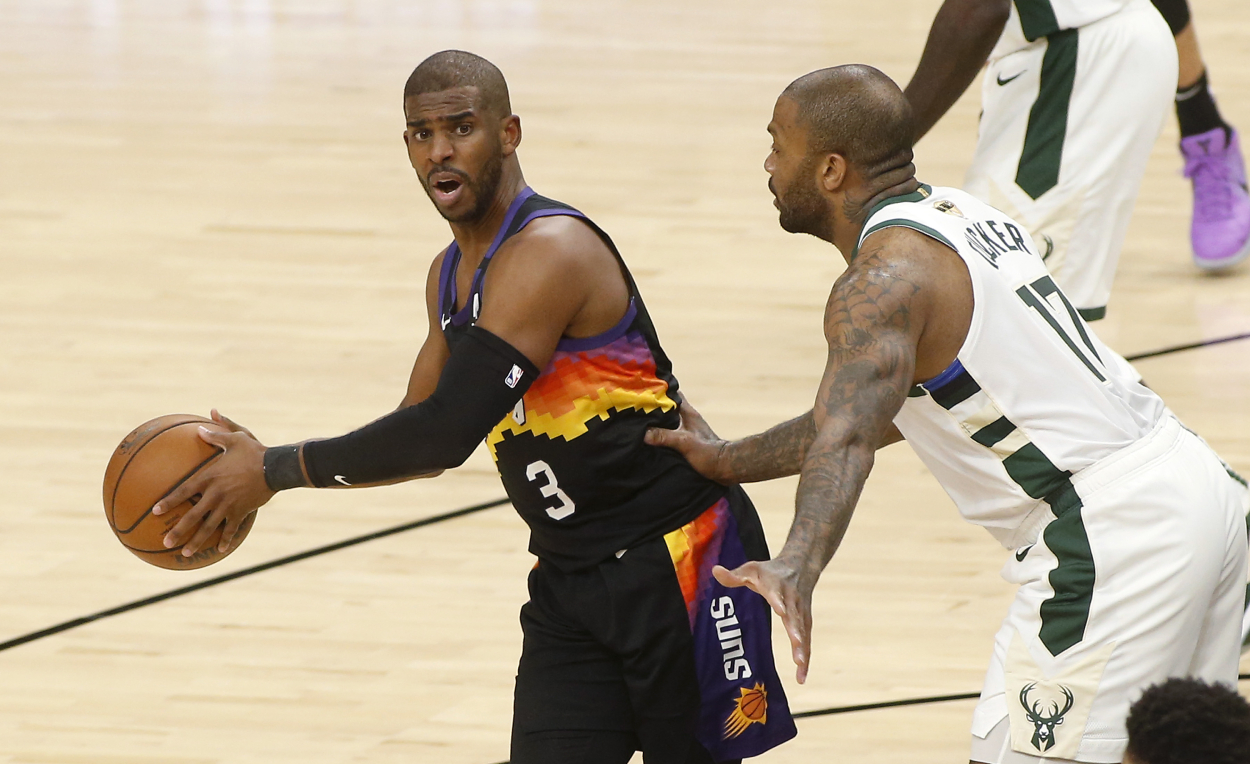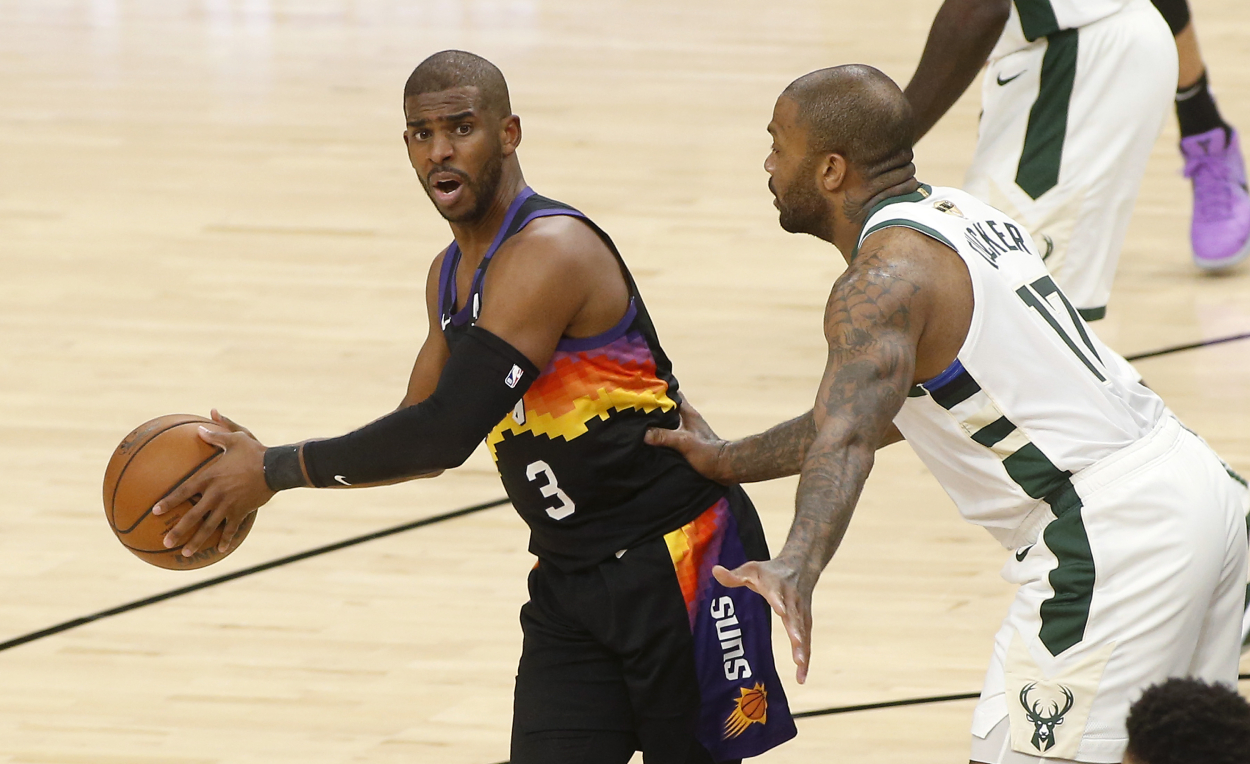 Paul is now 36 years old and has a $44.2 million player option for next season, so he has plenty of options for next year. He could stay with the Suns by either opting in or re-signing with them; he could join another team, or he could even retire.
However, after losing to the Bucks, Paul promised he isn't retiring.
"It will take a while to process this or whatnot, but it's same mentality," he said, per ESPN. "Get back to work. I ain't retiring, if that's what you're asking. That's out. So, back to work."
CP3 also didn't sound like a guy ready to leave Phoenix to join another contender.
"Everybody in that locker room knows we had enough, but it wasn't enough," Paul said, per ESPN. "So, we got to figure it out. I think for me, I just look at myself and figure out how can I get better, what I could have done more and make sure I come back next season ready to do it again."
No matter what happens this offseason, Paul proved this year he still has a lot of basketball left in him. Hopefully, he doesn't lose any more series after leading 2-0.
Stats courtesy of Basketball Reference