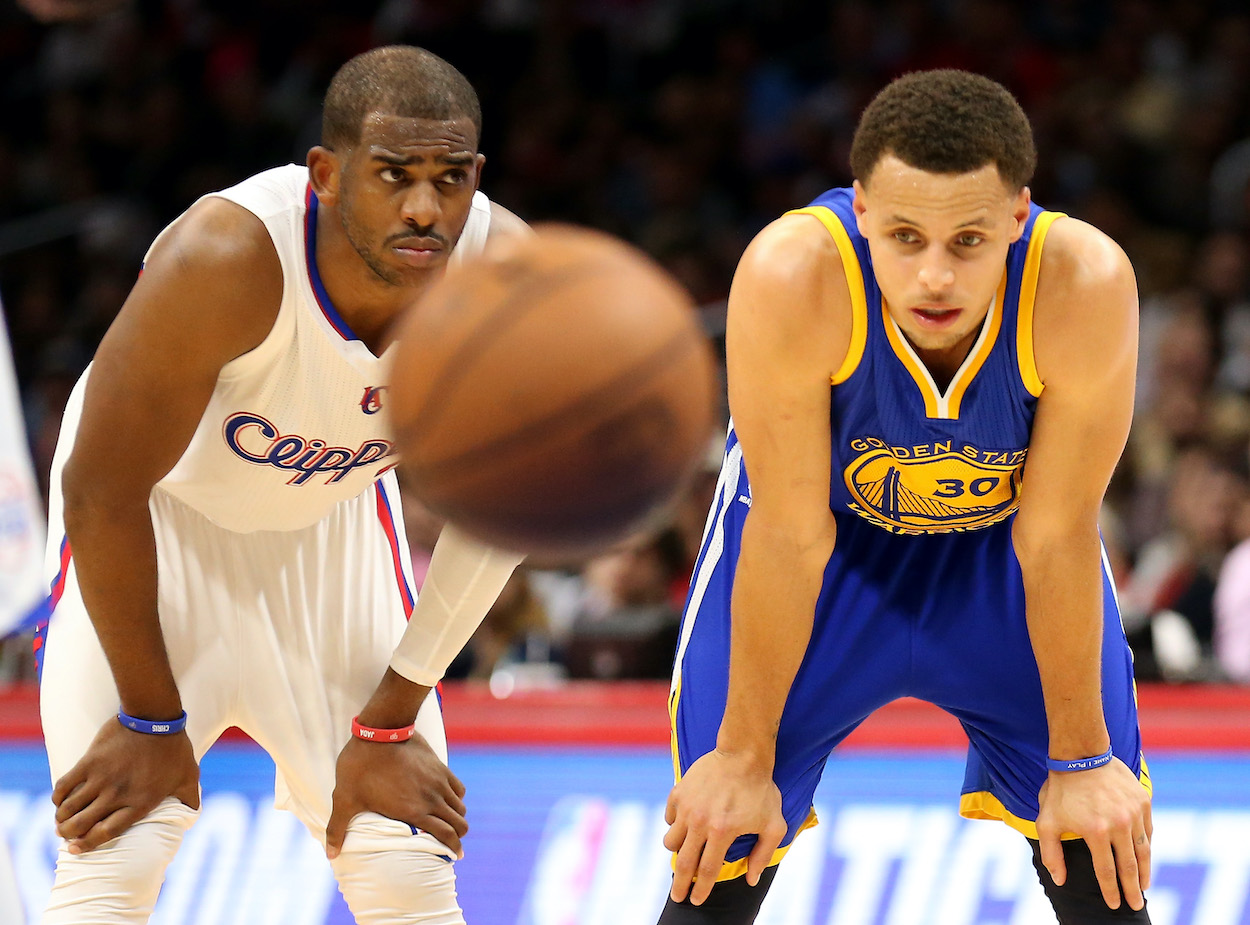 Chris Paul Remembers the Exact Moment Stephen Curry Earned His Respect: 'It Just Slowly Started Building'
Stephen Curry earned Chris Paul's respect before he even got drafted by the Golden State Warriors thanks to a trip to Walt Disney World.
Chris Paul and Stephen Curry are known as bitter rivals on the basketball court, but there's a mutual respect between the two that can be traced back to before Curry joined the Golden State Warriors in 2009. In fact, Paul can still remember the exact moment a young Curry earned his respect.
The location of that moment? Walt Disney World, of course.
The heated Chris Paul-Stephen Curry rivalry
For much of the last decade, Paul and Curry have battled it out for Western Conference supremacy as two of the best point guards in the NBA. Everyone remembers the iconic 2015 crossover from Curry that dropped Paul to the ground and sent the NBA world into a frenzy, but the pair has also dueled in the playoffs multiple times.
Paul got the best of Curry in their first postseason matchup back in 2014, as the Los Angeles Clippers snuck past the Warriors in seven games. But it's been all Curry since then. After Paul moved on to the Houston Rockets in 2017, he met Curry's Warriors twice in the playoffs. Golden State won both of those hard-fought series.
Curry now has three championship rings and two MVP trophies to his name, while Paul is still searching for his first of each.
It seems to get chippy every time they face off against each other, but there's actually a ton of respect between the two behind the scenes.
Paul remembers the exact moment Curry earned his respect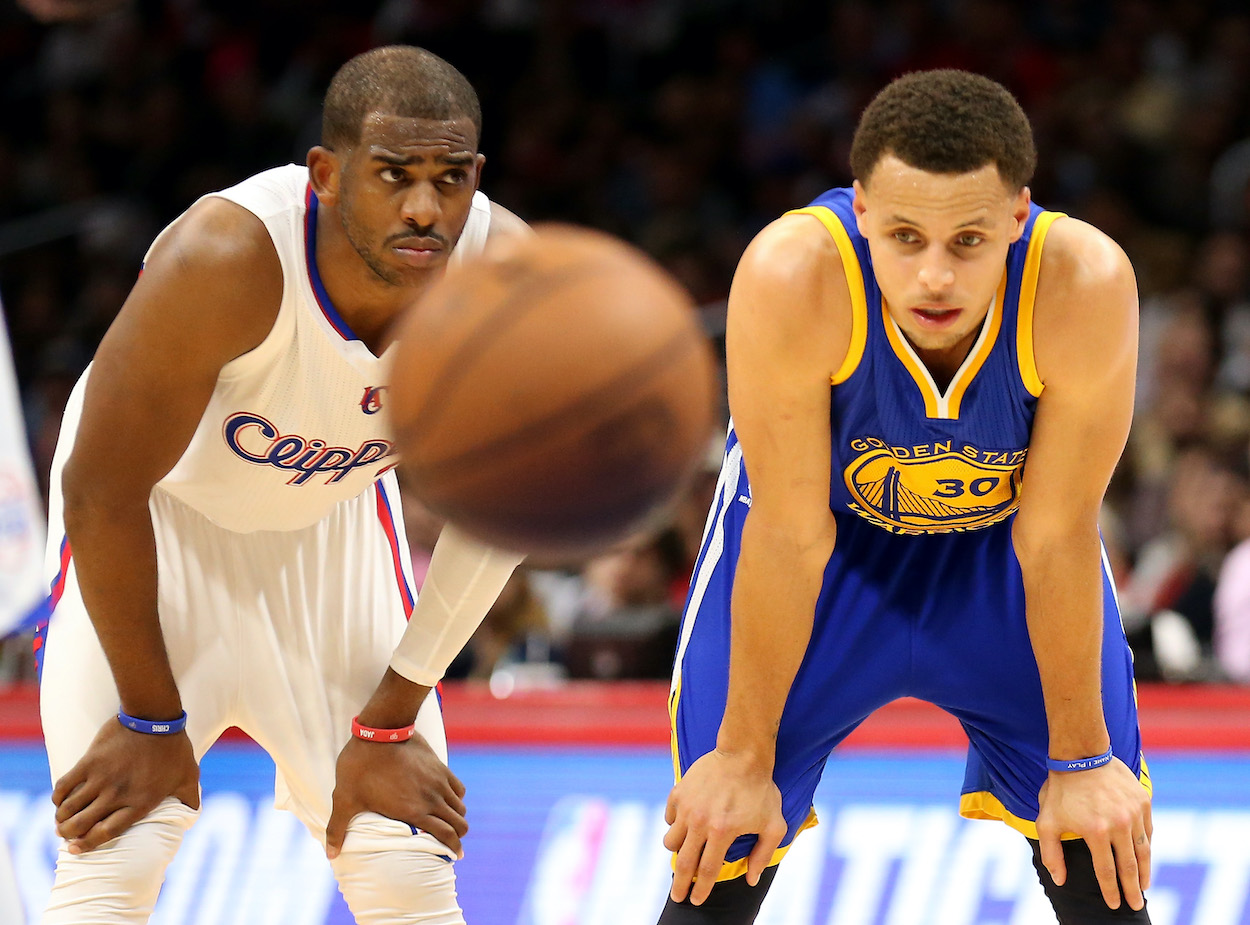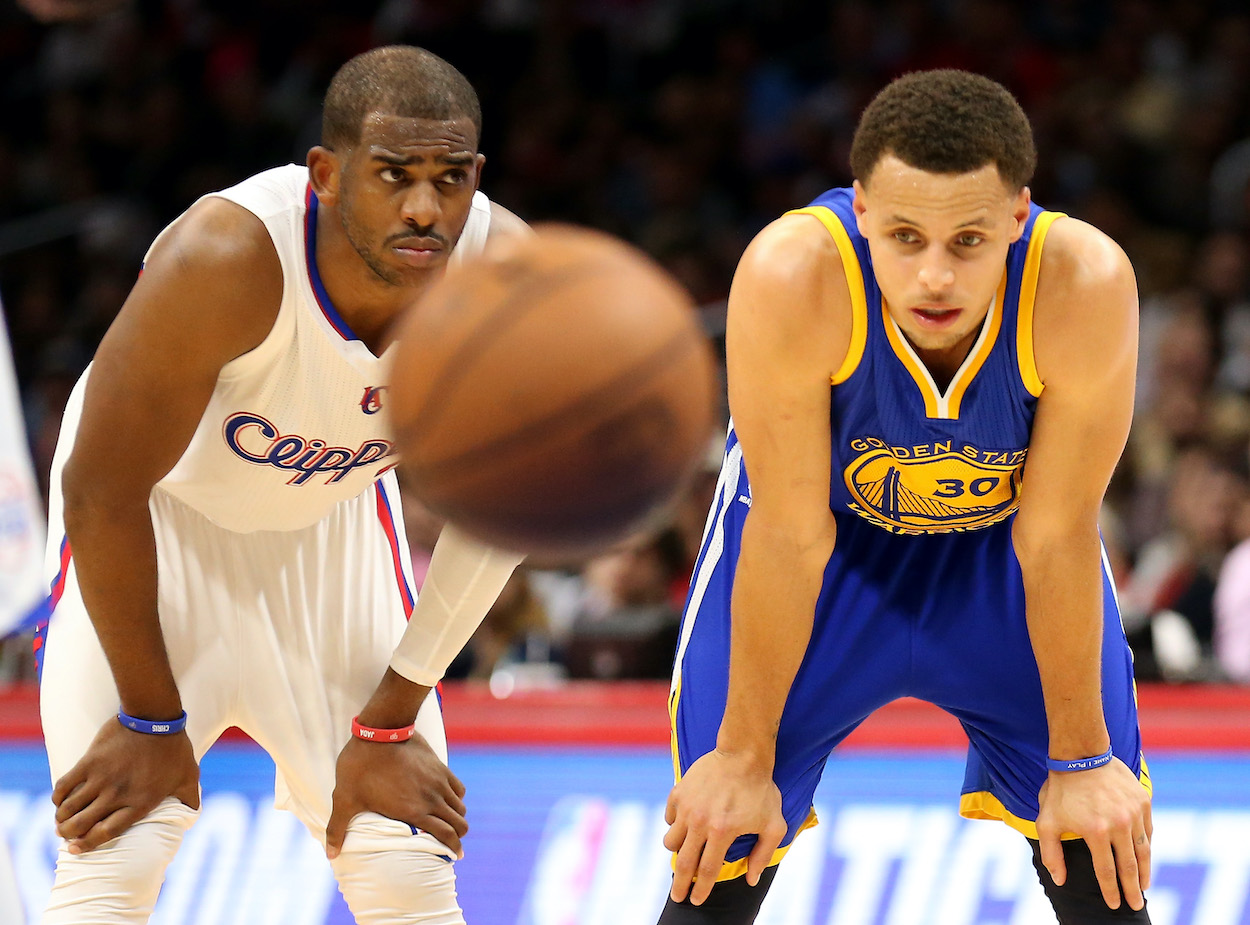 Before Paul and Curry became rivals in the NBA, they were friends who shared a North Carolina connection. Curry looked up to Paul as he chased his dream of becoming an NBA point guard himself, and the former Davidson star impressed his mentor before even getting drafted.
At Walt Disney World of all places.
"So a lot of people don't know before Steph's rookie year he came on a family trip with my whole family. We went to Orlando, like I went to take my kids to Disney World," Paul explained to Dorell Wright of NBC Sports Bay Area last season. "Steph came with us and we worked out and we trained. Our families knew each other. I was with Octagon, we were the same agency. Steph and I have the same financial adviser. I have known Steph forever.
"When he came into the league he had my respect because we had spent that real time together training and working out. And Steph just kept getting nicer and nicer and nicer. Like I said, he had my respect. But when I played for the Clippers and once we got into the playoff series, it just slowly started building."
Little did Paul know at the time, that skinny kid from a small school would wind up becoming the greatest shooter in NBA history.
From mentor to respected rival
Paul and Curry don't seem to like each other when they face off on the court, but the Warriors superstar used to look up to his bitter rival.
"He was a great mentor when it came to understanding how a guy on his level prepared over the summer for an NBA season," Curry said in 2018, per ESPN. "How disciplined he was, his work ethic, and I got to see that firsthand after summer league through the beginning of the season. And obviously, we got a Carolina connection."
Paul's mentorship and helpful advice helped Curry thrive in the NBA from the moment he stepped onto the court as a rookie. And the duo's ongoing rivalry has only made both players better over the years.
Like Sportscasting on Facebook. Follow us on Twitter @sportscasting19.