Chris Paul Vows to Return After Crushing NBA Finals Loss, but This May Have Been His Last, Best Shot
What started as a dream NBA Finals for Chris Paul disintegrated into a nightmare. With an uncharacteristic gob of turnovers, the Phoenix Suns etched their names on the wrong side of NBA history. Not to be outdone, Paul wrote a less-than-positive line in the books all of his own.
Paul had a strong effort in Game 6 of the NBA Finals against the Milwaukee Bucks. It just wasn't strong enough to help the Suns force a Game 7 back in Phoenix. He has authored a late-career renaissance after several injury-plagued seasons. But it is fair to wonder if Chris Paul is running out of time to win that elusive championship ring.
Fair or not, a ring (or the lack of one) will define Chris Paul's legacy
Chris Paul checks all the boxes as a first-ballot Hall of Famer. In 16 NBA seasons, he has been All-NBA 10 times to go with nine selections to an All-Defensive team. Paul has led the NBA in steals six times to go with four assists titles. And he's put together an impressive couple of seasons after changing his conditioning regimen.
From 2016–19 with the Los Angeles Clippers and Houston Rockets, Paul missed 69 regular-season games and was unavailable for another two in the playoffs. Those two postseason games were enormous. The Houston Rockets had a 3–2 lead in the 2018 Western Conference Finals before Paul's hamstring. The Golden State Warriors won Games 6 and 7 to eliminate the Rockets.
Over the last two seasons, Paul has missed a total of six games. Four of those have been in the regular season (two each year). The other two were Games 1 and 2 of the Western Conference Finals against the Clippers. Paul was out due to a positive test for COVID-19.
While the Suns became the fifth team in NBA Finals history to lose after leading 2–0, it was a familiar scenario for Paul. With Milwaukee's four straight wins to clinch the title, Paul stands alone in the NBA record books. It was the fourth time his team lost a series after taking a 2–0 edge. Ouch.
Whether it is fair or not, rings define NBA superstars. Giannis Antetokounmpo's career goes to a new level now that he has won a title. Chris Paul is among ringless all-time greats such as Charles Barkley, Karl Malone, Elgin Baylor, and Patrick Ewing. It may not be fair, but it is the reality Paul faces.
Paul says he's coming back in 2021–22
After Phoenix's Game 6 loss, Chris Paul quickly addressed any retirement talk, per ESPN.
"It will take a while to process this or whatnot, but it's same mentality. Get back to work. I ain't retiring if that's what you're asking. That's out. So, back to work."

Chris Paul
Paul faces a decision regarding his contract. He has a $44.2 million player option for next season, the last year of the free-agent max deal he signed with the Rockets in 2018. Reports in June indicated Paul had already decided to decline the option, but after Game 6, he didn't sound like a guy intent on leaving the Valley of the Sun.
"Everybody in that locker room knows we had enough, but it wasn't enough. So, we got to figure it out. I think for me, I just look at myself and figure out how can I get better, what I could have done more, and make sure I come back next season ready to do it again."

Chris Paul
That doesn't mean Paul won't entertain the notion of declining his option and returning to the Suns on a more cap-friendly contract. But Paul's history isn't one of leaving money on the table.
Chris Paul made his second straight All-NBA team in 2020–21 after not earning that honor since 2015–16. But he's also 36 years old and will be 37 by early in next year's playoffs. It's fair to ask if Phoenix (or any other potential suitor) has to be wary of diminishing returns.
Chris Paul is fighting Father Time, and he remains unbeaten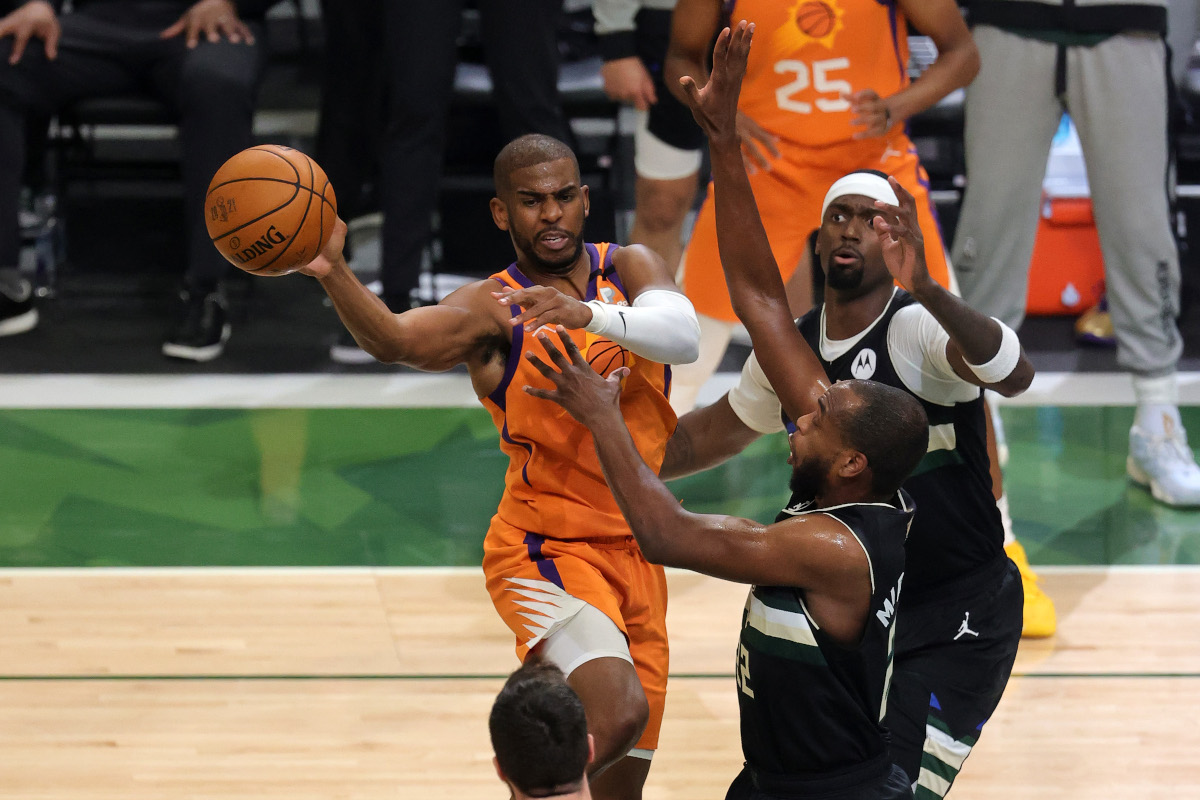 No point guard in NBA history played more in his age-36 season or later than Hall of Famer John Stockton. Next season will be Chris Paul's age-36 season, so it's a reasonable comparison.
Of the group of point guards that played at age 36 or later, Hall of Famers Jason Kidd and Gary Payton won their first rings. Only Kidd did so as a starter. Payton was a reserve for the Miami Heat in 2006, and his legacy suffered from allegations of ring-chasing.
Chris Paul's first trip to the NBA Finals ended in a loss. But it may very well have been his last, best chance to win a title.
Statistics courtesy of Basketball Reference and Stathead.