Chris Paul Walks Away From $44.2 Million, but It Might Not Be a Disaster for the Phoenix Suns
Chris Paul can, in fact, get drunk enough to walk away from almost $45 million. The Phoenix Suns point guard reportedly will decline his $44.2 million option for next season to become a free agent. The negotiating period for free agents has been underway for weeks opens Aug. 2 at 6 p.m. Eastern.
At first blush, this might give the Suns pause. Phoenix expects to be over the salary cap by a tad (although $26.8 million is a substantial tad), and the Suns project to be over the luxury tax apron as well. But the Suns can retain Paul and run it back after a surprising NBA Finals berth in 2020–21.
Chris Paul is motivated to stay with the Suns
When Chris Paul signed a four-year max deal in 2018 to stay with the Houston Rockets, many observers were dubious. After all, Paul lost significant time due to injury over three of the previous five years, including the last two before signing. Was it reasonable to expect he was going to get healthier entering his age-33 season?
As it turns out, he didn't. He missed 24 games, and the Rockets lost in the second round. Traded to the Oklahoma City Thunder in the deal that sent Russell Westbrook (briefly) to Houston, Paul committed to a new diet and reinvigorated his career. A subsequent trade to the Suns in 2020 got him to his first NBA Finals.
Paul enjoys playing for Suns coach Monte Williams, whom he also played for years ago with the New Orleans Hornets (now Pelicans). He returned to All-NBA form the last two seasons after not making one of the elite teams since 2016. And in Phoenix, Paul has a young superstar in Devin Booker and a rising star in Deandre Ayton with whom to work.
The owner isn't worried about CP3 walking away
Shams Charania of The Athletic tweeted that Chris Paul would opt out of the final year of his contract to become an unrestricted free agent.
But Suns owner Robert Sarver did not seem panicked when he talked to Arizona Sports' Burns & Gambo on July 28. While Sarver said he did not know which way Paul was leaning, he sounded optimistic.
"What I do know is that if you'd ask me when I made the trade whether I thought this would even be a decision, I would have said no. And now it's — I think he's got a decision to make. I mean, listen, he did what we thought he would do based on how he's played in the playoffs the last few years. He was outstanding. Are there other teams that would be interested in all that? Yeah, there probably is.

"So I'm not sure, to be honest with you. But I do think he really enjoyed being part of this team, and I know we loved having him on this team, so I hope he ends up back, but I don't have control of that."

Robert Sarver
Sarver, long-known for his frugality as the owner of the Suns, knows the luxury tax looms next season. Besides the Paul decision, the Suns have Ayton and fellow starter Mikal Bridges eligible for extensions this summer. Backup point guard Cam Payne, who was brilliant in the playoffs, is a free agent.
The NBA's collective bargaining agreement also works in favor of the Suns regarding Paul.
Rumor has it Chris Paul wants to stay with the Suns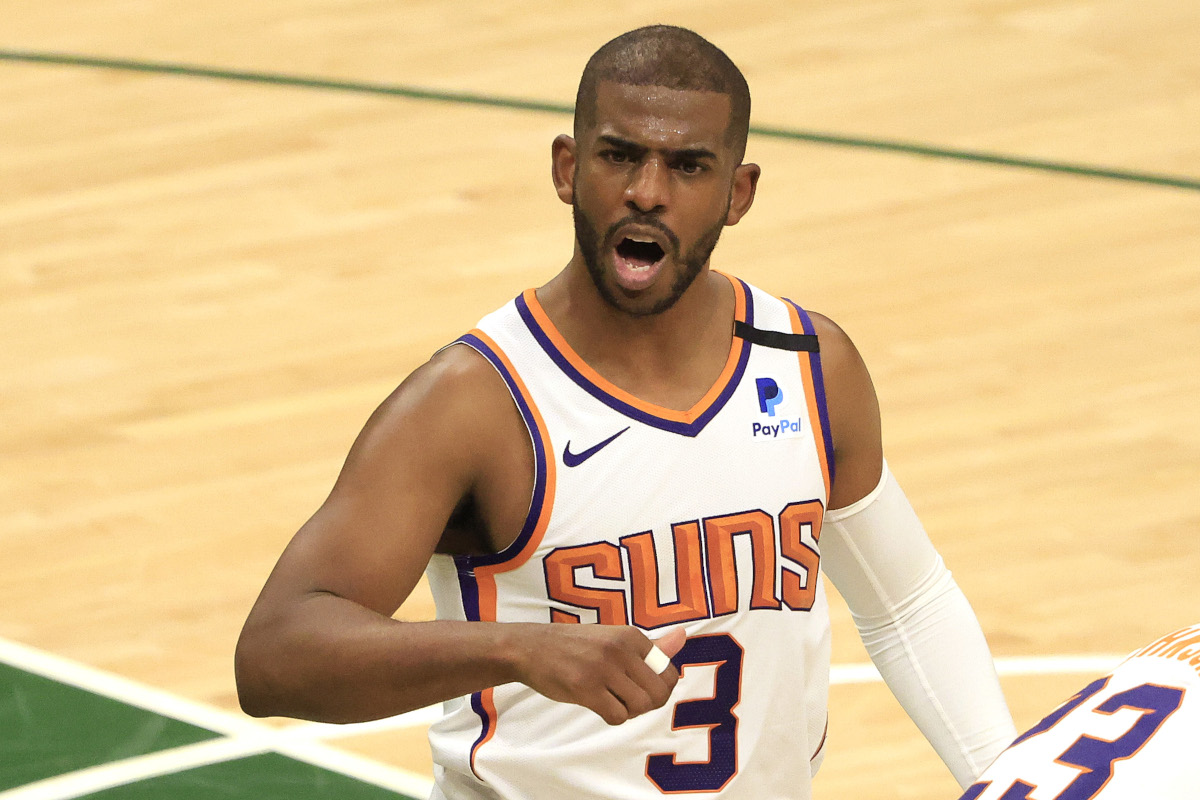 If the recent reports are accurate, Chris Paul doesn't plan on leaving the Valley of the Sun. According to Jake Fischer of Bleacher Report, Paul is likely to remain with the Suns on a three-year, $90 million deal.
The Suns have full Bird rights on Paul, so they don't have to use cap space to keep him. The New Orleans Pelicans reportedly wanted to get Paul, and there was talk of him joining Banana Boat pal LeBron James with the Los Angeles Lakers.
Because of the Lakers' salary-cap situation, Paul-to-the-Lakers was never a viable scenario. Paul has close ties with new Pelicans coach Willie Green, an assistant with the Suns before New Orleans hired him.
Chris Paul is demanding, exacting, and can be a pain in the posterior to teammates at times. But the young Suns embraced his nit-picking style, and it helped them rise higher in the NBA sky than they had in nearly 30 years. It makes perfect sense for Paul and the Suns to run it back to try and finish the quest for a ring next season.
Salary information courtesy of Spotrac.