Chris Paul's Grandfather Taught Him Countless Life Lessons
After a tumultuous 2019 season with the Rockets, the team traded Chris Paul to Oklahoma City for Russell Westbrook. It may be the last stop of Paul's NBA odyssey, as he's closer to the end of a great career than the start. But the point guard has created an NBA legacy no matter how he fares.
For a player as prolific as Paul, it's almost a certainty that he'd have a solid support system to help him become one of the NBA's best players. And Paul did have that support system in the form of his grandfather.
Chris Paul's NBA career
Paul began his NBA career with the New Orleans Hornets. The Hornets drafted him with the fourth overall pick in the first round of the 2005 NBA Draft. Then tragedy struck New Orleans before Paul's first game. Hurricane Katrina hit the area, however, and the team relocated to Oklahoma City for the first two seasons of the point guard's career. 
Paul played great basketball with New Orleans. After several seasons, however, they weren't going to contend. The team attempted to trade him to the Lakers in a deal vetoed by the NBA. The Los Angeles Clippers eventually traded for Paul, and he spent six seasons in LA. Despite a few semi-deep playoff runs, he and teammate Blake Griffin could never quite get over the hump to become serious championship contenders. 
Then, the Clippers traded Paul to Houston, where he lasted two years until a beef with Harden sent him packing out of town. While Paul has yet to win a championship, Paul has been outstanding for his entire career. Below are his totals so far: 
1,013 games played
18.5 points per game
9.5 assists per game
25.1 Player Efficiency Rating
179.5 Win Shares
Paul is a 10-time All-Star, eight-time member of the All-NBA Team, and a nine-time member of the NBA's All-Defensive Team. He also won 2005-06 Rookie of the Year. 
Paul's path to the NBA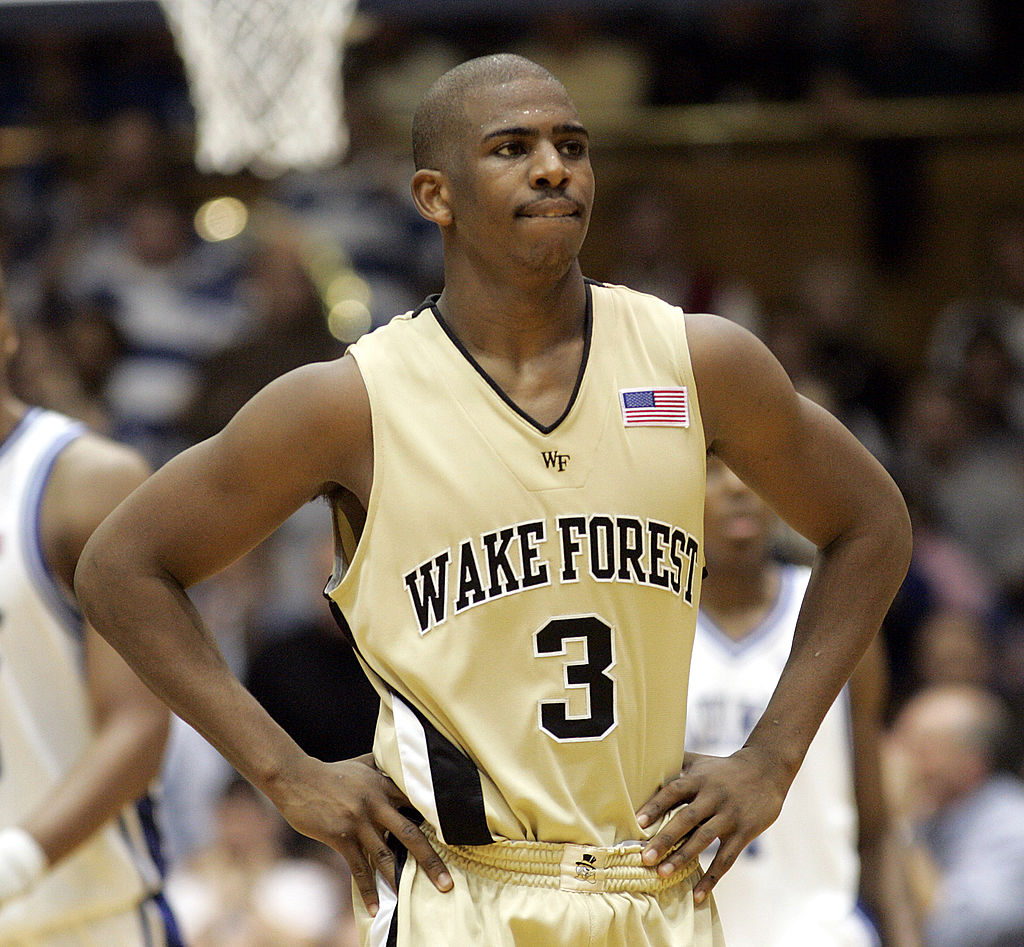 Before he made it to the NBA, Paul played college basketball for Wake Forest. He spent only two seasons at the school before declaring for the NBA Draft. Paul might not have spent too much time at Wake, but he made quite an impact: 
63 games played
15 points per game
6.3 assists per game
3.9 rebounds per game
A two-time member of the All-ACC Team
Was named a Consensus All-American
Named to the ACC All-Freshman Team
Paul's path to becoming an NBA superstar didn't start there, however. It began in his birthplace of Lewisville, North Carolina where he was raised by a family that included his grandfather. 
The advice Paul's grandfather gave him
Paul's grandfather, named Nathaniel Jones and nicknamed "Papa Chili," was his best friend, according to ESPN. Sadly, Jones was senselessly attacked and murdered before he saw Paul realize his dream of playing in the NBA. 
According to Paul, Jones "taught me more things than I could ever learn with a Ph.D." He was a constant source of information and counsel for Paul. Paul also learned a lesson from Jones in death. Despite grieving over his grandfather, he has since forgiven the perpetrators and wanted them to be released from prison. 
It's a truly heartbreaking but uplifting story. If in the loss of one of his best friends, Paul could truly learn to forgive, it sets quite an example for the grace humanity is capable of.