Chris Paul's Response to Ja Morant Swiping One of His Signature Moves Confirms Ja's Superstar Status
Ja Morant entered the NBA as a highly-touted athlete, but the Memphis Grizzlies' point guard has developed into a serviceable jump shooter and floor general with a much larger offensive bag than anticipated. Said bag grew even deeper recently when he ripped off a move from Phoenix Suns' star Chris Paul.
Ja shouted out CP3 on Twitter, acknowledging the theft, and The Point God's response only confirmed what the NBA has discovered already this season: Morant has become one of the best players — not young players, not point guards, best players — in the league.
Ja Morant busted out a CP3 staple in a recent Memphis Grizzlies game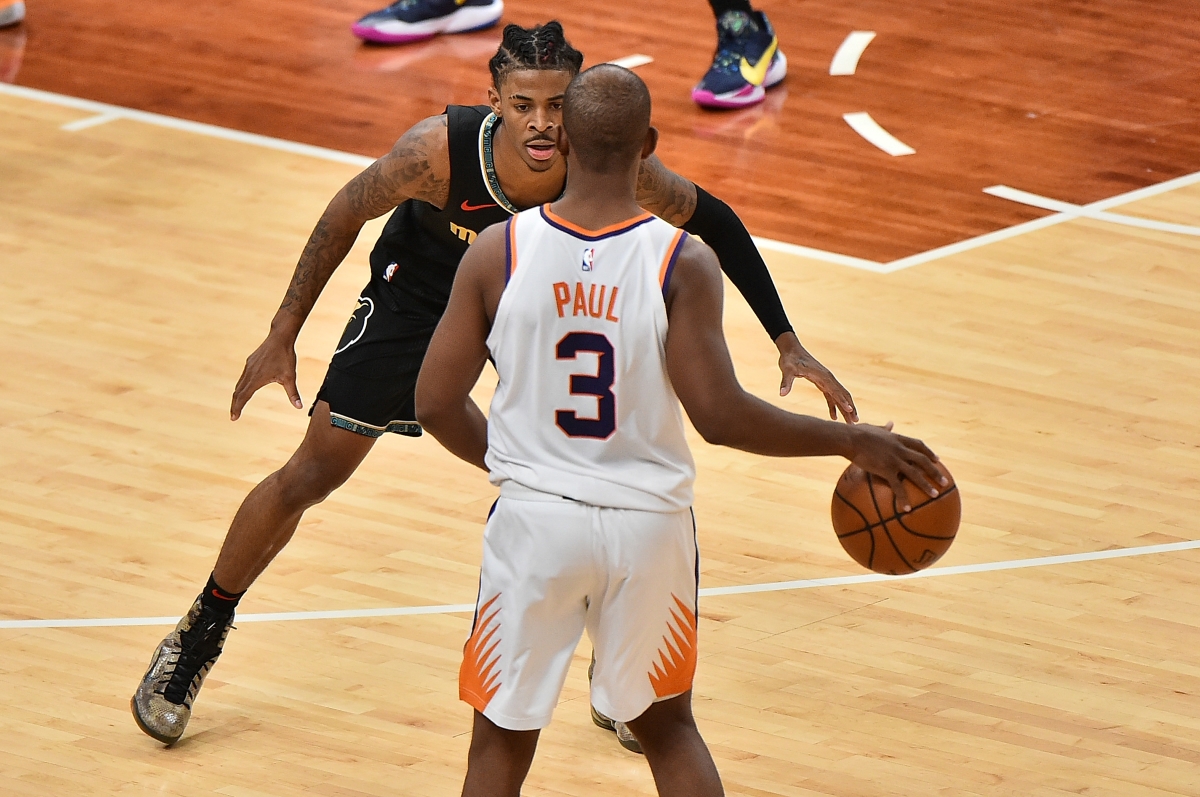 Ja dropped a then-career-high 46 points in a 116-110 win over the Chicago Bulls on Feb. 26. (He dropped 52 two nights later).
Two of those points came on a one-man fastbreak, which is incredibly unsurprising considering Ja's season thus far.
Morant dribbled down the middle of the lane in between three Bulls and, with his left hand, let the ball bounce and faked a one-handed pass to his left.
Then he picked the ball back up and continued gliding toward the rim for a wide-open layup.
It's a trick we've seen Paul do throughout his career, and it almost always works. Defenses are on their heels — especially for someone, in this case, with Ja's explosion — and aren't sure what's coming.
It appears to be a pass to a wide-open three-point shooter trailing the break, but instead, it's an easy two for the ballhandler.
Morant's theft of CP3's move was caught on Twitter by Beale Street Bears, Ja admitted he stole it from Paul, and then the future Hall of Famer's response to the phenom was just another confirmation of Morant's status as an official NBA superstar.
Chris Paul gave the 22-year-old his stamp of approval
"i got this move from one !! " Morant tweeted with a flex and a shoutout to Paul's own Twitter account.
CP3 retweeted with the comment, "@JaMorant wit the left tho!!" with an eyeball emoji.
Two things: One, Paul had no problem seeing one of his go-to moves stolen (even if it might be a carry); and two, he went above and beyond, shouting out Ja for using his left hand rather than his right.
CP3 is still, even at age 36 and in his 16th season, one of the best floor generals in the league. In fact, just based on the term "floor general" alone, he could still be considered the best.
Morant, Darius Garland, and even Kyrie Irving are more physically gifted players, but very few point guards in the game's history have seen the floor and been able to manipulate it like Paul.
To earn his praise is to earn the praise of a (point) God.
Morant and Paul may soon have a date in the playoffs
Chris is currently out with a thumb injury and will likely miss the rest of the regular season into the early portion of the postseason. But his team already has the best record in the league and is six games up on the Golden State Warriors in the Western Conference standings.
Ja has entered into the MVP conversation for the first time in his career and has the Grizzlies sitting pretty at third in the West, 3.5 games ahead of the fourth-place Utah Jazz.
As it stands on March 1, Memphis would face the Denver Nuggets to open the playoffs, while Phoenix would host the Los Angeles Clippers.
A potential Western Conference Finals matchup awaits the Grizzlies and Suns.
Paul is still looking for his first NBA Championship. One of the league's most ruthless competitors likely won't be so appreciative of Ja's game at that point.
But a Chris Paul vs. Ja Morant matchup — with the NBA Finals on the line — sure would be a juicy series.
RELATED: Deandre Ayton's Murky Future Should Force the Phoenix Suns to Go All-in on the 2022 NBA Championship