Chris Petersen's Abrupt Exit From Washington Hints at Burnout Issues for Coaches
The college football world expressed shock when head coach Chris Petersen suddenly stepped down after six successful seasons with the University of Washington. While being a college football coach can be a wonderful, well-paying job for many, it's also filled with stress that takes a toll.
Petersen is just the latest example of coaches who seem to burn out. What he said sheds some light on the lingering issue.
Chris Petersen's time with the Washington Huskies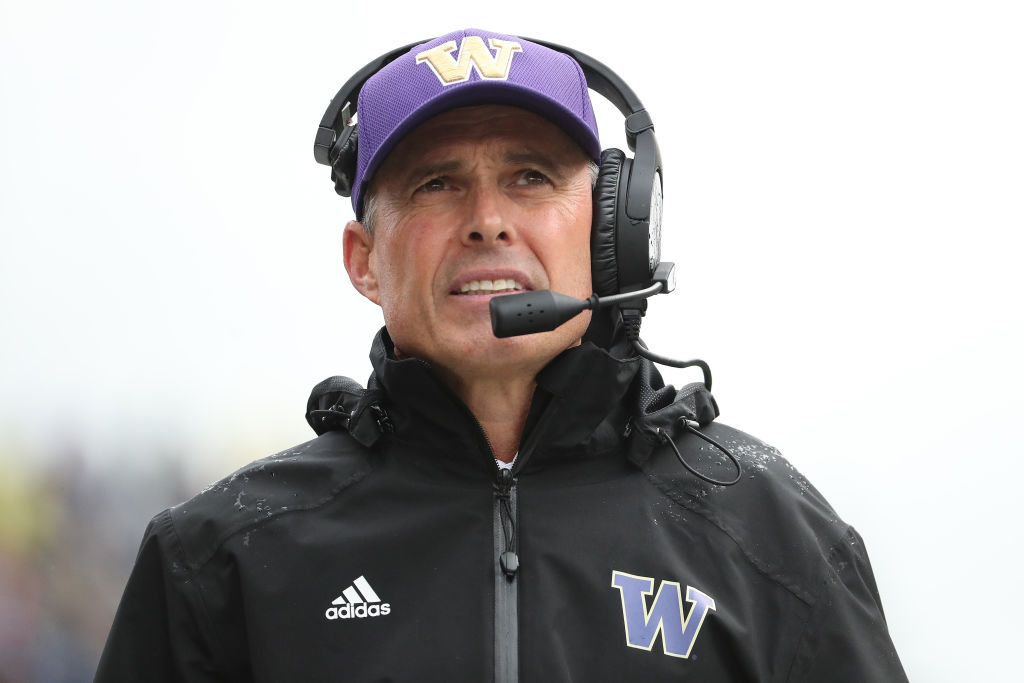 Petersen went from Boise State, where he oversaw eight years of phenomenal football, to Washington in 2014. There, he hoped to breathe new life into a program that previously struggled to make waves, explains ESPN. He wasted no time turning the team from a middling program to a true contender. The Huskies went 12-2 in just his third year with the franchise.
The team might not have won any championships under Petersen's tutilage. But it constantly found itself in the top 10 or top 20 of AP rankings. The 12-2 season in 2016 was the highlight. But Washington capped it off with a 10-3 season in 2017 and a 10-4 record in 2018 when the team lost the Rose Bowl. 
The team took a step back in 2019 after losing quarterback Jake Browning, but the season was far from a catastrophe with an 8-5 record. Behind the scenes, however, Petersen struggled to stay engaged. The hardships of his coaching job began to take their toll on his mental health. He's since opened up about the burnout he experienced this year. 
Petersen on why he left
Recently, both college and pro athletes have experienced an uptick in mental health awareness. Petersen, however, showed that this should extend to coaches as well. College coaches may have a reputation as hard-nosed loudmouths devoid of human emotion. But this isn't the case with Petersen, who grew tired of the grind of coaching.
"It becomes a lot of frustration and anxiety and stress," Petersen told ESPN. "And some of the excitement and positivity and optimism can be pushed away, and that's never a way to lead your life."
Football is, by nature, a taxing game. If somebody is not fully prepared, the grind of travel, recruiting, practice, and other duties take a toll. Just as other jobs influence people, Petersen felt trapped and wants to determine the next chapter.
"I've just got to figure out where all this energy and this passion and inspiration goes, and I don't want it to be on the football field," Petersen said. "I'm excited to see what this whole thing takes because I do have a lot of thoughts and ideas and passion for helping others. I've been through so many things in this business, so many things, that I think I can help other people in this business and maybe outside of it."
Petersen hasn't ruled out a return to the sidelines. For now, however, he seems content focusing on philanthropy and other causes he holds dear to his heart. 
Coaches burning out
Coaching burnout can affect any leaders of sports teams. Former Utah Jazz coach Jerry Sloan famously quit midseason after he got fed up not only with the team and its players but the job in general after two decades. In college football, Mark Richt has also been vocal about the effect burnout had on the years before retiring. 
Most coaches are not as candid about their feelings as Petersen. In a world where other coaches notoriously tell players to subdue their feelings and focus on the sport at hand, Petersen showed the world that even coaches have their limits. Wherever he lands, he shone an important light on an issue that affects everyone in any industry.