Chris Sale and His Contract Deserve Extra Attention During the 2022 MLB Offseason
Chris Sale is one of the best pitchers in MLB history, and he has the numbers to back it up. Over the course of 11 seasons with the Boston Red Sox and Chicago White Sox, Sale has racked up seven All-Star game appearances, 100-plus wins, 2,000-plus strikeouts, an ERA in the low 3.00s, and a world championship (2018).
Having just returned to the Red Sox following a near two-year-long hiatus due to Tommy John surgery, many are beginning to speculate the impact that Sale will provide for the Red Sox moving forward. While it's reasonable to assume the left-hander will retire in Boston — it's not guaranteed.
The Boston Red Sox were smart to extend Chris Sale in 2019
Following their successful World Series victory in 2018, the Red Sox inked Sale to a five-year extension worth $145 million. It's one of the biggest contracts ever handed out to a starting pitcher (currently the fifth-largest amongst active pitchers), but Sale deserved it at the time.
The Red Sox — led by future Hall of Fame executive Dave Dombrowski at the time — traded an arm and a leg to acquire Sale in 2017, and the high-strikeout starter was coming off a strong first two years in Boston.
Sale went 17-8 with a 2.90 ERA in 2017 and 12-4 with a 2.11 ERA in 2018. He also led the league in innings pitched, strikeouts, and FIP during the 2017. This was a player that Boston definitely needed to keep around.
Chris Sale has an interesting clause attached to his contract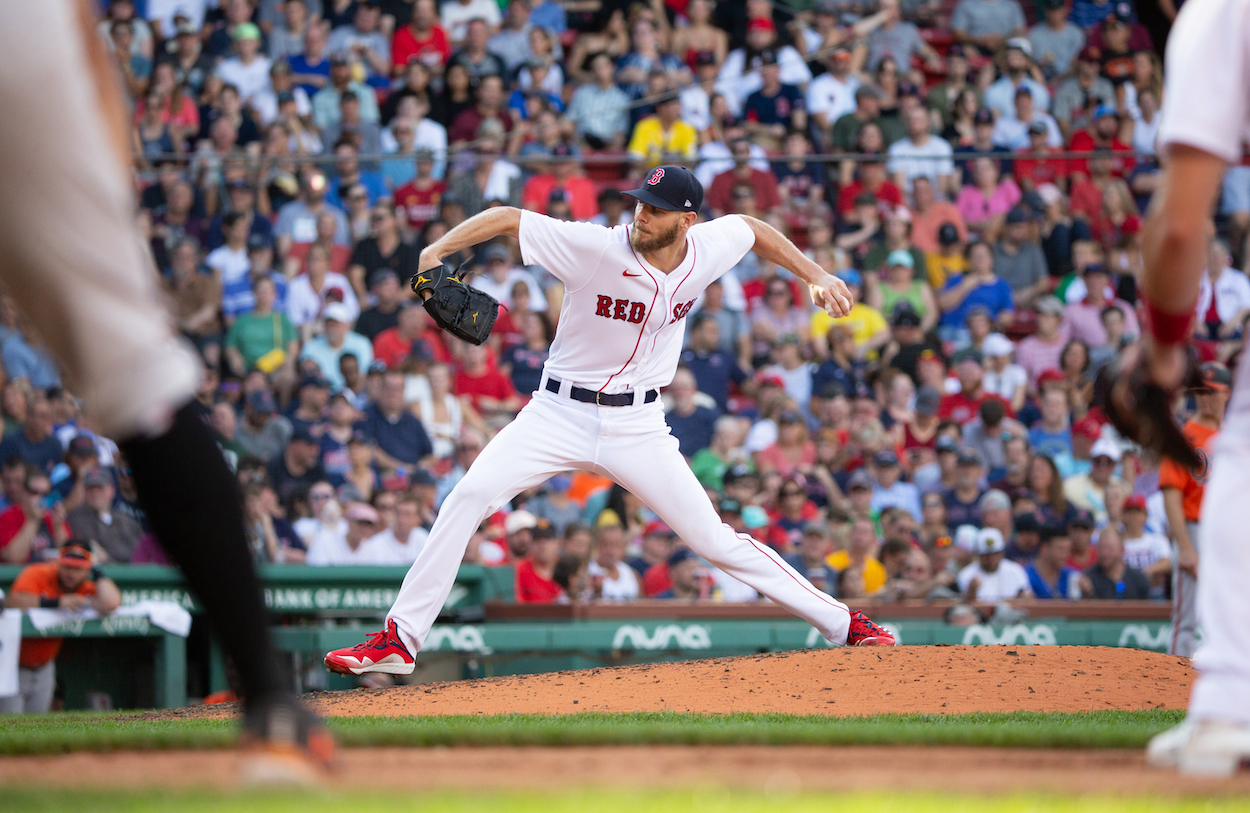 Sale isn't currently expected to hit the open market until 2025, when he'll be 37 years old, but according to Spotrac, he'll have the ability to opt-out of his current deal with the Red Sox following the 2022 campaign.
Choosing to opt-out would see Sale void roughly $75 million between 2023 and 2025, but it's something that baseball fans are going to have to keep an eye on nevertheless. The option to opt-out and elect free agency is there for Sale.
If for some odd reason the veteran lefty decides to pursue a career elsewhere, or believes he'd recieve an even larger contract via free agency (he wouldn't), 2022 would be the year for him to make that move.
The Red Sox have their ace back
As things currently stand, the Red Sox are happy to have their ace back. Sale missed all of 2020 and half of 2021 with his elbow injury, making it quite the spectacle when he returned against the Batltimore Orioles on August 14. Fenway was packed to the brim to see their star pitcher perform.
The southpaw went 5.0 innings, allowing two runs to score while striking out eight. It wasn't a 100% dominant performance like Red Sox fans are used to with Sale, but the high strikeout total left people feeling positive about his outing in its entirity.
Sale has always been a strikeout pitcher, seeing him mow down eight Orioles during his first start in almost two years is a great sign.
Sale is beloved in Boston and is being paid like a superstar — the odds of him excercising his opt-out clause are slim to none. However, you somply never know in the MLB. It's something to keep in mind post-2022.
All stats courtesy of Baseball Reference.
RELATED: The New York Mets' Failure to Pay Zack Wheeler Was a Crippling Mistake