Chris Simms Is Eating the Crow and Admitting He Was Wrong About Bears Rookie Justin Fields: 'He Knows How to Handle Himself'
Article Highlights:
NBC Sports analyst Chris Simms said he was wrong about Chicago Bears rookie Justin Fields
Simms didn't have high opinions of Fields entering the 2021 NFL Draft
The former Tampa Bay Buccaneers quarterback also had harsh words for San Francisco 49ers rookie Trey Lance
NBC Sports analyst Chris Simms is willing to go where few media members even consider traveling to in 2021: the land of eating crow.
Simms, a former quarterback in his own right, frequently expressed concern and doubt about ex-Ohio State star Justin Fields during the pre-draft process. As the Chicago Bears rookie continues progressing and trying to overcome head coach Matt Nagy's stagnant offense, the 2019 Heisman Trophy finalist has turned one of his most vocal critics into an apologetic fan.
Chris Simms admitted he was wrong about Bears rookie Justin Fields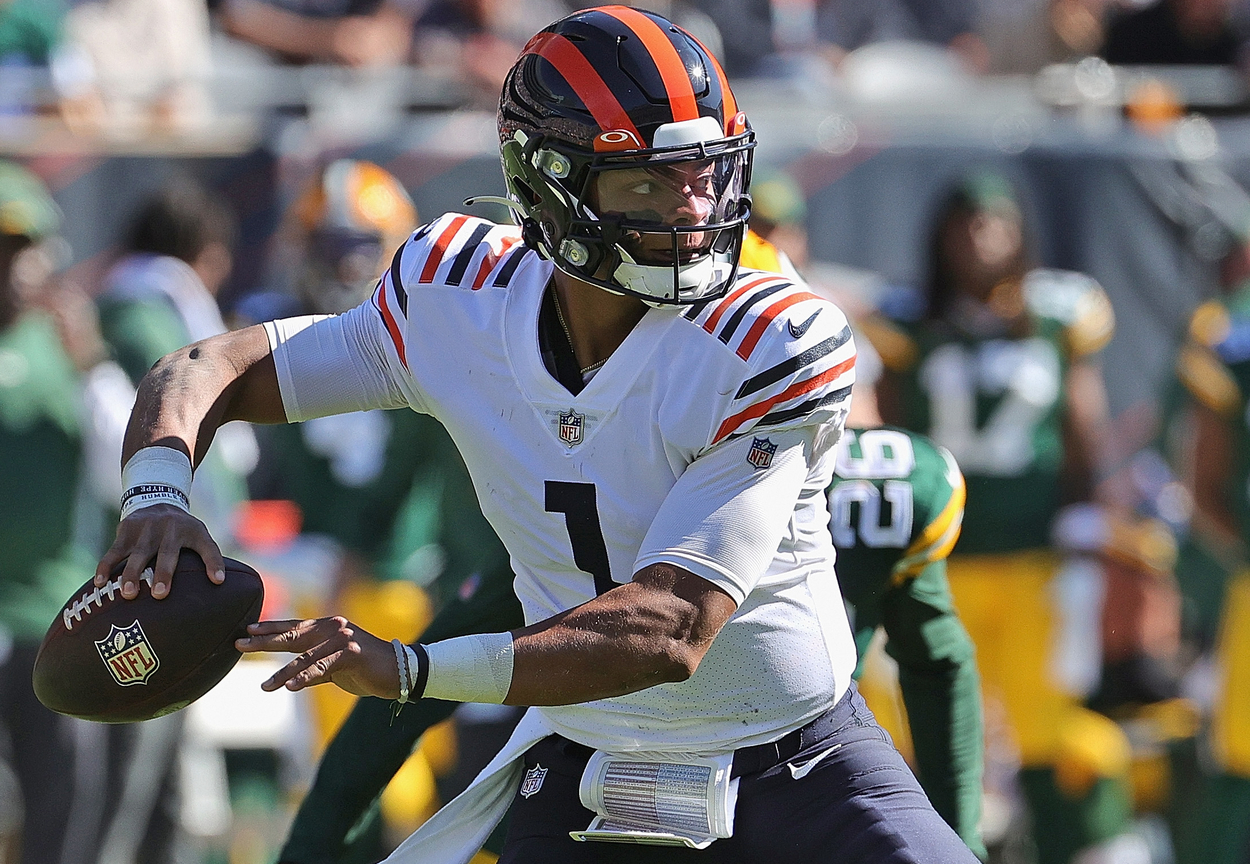 In the leadup to the 2021 NFL Draft, Simms ranked Fields as the event's fifth-best quarterback. He also projected the Tampa Bay Buccaneers, his former team, would select the 2019 Big Ten Championship Game MVP with the 32nd overall pick.
As we know, none of that happened. The Bears traded up and used the 11th overall pick on Fields in April. He was, however, the fourth quarterback drafted.
Then came Simms' annual quarterback rankings, and he held nothing back when ranking Fields 39th out of 40. Remember, the Ohio State product hadn't even played a single game yet, and Simms considered him better than only Case Keenum, the Cleveland Browns' backup. 
Flash forward a few months to mid-October, and Simms is willing to admit he was wrong. On the Oct. 18 episode of Chris Simms Unbuttoned, the Football Night in America analyst owned up to his mistake.
"To me, he's light years ahead of [San Francisco 49ers rookie quarterback] Trey Lance right now. He's not as raw. He knows how to play the position a little bit more rather than just being a great athlete who plays the position. And that's what I like from him, and of course he knows how to handle himself and do everything else the right way, too."

Chris Simms
Simms ranked Lance 38th on this summer's quarterback list. Interestingly, the former Buccaneers signal-caller listed Fields above Lance on his pre-draft quarterback rankings.
Simms might be jumping the gun on Fields just a bit
Simms, to his credit, has always backed up his hot takes and controversial opinions. For as ludicrous as some of his football beliefs and rankings have been, he's at least tried making us see where he's coming from in a genuine way.
With that said, the Texas product needs to take a deep breath and ease up. Fields is four starts and six games into his NFL career, and he's looked like a rookie; he hasn't played great, and he hasn't played terribly. He's been fine, and that in itself is fine.
Fields entered a Week 7 matchup with Tom Brady and the Buccaneers having completed 53.5% of his passes for 632 yards, two touchdowns, and three interceptions. Although he's rushed for 102 yards and a touchdown, the Bears have been reluctant to fully unleash him as a runner. Given the Bears' offensive injuries and overall inconsistencies under Nagy, the Kansas City Chiefs' former offensive coordinator, no one with a rational mind is sounding the panic button yet.
Still, Fields really hasn't done enough for Simms to apologize. He's been an adequate rookie starter with highs and lows. Compare that to Mac Jones and Trevor Lawrence, both of whom have made impressive strides for the Jacksonville Jaguars and New England Patriots in recent weeks.
Simms' admission that Fields isn't as "raw " as Lance is strange given that the latter has one start and 111 total offensive snaps under his belt. Fields, conversely, has played 272 offensive snaps. There's not enough of an even sample size to start comparing quarterbacks.
No one is writing Fields off yet or even suggesting that he's on trajectory to be a bust. However, let's give the rookie a few more weeks as the starter before we start rushing to judgment. He's earned that much even if he's still waiting for the Bears to give him the green light and let him play like a legitimate dual-threat quarterback.
Simms also needs to give Trey Lance a bit more time to prove himself
Perhaps the biggest takeaway from Simms' comments really doesn't involve Fields. Well, it does, seeing as he said the Bears rookie is "light years ahead" of Lance, but that's more of an indictment on Lance — and a strange one, at that.
Lance has started one game and saw significant action in another, one where he replaced Jimmy Garoppolo because of injury. He completed nine of his 18 pass attempts against the Seattle Seahawks in Week 4 for 157 yards, two touchdowns, and no interceptions after coming off the bench. 
Although the Arizona Cardinals' stingy defense held him to 192 yards and an interception in Week 5, Lance ran for 89 yards in his first start. Even if he only completed 24 of 47 passes in those games, this is still a rookie with six significant quarters of football under his belt.
It might be a bit before we see Lance return to the starting lineup. Garoppolo is expected to start against Carson Wentz and the Indianapolis Colts in Week 7. Barring another injury, we may not see Lance get extended action again until December depending on how the 49ers' season pans out.
It took six weeks before Simms to change his course on Fields. Based on things right now, it might take Lance a bit longer to get out of the doghouse.
Like Sportscasting on Facebook. Follow us on Twitter @sportscasting19.
RELATED: Chris Simms Suffered From 'Stomach Pains' After a Year of Working for Bill Belichick