Chris Simms Suffered From 'Stomach Pains' After a Year of Working for Bill Belichick
New England Patriots head coach Bill Belichick has a reputation for being tough. Chris Simms learned that the hard way despite never playing a down for the legendary defensive mastermind.
Before he became a controversial analyst for NBC Sports, Simms tried his hand at coaching and scouting. However, the former quarterback quickly learned he might have made the wrong decision.
Chris Simms said he had 'stomach pains' after working for the Patriots in 2012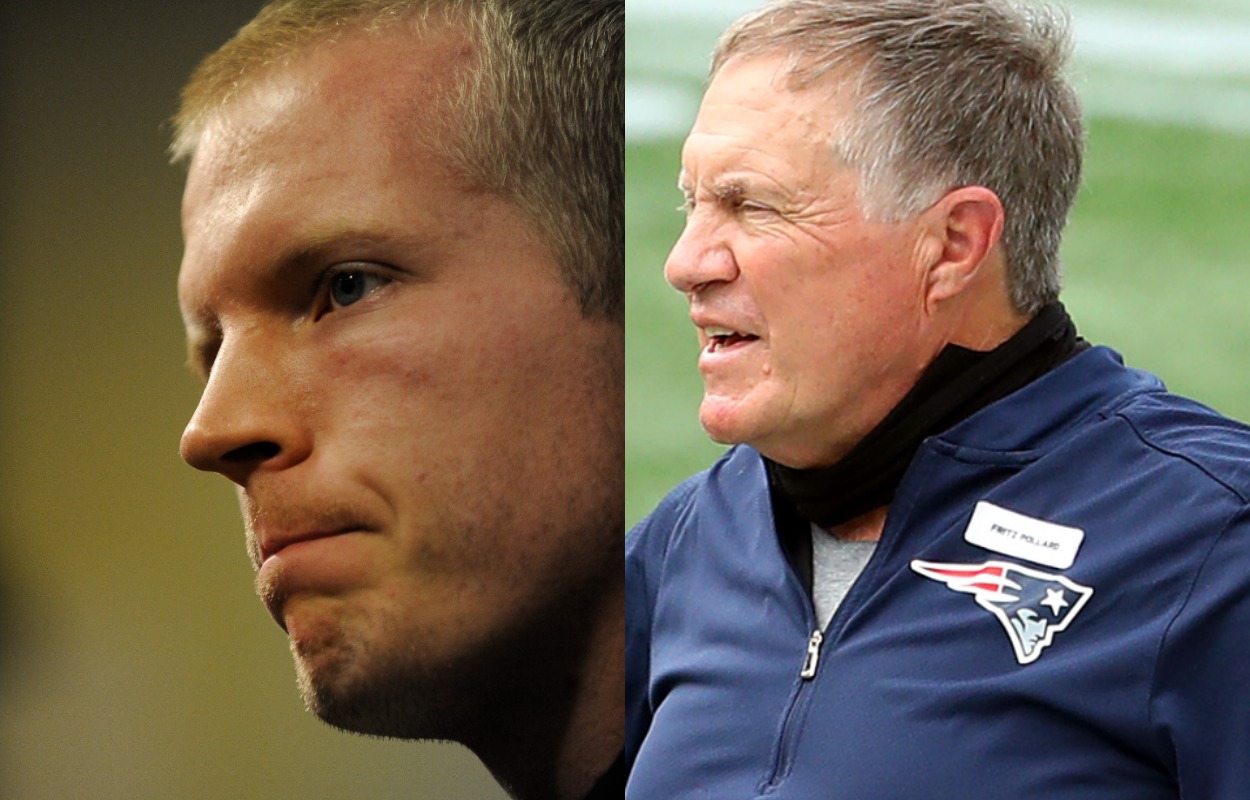 By the spring of 2012, Simms hadn't thrown a meaningful pass in an NFL game since November 2009. He was 31 years old and ready to move on to the next chapter. 
As it turned out, his next step involved joining Belichick and the Patriots as a coaching assistant. Belichick served as the New York Giants' linebackers coach and defensive coordinator when Chris' father, Phil, served as the team's quarterback in the 1980s. Officially, Simms' role during the 2012 season consisted of breaking down film for the Patriots' offense and putting together a scouting report.
Simms quickly realized he wouldn't ever go from scout to executive, but not because of his performance. In the July 5 edition of Football Morning in America, he reflected on his time working for the Patriots and admitted the job's demands didn't fit what he wanted in life. 
"And I had stomach pains because I swear I saw [my kids] four nights, total, the entire season. I felt like I was missing something. I wanted to see my kids grow up."

Chris Simms
Perhaps with help from Simms, the Patriots went 12-4 in 2012 and reached the AFC championship game. He didn't return to the Patriots in 2013. 
Simms made the right move going into sports media
Say what you want about Simms as an analyst or talent evaluator, but he deserves credit for accepting that a coaching or front office job wasn't for him. 
Getting paid to analyze football, however, fit exactly what he needed in life. After a year calling college football for Fox Sports, Simms joined Bleacher Report in 2014. Between his work there and collaborations with ProFootballTalk founder Mike Florio, the 2003 third-round pick's stock skyrocketed. 
NBC Sports made Simms, who appeared on PFT Live as a guest for multiple years, a full-time employee in 2019. In less than a decade, he went from feeling miserable while working for the Patriots to working on Football Night In America and the network's coverage of Notre Dame football games.
As of July 2021, Simms also has over 72,000 followers on Twitter. Creating controversial rankings and lists goes a long way in making people know who he is and what's on his mind.
The Simms family continues having a large presence in covering the NFL
When NBC hired Simms as a full-time employee in 2019, the network sent a clear message about how much it valued him and his potential on the network.
The prominent hire also ensured the Simms family would continue to have a significant presence in the football world. His father, Phil, is an analyst on The NFL Today, the weekly pregame show on CBS. The older Simms is also expected to return for another season on Inside The NFL, which is moving to Paramount+ this fall.
That is great news for a father and son who are passionate about the game and its future. In the end, Chris Simms got the last laugh even if he never became a Super Bowl champion like his father. He reached the NFL and, after a season working for Belichick, decided what should and should not have been his next step.
Like Sportscasting on Facebook. Follow us on Twitter @sportscasting19.