Chris Simms Urges Lamar Jackson to Open Contract Negotiations With the Ravens
The 2022 offseason is already off to an interesting start for the Baltimore Ravens. General manager Eric DeCosta and the scouting department are in Indianapolis for the NFL Combine. They're away evaluating incoming talent, but DeCosta can't escape questions about the future of Lamar Jackson.
The former MVP is heading into the final year of his rookie contract and has yet to ink a long-term contract extension. NBC Sports analyst and former NFL quarterback Chris Simms isn't a fan of Jackson's approach. He believes the 25-year-old superstar should have a sense of urgency when securing his future in the NFL.
NBC Sports' Chris Simms implores Lamar Jackson to negotiate new contract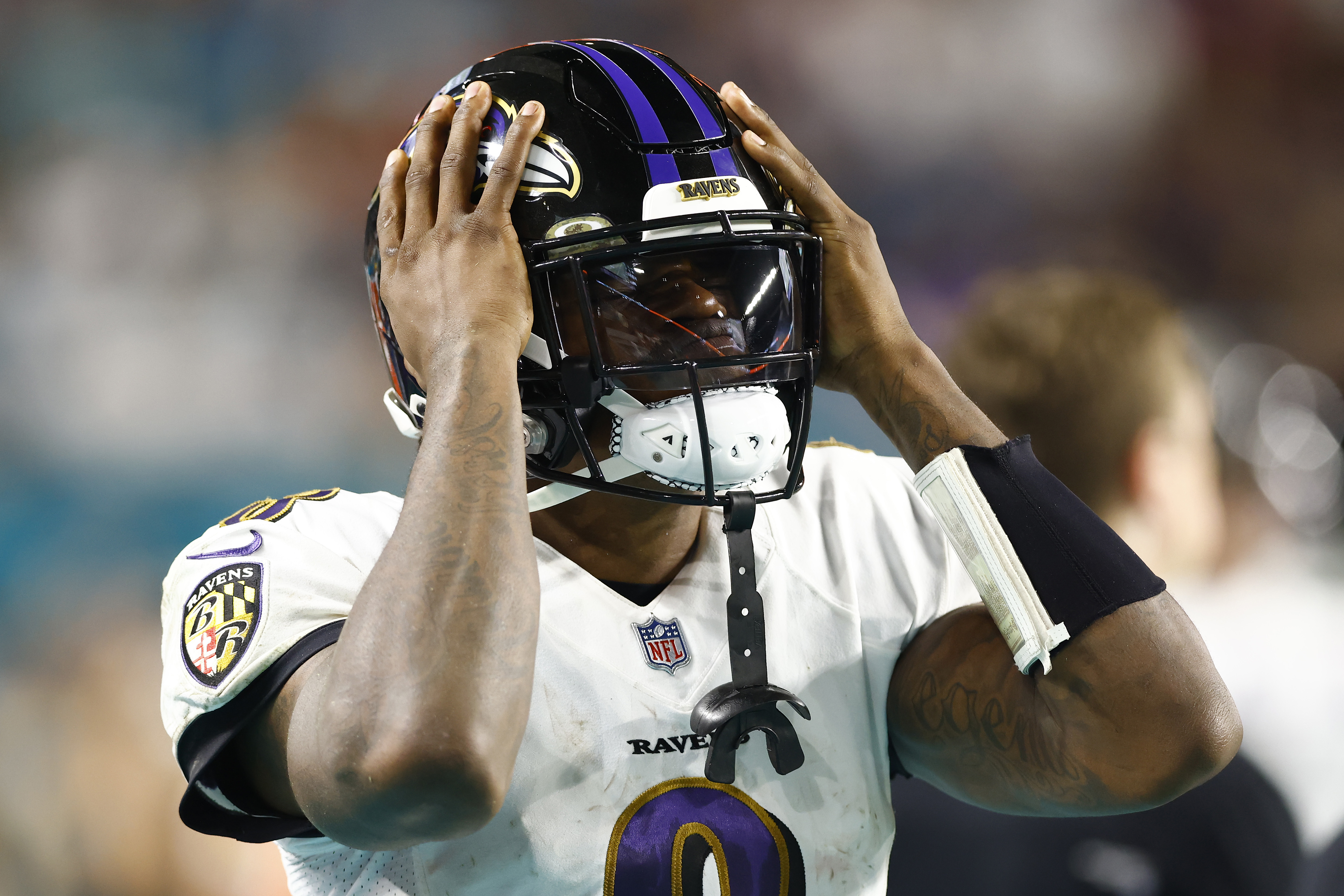 Lamar Jackson is traveling an uncommon path right now. He opted not to hire an agent when declaring for the draft, and he still doesn't have one. Jackson's mom is in his corner, but otherwise, he's handling his own contract negotiations.
Many expect the Louisville product to be the next star quarterback to land a massive payday. However, the process is moving much slower than anyone expected. And it seems that Jackson isn't quite ready to fully open up contract negotiations.
NBC Sports' Chris Simms and Mike Florio recently weighed in on the strange situation out of Baltimore.
"I don't ever remember seeing anything like this, I really don't," said Simms. "The problem with Lamar is this seems par for the course. This has gone down ever since the draft — not being able to get in contact with him about anything. You can't get in there. It seems that he and his mother have things on lockdown."
The former NFL quarterback also suggests that Jackson is getting close to dangerous territory by waiting.
"You're endangering yourself, Lamar Jackson," Simms added. "I am rooting for you. I want you to make as much money as possible. You've won an MVP. You've led a bunch of teams to the playoffs. You're a superstar, and you're definitely one of the best players in the league. There's more of an injury risk for Jackson with the way he plays. Wear and tear is going to start to build up."
"I can't make sense of it. But for Lamar Jackson, man, I'd like to see him get representation. Or at least just call the Ravens and get this going."
How the slow-moving talks could affect the rest of the Ravens' offseason
Chris Simms' concerns aren't unwarranted. Lamar Jackson is coming off an ankle injury that caused him to miss the last four games of the 2021 regular season. The injury happened in the pocket, but it shows that injuries are inevitable in football.
A long-term extension not getting done doesn't appear to be due to a lack of effort on the Ravens' end. General manager Eric DeCosta addressed the media at the NFL Scouting Combine and opened up on the slow-moving contract talks.
"I think it takes two sides to actively put their heads together and get a deal worked out," he said per ESPN's Jamison Hensley. We are ready to be there for Lamar at any point. When he decides that he really wants to work on it, we will be."
Jackson isn't in any rush to dive into the meat and potatoes of a contract negotiation yet, though. Perhaps, it's not about the money for him. Or, he could be holding out to potentially get more money down the line. Either way, DeCosta and the front office are in a bit of a tricky situation at the moment.
Baltimore has just over $9.7 million in cap space, which is below the league average ($15.6 million). The front office has several needs to address in the offseason, including the offensive line, defensive line, and secondary. Not knowing what will happen with Jackson could impact how the team spends money in free agency.
What could a new contract look like for Jackson?
Chris Simms makes some valid points. Lamar Jackson is still in his prime, but injuries are a natural part of the game. Before the 2021 season, the Ravens superstar stayed relatively healthy. However, the ankle injury should get the wheels turning about potentially getting a deal done soon.
Still, Jackson has every right to wait this thing out if he so chooses. As CBS Sports insider Josina Anderson suggests, the fourth-year quarterback could be waiting for other deals to take place to set the market. New contracts could be coming for Kyler Murray, Matthew Stafford, and Aaron Rodgers.
How much money would Jackson be looking at if he secures a contract extension?
The current market value is five years, $215 million, which equates to $43.1 million per year. A contract of that nature would put him in the ballpark of guys like Deshaun Watson, Josh Allen, Dak Prescott, and Patrick Mahomes.
Whether or not Baltimore pays Lamar Jackson isn't the discussion. And he undoubtedly will have deserved every penny. However, it's fair to question his approach to the contract negotiations.
Jackson is an extraordinary talent, and people want him to get everything he has earned in the NFL up to this point.
All stats courtesy of Pro Football Reference and contract figures courtesy of Spotrac
RELATED: Adam Schefter Argues Lamar Jackson Shouldn't Play Until He Gets New Contract