Chris Taylor's Historic Game 5 Performance Against the Braves Could Cost the Dodgers Millions
With their backs up against the wall, down 3-1 in the National League Championship Series, the Los Angeles Dodgers desperately needed someone to step up and provide life.
While Mookie Betts, Trea Turner, Corey Seager, or even former MVP Cody Bellinger are the typical names you'd turn to for a series-saving performance, a far less-known name ultimately stepped up for LA.
Chris Taylor, who's spent his Dodgers career bouncing all around the diamond, churned out one of the greatest single-game performances in baseball history. The 31-year-old utilityman launched three separate home runs, guiding the Dodgers to a crucial Game 5 victory.
Chris Taylor is scorching hot
Taylor made his first career All-Star Game this season. However, it ended up being a rather typical year for the veteran. He finished 2021 with a .782 OPS and 110 OPS+.
Taylor's career OPS is .779, and his career OPS+ is 109. He performed exactly as to what's become expected of him this past year.
However, once the postseason began, a completely different version of Taylor emerged. Following the Dodgers' Game 5 win over the Atlanta Braves, Taylor is slashing .529/.600/1.176 with a 1.776 OPS over the course of 20 plate appearances.
Yes, you read that correctly. Taylor is boasting an OPS of 1.776 in the 2021 postseason.
According to MLB Math's "Offensive Value Over Average" metric, Taylor has been the second-best postseason hitter in all of baseball this October, only trailing the Boston Red Sox's Kike Hernandez. Taylor also became the first player in MLB history with three home runs in an elimination game.
Needless to say, Taylor is scorching hot.
Chris Taylor is an impending free agent
While Taylor is presumably locked in on the current task at hand (winning two more games against the Braves), it's worth pointing out that he's an impending free agent. He will have an opportunity to cash out this offseason, and his recent playoff heroics are only helping his cause.
Taylor's steady bat and defensive versatility were going to command a reasonable asking price as is. Now, he gets to market himself as an elite postseason performer, something for which teams hungry for October success will happily overpay.
It's a perfect storm of success and timing for Taylor (and his agent).
Will the Dodgers be able to retain their favorite utilityman?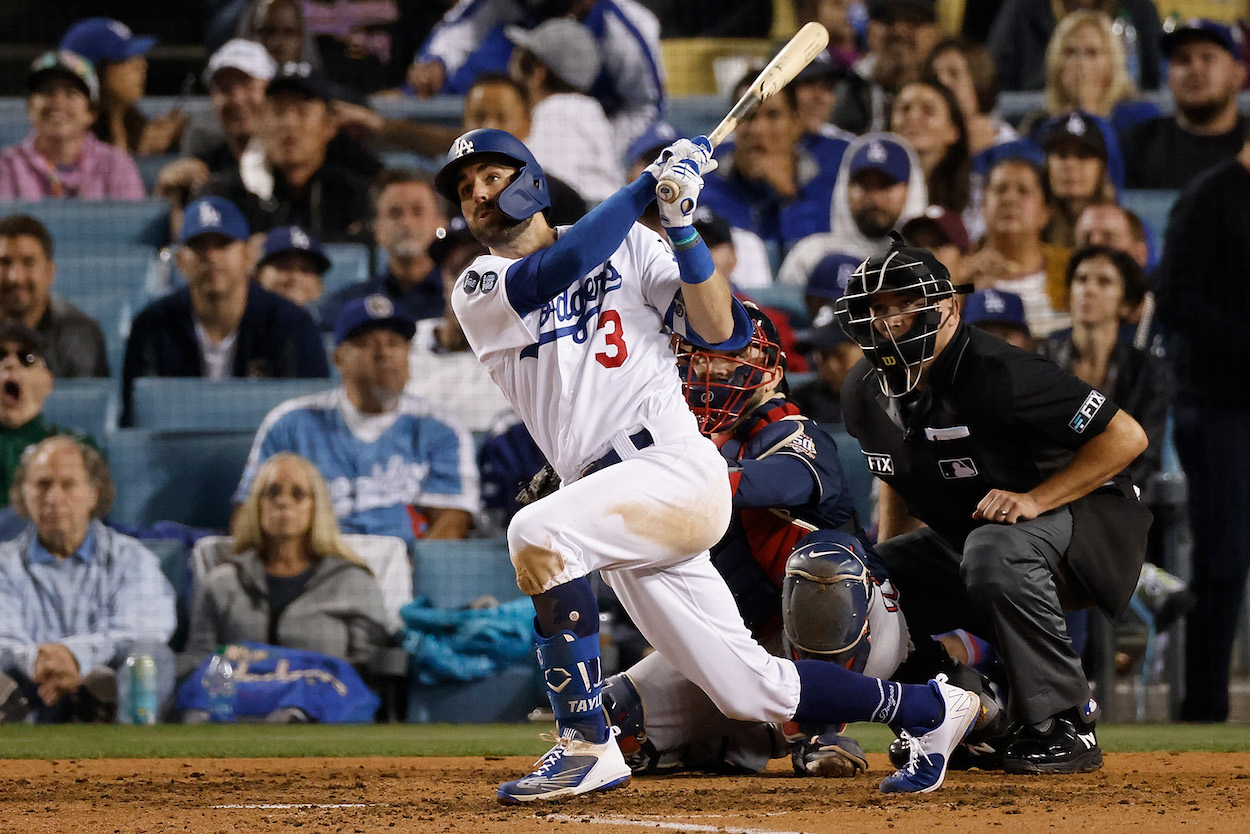 Taylor's current salary clocks in at $7.8 million, and his projected offseason value is $11 million (per Spotrac). However, following his stunning string of postseason performances, it's reasonable to assume said number is going to jump up another few million.
Something in the range of $15-16 million feels more reasonable.
With that in mind, the Dodgers are now staring down a scenario in which they'll have to splurge to keep Taylor. LA has loved Taylor's versatility since the moment he joined the organization in 2016. However, $15-16 million per season is a lot of money to fork over for someone who hasn't been an everyday starter the past few seasons.
The Dodgers also have to worry about Corey Seager, Max Scherzer, and Kenley Jansen hitting the open market. Shortstop Trea Turner is looking for a contract extension sooner than later as well.
If the Dodgers decided to forego re-signing the now-more-expensive Taylor, it would open the door for other teams to come in and capitalize on his ability. The Philadelphia Phillies, for example, are in desperate need of defensive versatility and have often been linked to Taylor.
The Phillies are also known to overpay for free agents ($28 million on Didi Gregorius last winter). They may happily pay Taylor $15-plus million per season.
The Dodgers can't start worrying about the offseason quite yet — they still have a job to do. However, Taylor's increasing value is presumably in the back of everyone's mind in the Dodgers' front office. He might technically cost LA millions with his October heroics.
All stats courtesy of Baseball Reference.
RELATED: Astros Slugger Yordan Alvarez Just Joined Carlos Correa in Icon Territory Thanks to a Massive Game 5 Performance