Christian Horner Defends Michael Masi, Calls Out 'Harsh' Toto Wolff for Actions 'Tantamount to Bullying'
Christian Horner disagreed with the Michael Masi ruling.
The Red Bull Racing boss didn't like the offseason harassment rained upon the fired FIA race director by the Mercedes camp.
He also doesn't like the new two race director model Formula 1 is adopting in the wake of the 2021 Abu Dhabi Grand Prix controversy.
What does Horner like?
His driver, Max Verstappen, agreed to a five-year extension and will compete for back-to-back titles.
Christian Horner: 'I thought it was harsh on Michael Masi'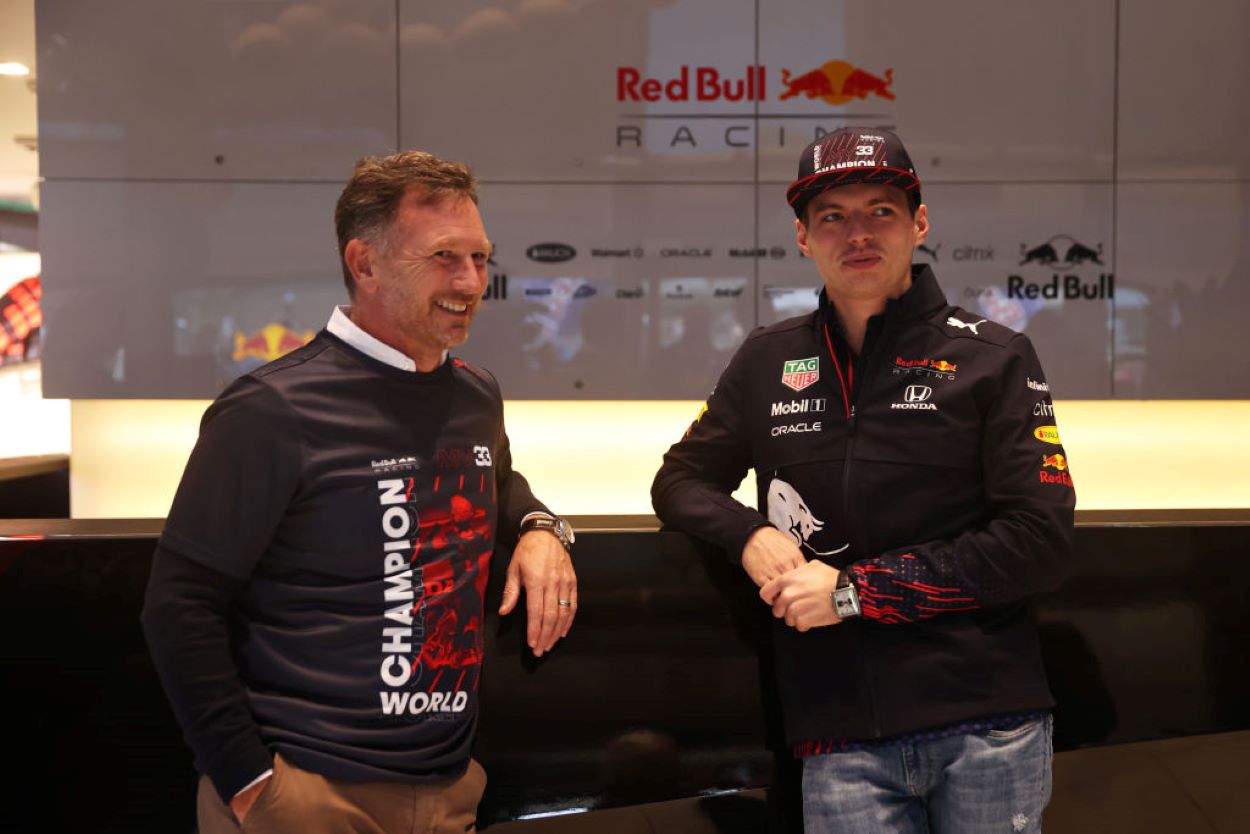 Horner called Masi's sacking "harsh," according to the Daily Mail.
Masi reportedly had difficulty with his dismissal.
Masi came under fire during the season-ending event. With circuit leaders Verstappen and seven-time F1 champ Lewis Hamilton tied in the drivers' standings, the world championship came down the season's final lap.
Masi ordered a pass to the five lapped cars with the Safety Car deployed. Hamilton paced the field but raced on worn tires. Verstappen, on new tires, did not have to contend with traffic, passing Hamilton along Turn 5 to clinch the title and spark a round of protests by Mercedes chief Toto Wolff.
"I thought it was harsh on Michael Masi that he was replaced after a lot of pressure put on him," Horner said. "Everything is back to zero, new season, new regulations."
Horner didn't stop there. According to the Express, Horner insinuated Mercedes chief Toto Wolff's offseason harassment of Masi was "tantamount to bullying."
F1 will employ two race directors to replace Masi
Part of the new regulations is expanding the race director role. Instead of one, two individuals will share responsibilities. Eduardo Freitas, a WEC race director, and Niels Wittich, an ex-DTM race director, were tabbed to replace Masi.
Horner doesn't like the switch.
"It's going to be interesting to see how that works (with two race directors)," Horner said on BBC Breakfast. "You want consistency, so having one race director for me was preferential, rather than splitting that role."
There's another thing Horner will not like.
After spending most of the offseason on a media blackout, Hamilton said he feels the "freshest today that I feel I ever have," according to motorsport.com.
Hamilton: 'I feel I'm at my best'
Hamilton felt jilted following the last-lap loss at Abu Dhabi GP. He was moments from earning a record eighth drivers' title, breaking his tie with Michael Schumacher. He threatened early retirement, skipped mandatory F1 events, and blocked his social media platforms.
"I feel I'm at my best," Hamilton said. "So why do I need to leave? There are so many different ways you can refocus and be recentered, and I would say this (winter) is one of the best that I've experienced."
Hamilton pouted throughout the winter months, but with two years and $110 million remaining on his contract, he will return for 2022. The sequel with Verstappen is on.
Horner should like that, at least.
Like Sportscasting on Facebook. Follow us on Twitter @sportscasting19.
RELATED: Lewis Hamilton Criticizes Max Verstappen for Being an On-Track Bully, Calls F1 Champ 'Aggressive as Hell'