Christian McCaffrey Blasts the NFL for Putting Players in Harm's Way: 'You Go Through a Lot in a Football Game and Get Two Days to Recover'
There's a constant, ongoing debate as to who the overall best running back is in the NFL, but Christian McCaffrey undoubtedly takes the crown for being the most versatile. The veteran Carolina Panthers RB is both an elite runner and an elite receiver, and he has the numbers to back it up.
McCaffrey recorded 1,965 scrimmage yards in 2018 and a league-leading 2,392 scrimmage yards in 2019.
While McCaffrey's talent is unquestionable, his health (or lack thereof) is not. He's struggling to stay healthy.
Christian McCaffrey is starting to stack up injuries
McCaffrey's 2020 season was a major letdown compared to what he did in 2019, primarily due to injuries. He missed a total of 13 games thanks to a high ankle sprain and shoulder injury.
McCaffrey tried to work through the injuries on more than one occasion. However, he ultimately had his season shut down by a concerned Carolina front office. They had just handed McCaffrey a large contract extension before the season began. The Panthers didn't want to risk permanent damage to their franchise running back.
McCaffery is currently dealing with a hamstring injury as well, which could see him miss a Week 5 game against the Philadelphia Eagles.
Running back is a tough position to play in the NFL; that pretty much goes without saying. The position is subject to a ton of physical punishment due to hard-hitting linebackers and big-bodied defensive linemen.
While it'd be pretty easy to chalk McCaffrey's recent string of injury issues to the nature of his job, he believes the NFL is partly to blame.
Christian McCaffrey blasts NFL for Thursday Night Football
McCaffrey's current hamstring issue stems from a Thursday Night Football game against the Houston Texans. According to McCaffrey, the short-rest nature of playing on Thursdays is to blame.
"It was extremely frustrating," said McCaffrey.
"I don't prefer Thursday night games. You go through a lot in a football game. And you really get two days to recover, and one of those days is a travel day. So you get two days to recover, you hop on a plane, you get in a hotel, and then you go out and play in a football game. It's really tough. But it is what it is. It's part of the game. And, obviously, frustrating."
Would the NFL consider eliminating Thursday games?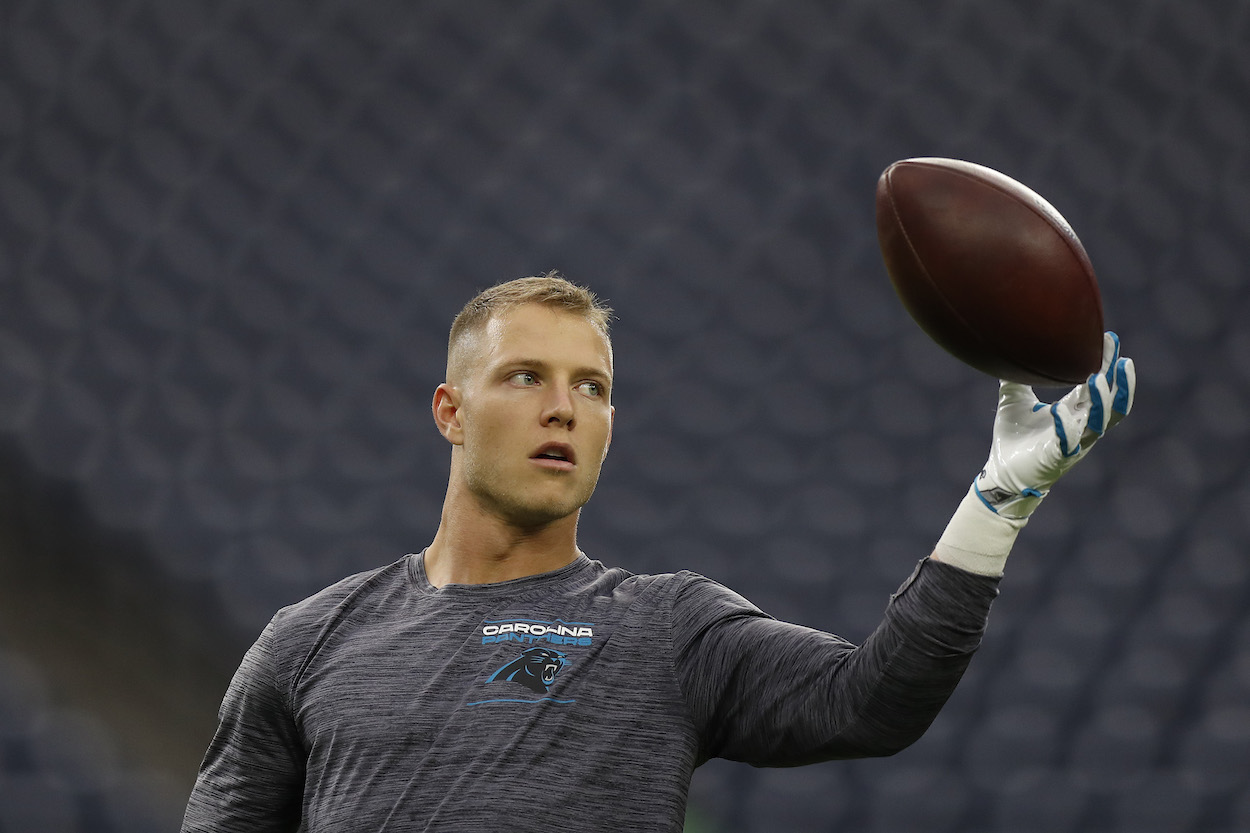 This isn't the first time an NFL player has publicly criticized Thursday Night Football. In fact, most teams and players tend to dislike the idea of playing on such short rest.
With that said, there's essentially a zero percent chance the NFL considers removing the mid-week format. Thursday and Monday night games are gold mines for the NFL. If anything, the league wants to add more mid-week games or games at odd/different time slots.
It's highly unfortunate McCaffrey suffered his hamstring injury due to playing on short rest, and even more unfortunate for those of you who drafted him No. 1 overall in fantasy football. However, his frustration is likely falling on deaf ears when it comes to the NFL.
All stats courtesy of Pro Football Reference.
RELATED: Eagles QB Jalen Hurts Is Staring Down an Absolutely Terrifying Scenario Against Brian Burns and the Carolina Panthers