Christian McCaffrey Celebrated His $64 Million Contract Extension in a Big Way
The Carolina Panthers recently rewarded Christian McCaffrey for his stellar play through three seasons. McCaffrey has been one of the best running backs in the entire NFL the past couple years and now he has the contract extension to show for it. McCaffrey's $16 million per year salary will be the highest out of all NFL running backs. So, of course, he needs to celebrate that he is richer, right? That is exactly what he did.
Christian McCaffrey has been dominant the past two seasons
Before coming into the NFL, Christian McCaffrey was a star at Stanford. McCaffrey ran for 2,019 yards and gained 645 receiving yards during his sophomore season in 2015. He then had 1,603 rushing yards during his junior year in 2016. McCaffrey's play in college helped him become a top prospect in the 2017 NFL draft.
The Carolina Panthers then selected McCaffrey with the eighth overall pick in the draft. McCaffrey split some time with Jonathan Stewart his rookie season. He, however, became a star during his second season in 2018. McCaffrey ran for 1,098 yards and seven touchdowns in 2018. He also caught 107 passes for 867 yards and six more touchdowns. Then in 2019, McCaffrey was arguably the best running back in the NFL. McCaffrey ran for 1,387 yards and 15 touchdowns. He also caught 116 passes for 1,005 yards and four touchdowns. He ultimately led the NFL in combined receptions and rushing attempts (403), combined rushing and receiving touchdowns (19), and yards from scrimmage (2,392).
McCaffrey earned his first Pro Bowl selection in 2019. He was also a first-team All-Pro selection. In 2019, McCaffrey proved that he is one of the best running backs in the entire NFL and that he deserves to be compensated for it.
Receiving a new contract extension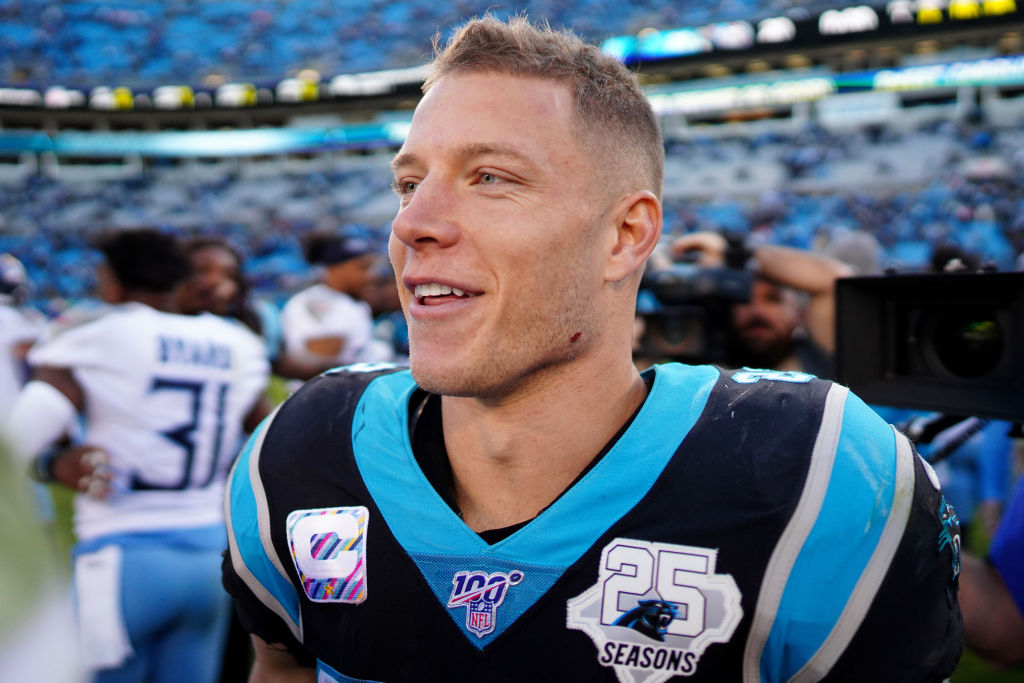 Many were wondering if the Carolina Panthers were going to lock McCaffrey up after his excellent play in 2019. He has one year left on his rookie contract in addition to a fifth-year option for 2021. However, McCaffrey signed a four-year extension on Monday worth $64 million. He will earn a $16 million average annual salary which is the most among running backs in the league. It is also the most among running backs in NFL history.
"I'm so excited to continue my career in Carolina," McCaffrey told ESPN. "I want to thank Mr. [David] Tepper, Marty Hurney, and Coach [Matt] Rhule for the opportunity to help lead this great franchise, and to all my teammates for their help along the way. And to Panthers fans, KEEP POUNDING!"

Christian McCaffrey
Prior to signing him to a new extension, McCaffrey's new head coach Matt Rhule had high praise for him. "He really builds to the culture you want to have within the building," Rhule said, according to ESPN. "We want to be a serious football place. We want to be a place that is all about the game. That's who Christian McCaffrey is … To label him a running back, that's not respectful to him. He's a tailback/wideout. He can do it all. I'm anxious to get him out there and to continue to build this thing around him."
So, now that McCaffrey is an even wealthier man, it is imperative that he celebrates.
McCaffrey celebrated with his girlfriend Olivia Culpo
Okay, so it is hard to celebrate when everyone is stuck at home in the middle of a pandemic. However, McCaffrey still celebrated with his girlfriend Olivia Culpo.
Christian McCaffrey has been dating the former Miss Universe winner since May 2019, according to the New York Post. He has also been social distancing with her and her sister Sophia Culpo, according to TMZ.
To celebrate McCaffrey's big new contract, it looks like they ultimately had a fancy dinner and Olivia Culpo posted a video of her popping a bottle champagne.
It is pretty hard to celebrate as much as you typically would when you are forced to quarantine, but McCaffrey and Culpo did what they could. We will see if Christian McCaffrey celebrates more once this whole thing is over. Either way, he is certainly loaded and is getting rewarded for some stellar play the last two seasons.