Christian McCaffrey Delivers Holiday Cheer for Military Families in the Best Way Ever
On the field, 2021 has certainly been a disappointing season for Christian McCaffrey and the Carolina Panthers. Injuries have once again robbed Panthers fans of another season watching their favorite star do what he does best.
Off the field, to the military families across the Carolinas that McCaffrey so tirelessly supports and advocates for, the season of giving is never over, and injured or not, he has once again done what he does best, revealing himself to be truly All-Pro and all class.
It may have just been one line in an Adam Schefter tweet on Wednesday, but it spoke volumes about the character of the Panthers' running back, who has made it his life's mission to give back to military families in need throughout the Carolinas.
For 363 of those families, their holiday season just got brighter than they ever imagined. And McCaffrey couldn't be more proud to make it happen.
McCaffrey's efforts on behalf of veterans earned him a 2021 Salute For Service Award nomination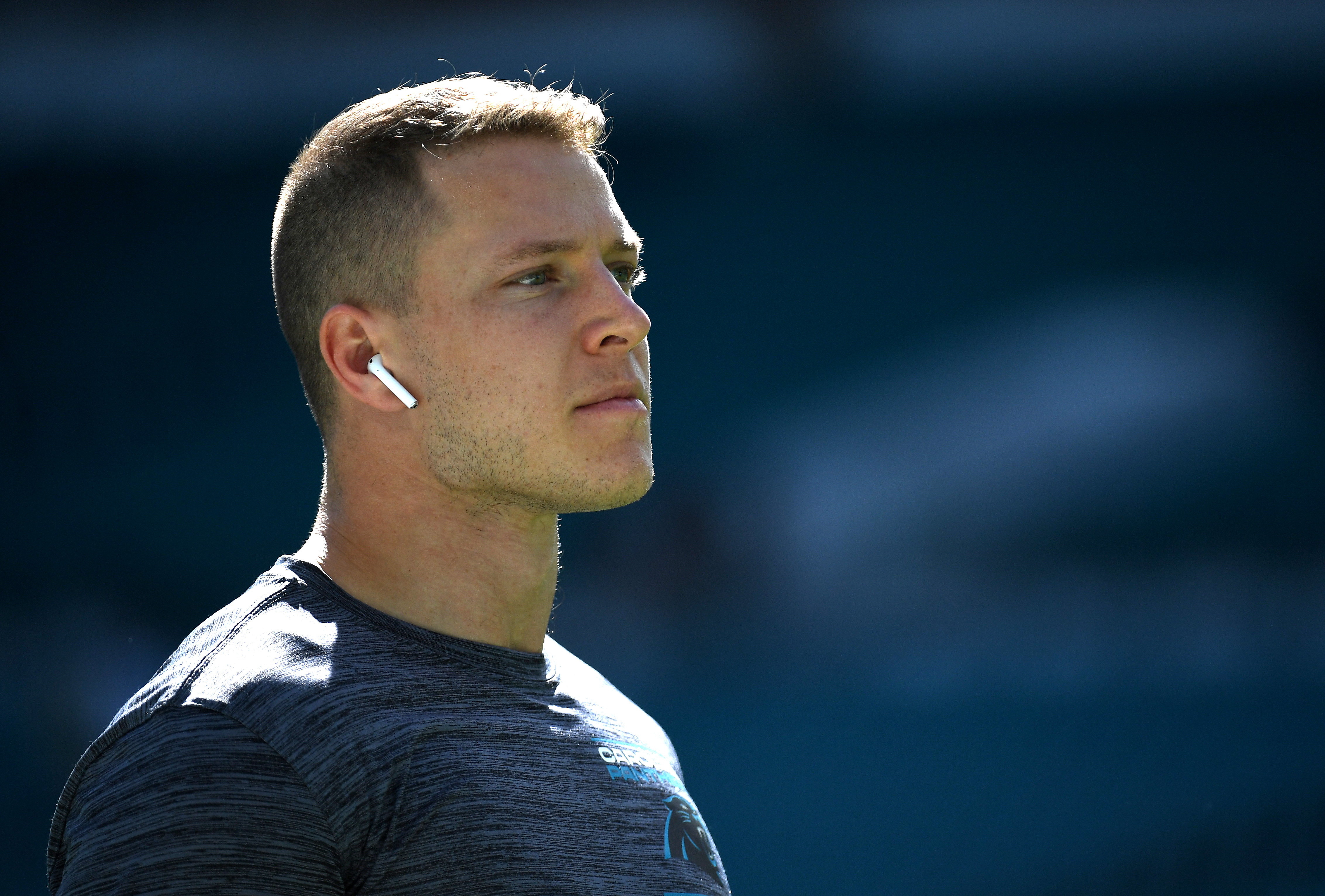 McCaffrey was only able to play in seven games for the Panthers this season because of hamstring and ankle injuries. But his recent injury history has not deterred him from contributing to communities in the Carolinas and beyond.
Over the past five seasons, McCaffrey has partnered with the USO of North Carolina and Veterans Bridge Home for fundraising and emotional-support efforts. In December 2020, he created the Christian McCaffrey Foundation, a 501©3 non-profit that not only has benefitted military veterans but has raised over a quarter-million dollars to aid frontline medical workers in the Carolinas and Denver, where McCaffrey's father, Ed, was a wide receiver for the Broncos.
In November, McCaffrey was nominated by the Panthers for the 11th annual NFL Salute to Service Award, presented by USAA. It is the second consecutive year that McCaffrey has been nominated by the team.
"I've always had a huge respect for the military," McCaffrey said in November. "I have a little bit of military background on my dad's side, so growing up it's just some of the values instilled in me at a young age. Without the men and women who defend our country, I wouldn't be able to play the game that I love so much."
The Salute to Service Award recognizes NFL players, coaches, personnel and alumni who demonstrate an exemplary commitment to honoring and supporting the military community, as nominated by NFL clubs.
Finalists will be announced in January, with the winner being recognized at NFL Honors, a primetime awards special to air nationally the week of Super Bowl LVI.
For Christmas, McCaffrey delivered the best gift of all to 363 military families
With times tough for many families this holiday season, with the pandemic still raging across the country, creating economic strains on top of the obvious health concerns, McCaffrey stepped up to alleviate the burden for 363 military families across the Carolinas this week.
McCaffrey's foundation, in partnership with the nonprofit organization, Pay Away the Layaway, paid off the holiday layaway balances for those families at Army & Air Force Exchange and the Navy Exchange Service Command locations throughout the Carolinas. Schefter mentioned the gesture in a tweet about McCaffrey and Adam Thielen's charitable efforts this holiday season.
McCaffrey held a zoom call with the families this week and expressed his gratitude for their sacrifices in announcing his way of saying thank you for their service.
"We owe our servicemen and women and their families a debt of gratitude for all that they do to serve our country," McCaffrey said. "The Christian McCaffrey Foundation is contributing to Pay Away the Layaway this holiday season to say thank you to military families throughout the Carolinas, for your service and your sacrifice."
As McCaffrey spoke, the joy and genuine surprise from McCaffrey's announcement could be seen in many of the faces on the zoom call.
"We are beyond grateful for Christian's commitment, both personally and through CMF, to supporting military families," said Pay Away the Layaway founder Lee Karchawer. "This is our way of saying 'thank you for your service' in a way that leaves a lasting impact. We couldn't do it without partners and advocates like Christian and his Foundation."
For McCaffrey, it's about more than just offering financial assistance
After creating his foundation in 2020, McCaffrey started a new project in May to assist veterans and their families dealing with post-traumatic stress disorder. The 22 and Troops Initiative, in partnership with REBOOT Recover, offers fundraising and program support.
In July, McCaffrey, with partnership from the USO, held a concert with country singer and U.S. Navy member Zach Bryan for 80 active duty military families. McCaffrey even played piano as 22 and Troops raised money for support of active military and veterans dealing with PTSD.
"Mental health is an unbelievably important topic, especially today," McCaffrey told the Charlotte Observer earlier this year. "Unfortunately … I've experienced friends who have lost their lives through mental health issues and who've struggled a lot due to mental health. This is something that's going to require everyone's effort now, as far as taking care of our veterans."