Christian McCaffrey Is the Newest Victim of Stephen A. Smith's Pursuit of Viral Nonsense Through Racially Charged Comments
At this point, the only thing that would explain ESPN star Stephen A. Smith's daily hot takes on First Take is the idea of him spinning a wheel before each show. First, he picks the topics, and then he decides which ridiculous angle to share.
On Thursday, Sept. 22., the first part of the wheel landed on Carolina Panthers running back Christian McCaffrey. After that? Well, you know how Smith works at this point.
Stephen A. Smith said Christian McCaffrey is underrated because of his skin color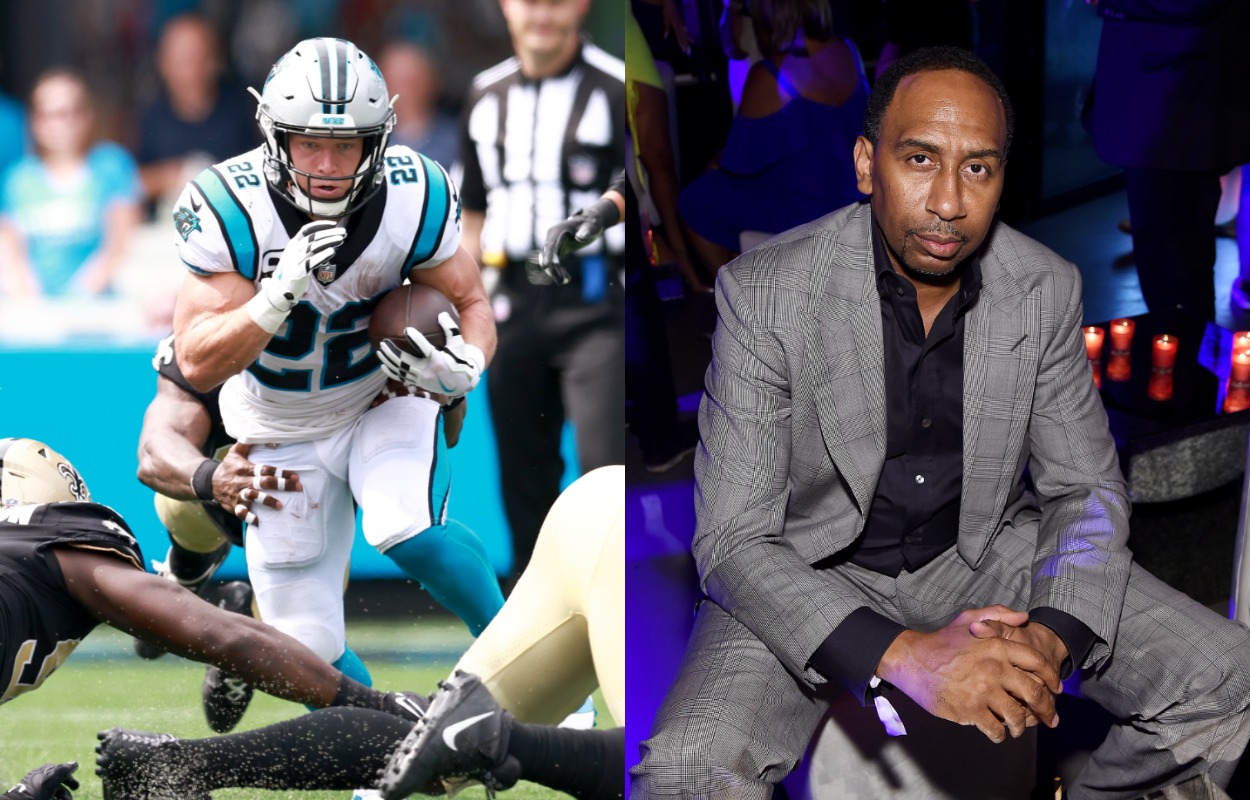 If you're playing fantasy football this fall, you know that McCaffrey likely went first in your league. You may have even wound up selecting him second overall because someone in your league boldly used the top pick on Kansas City Chiefs quarterback Patrick Mahomes.
McCaffrey, at least when he's healthy, is among the league's most explosive running backs. He's a dangerous weapon who can beat teams as a traditional rusher or as a receiver. The only knock against the Stanford product is he missed most of last year with injuries and will be out several weeks this season with a hamstring ailment.
Few would suggest McCaffrey is anywhere near underrated or underappreciated. Then again, Stephen A. Smith exists in his own category when it comes to analyzing the sports world.
Outkick transcribed comments Smith made on the Sept. 23 episode of First Take. The controversial pundit believes McCaffrey is underappreciated not because he plays for the Panthers or because ESPN talks too much about quarterbacks but because of McCaffrey's skin color.
"I've said this about Christian McCaffrey before, and I'm gonna say it again. Ladies and gentlemen, it's damn near reverse discrimination. If this brother were Black, we'd be talking about him more. I mean, this dude is special."

Stephen A. Smith
Well, it's hard to disagree with Smith there. Perhaps if First Take didn't spend so much time discussing Michael Jordan and LeBron James, we'd hear McCaffrey's name on the network's flagship program.
Smith, as usual, is completely wrong in his attempt to draw attention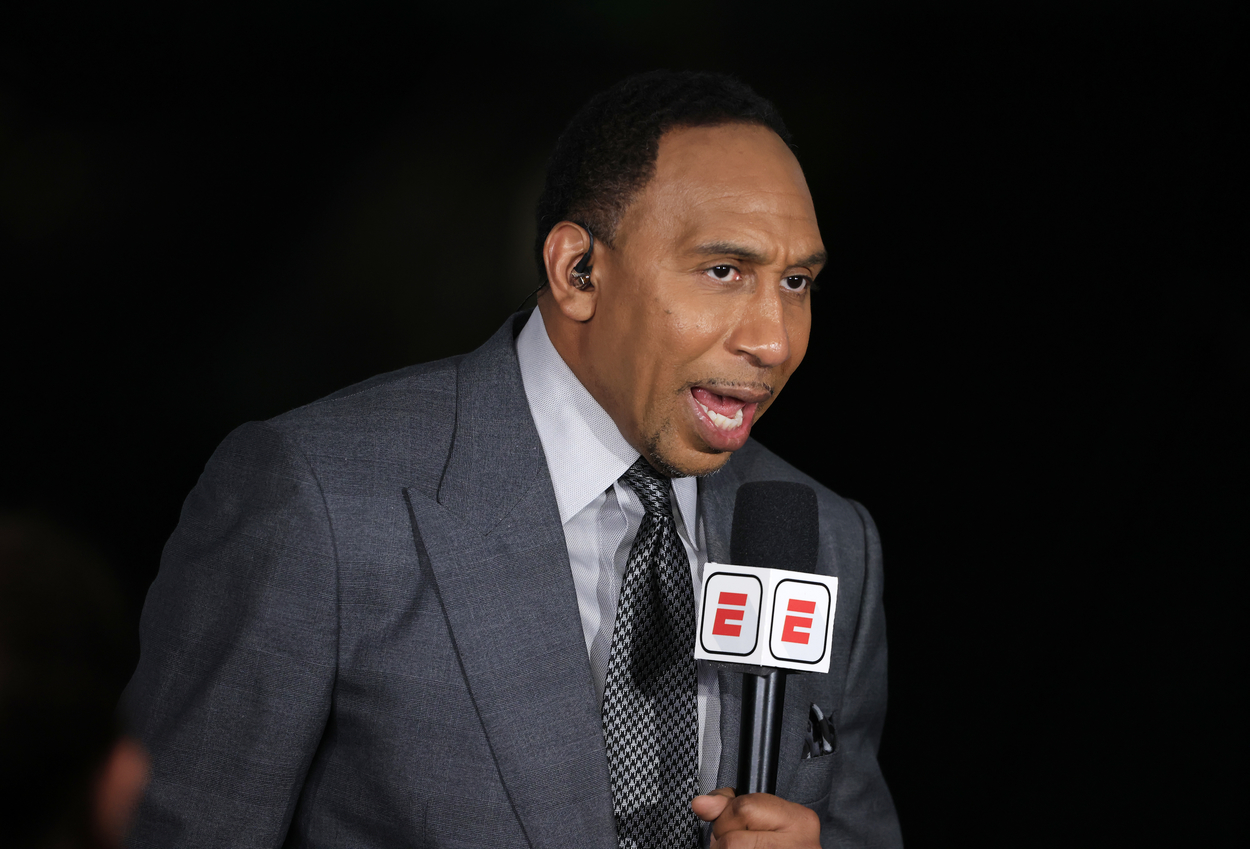 As is often the case with Smith, he's not entirely wrong. McCaffrey is underappreciated to an extent, but it has nothing to do with his skin color. It instead has to do with two specific points of modern life in the NFL:
McCaffrey is an injury-prone running back on the Carolina Panthers, a team that hasn't played a postseason game since January 2018. It's not easy for networks to highlight him in segments the way they can the likes of Alvin Kamara or Dalvin Cook, two other running backs in the NFC.
The NFL is all about quarterbacks with a skill player thrown in here and there. First Take has understandably dedicated hundreds of hours this year to the likes of Aaron Rodgers, Dak Prescott, and Tom Brady. Segments about Chase Young or Mike Evans, two of the league's most recognizable and stellar non-quarterbacks, are only so frequent.
If McCaffrey were among the league's top quarterbacks, he'd get more attention. The same goes for if he could stay on the field as he did at the start of his career. It's as simple as that.
This isn't Smith's first brush with racially charged comments in 2021
For the second time in three months, Smith is in a situation involving racially charged comments he made on First Take.
Ahead of July's Major League Baseball All-Star Game, Smith questioned Los Angeles Angels two-way star Shohei Ohtani's ability to be the face of the sport because he uses an interpreter. Ohtani, the current favorite to win the AL MVP Award, is Japanese.
Smith added he felt Philadelphia Phillies outfielder Bryce Harper or Mike Trout, Ohtani's teammate, needed to be the players responsible for helping baseball grow. Both players are white. Smith later apologized for his comments. 
As of publication, he had not yet addressed the McCaffrey comments, and it's unknown if he'll follow up on them. For now, we'll have to wait and see where the spinning wheel of topics takes us and who will be the center of Smith's next controversy. 
Like Sportscasting on Facebook. Follow us on Twitter @sportscasting19.
RELATED: Stephen A. Smith, He of the $8 Million Yearly Salary, Believes That He Is Underpaid