Christian McCaffrey's Brutal Season-Ending Injury Will Force the Panthers to Revisit the Deshaun Watson Trade Talks
The Carolina Panthers' 2021 season has been a complete disaster, and that's putting things lightly. Despite fielding one of the better defenses in the league (thanks to some solid drafting the past few seasons), their offense has resembled that of a college football program. They currently rank 31st in expected points contributed by the offense and 24th in scoring percentage.
At the crux of their problems is the quarterback position. They traded multiple draft picks to acquire Sam Darnold, only for him to continue playing like his former New York Jets self. Then, they brought back Cam Newton, only for him to be benched in just his second start.
Now, with star running back Christian McCaffrey done for the year with a season-ending injury, questions about the team's future need to arise.
Christian McCaffrey suffered his second season-ending injury in two years
By far the most talented and dynamic running back in the NFL, Christian McCaffrey is being ravaged by the injury bug. He only played three games last year and lasted just seven this year. The running back position is brutal, and CMC is undoubtedly feeling its effects in his fifth season.
Since being drafted, CMC has played a central role in the Panthers' offense. Both on the ground and through the air, he's been the team's No. 1 target. Even if you're not a fan of paying RBs big money, the $64 million extension he was handed in March was well-deserved. He was putting up historic numbers.
However, the problem with building your entire offense around a running back is the fallout that occurs if/when they get injured. The Panthers have been skimping at the quarterback position for several seasons now, banking on the belief that CMC could carry whoever was under center with his elite rushing and receiving abilities. First, it was a regressing Cam Newton, then Teddy Bridgewater, then Sam Darnold, and now they're right back at square one with a regressing Newton.
CMC's latest injury needs to inspire change in the Carolina front office.
The Panthers need to acquire an actual franchise QB
No matter how strongly the Panthers believe in CMC's ability to bounce back after a second season-ending injury, they need to go out and acquire a legitimate franchise QB this upcoming offseason. Whether through the draft, free agency, or trade, trotting Darnold or Newton out there in 2022 is a recipe for disaster.
Carolina infamously passed on both Mac Jones and Justin Fields during the 2021 NFL Draft, a mistake they've quickly grown to regret. Both players have higher ceilings than Darnold and Newton.
The Panthers did kick the tires on trading for Houston Texans QB Deshaun Watson at this year's trade deadline, which is an avenue the team will likely revisit in the spring. Watson is still begging for a fresh start away from Houston, and he went to school at Clemson — a two-hour drive from Charlotte.
Deshaun Watson should be at the front of the Panthers' wish list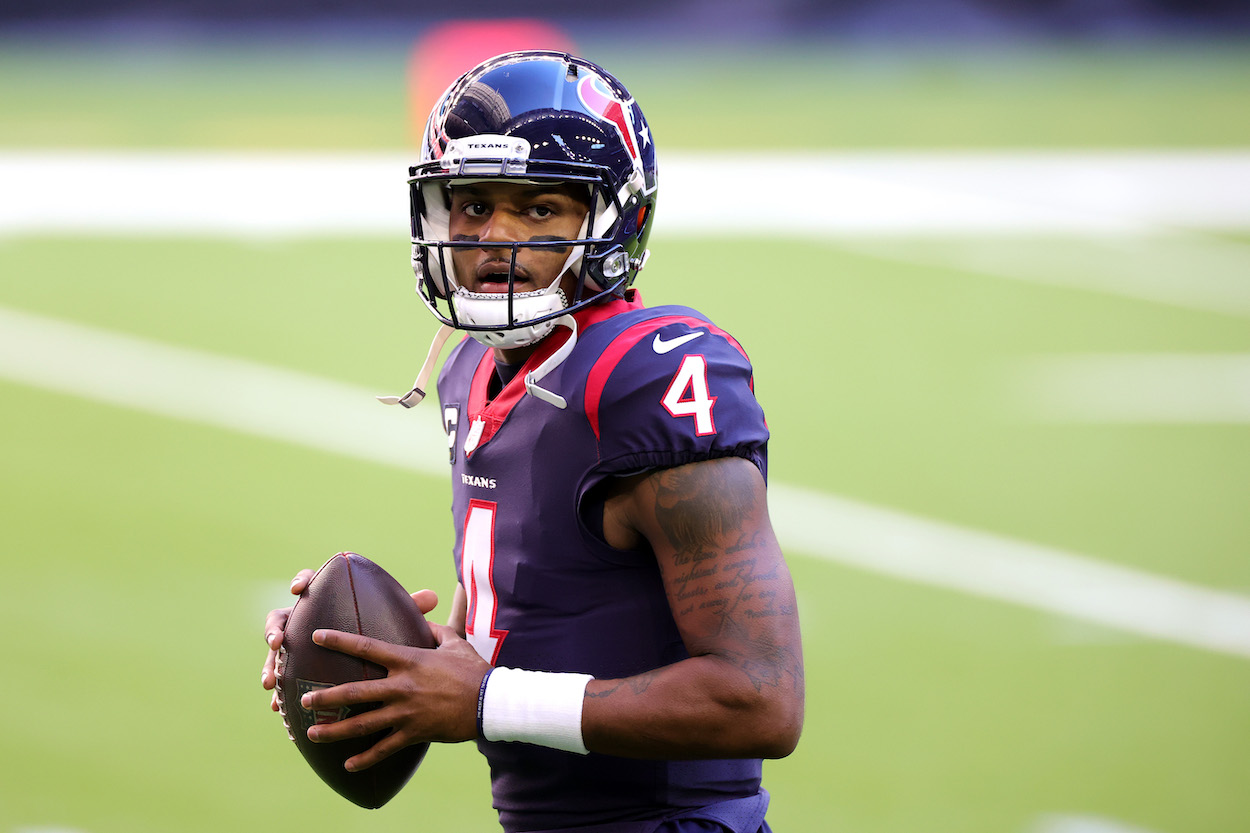 The Panthers could always pursue another veteran QB via trade like Russell Wilson or Aaron Rodgers. They could also draft a promising rookie. However, making another push for Watson makes the most sense on paper.
Not only would Watson help get the ball to the team's above-average WR room, but he's capable of carrying an offense for a few weeks at a time should CMC deal with future injuries. Obviously, the goal is to pair Watson and CMC together to create an elite one-two punch. However, Watson wouldn't be completely reliant on CMC each week (like Darnold and Newton were).
Watson still needs to sort out his legal issues. The Panthers also need to muster up enough draft capital to get it done. However, on paper, this is a move the Panthers need to pursue in the offseason aggressively.
All stats courtesy of Pro Football Reference.