Christian McCaffrey's Dad Is His Blueprint for Retiring From the NFL in Good Health
Football is a family business for Christian McCaffrey. Not only is he a superstar running back for the Carolina Panthers, but his dad, Ed McCaffrey, was an NFL wide receiver for over a decade. Christian got a firsthand look at the glory and dangers of a football career. As a result, he may better understand the toll violent sports can take on the body. 
Ed McCaffrey takes the field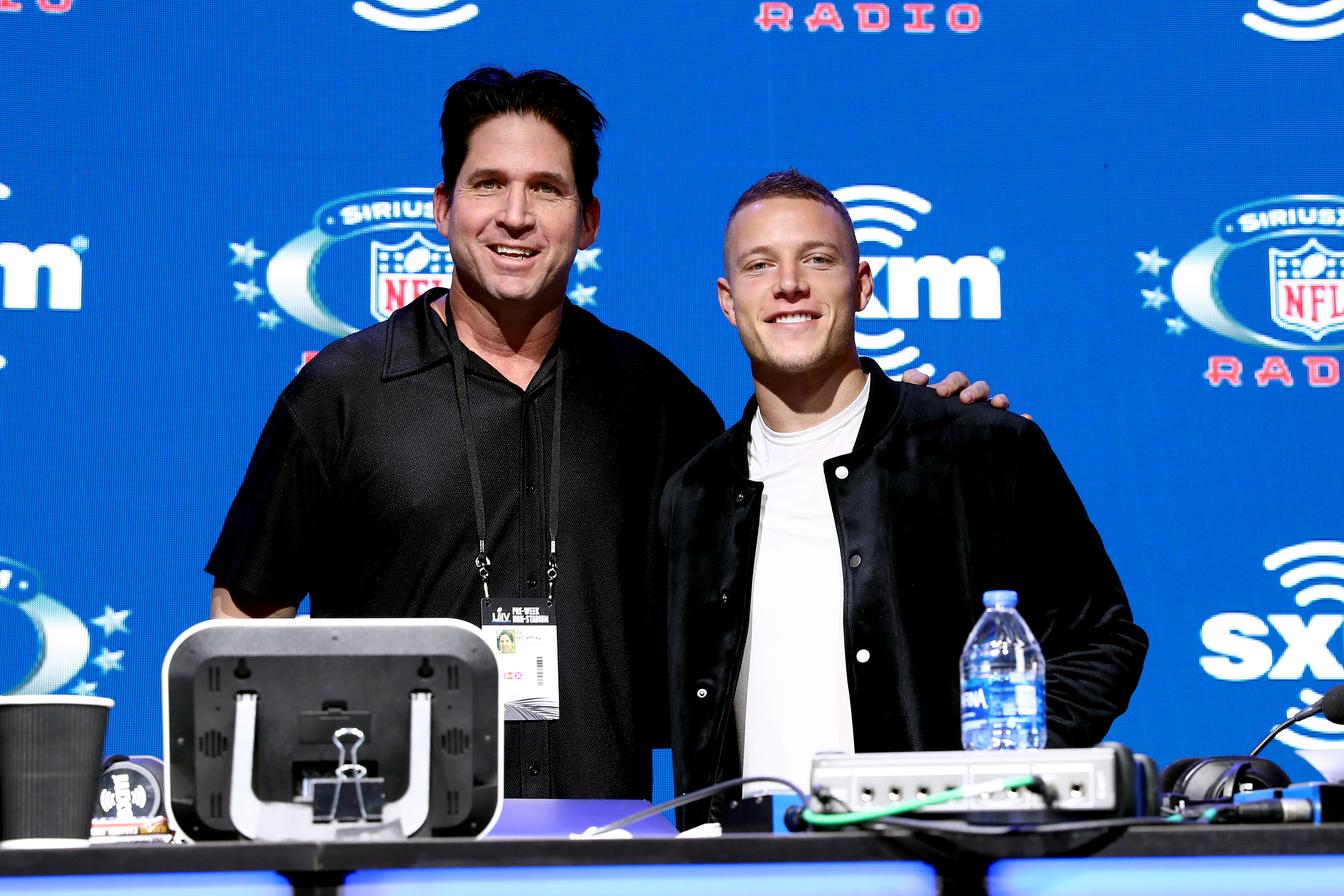 Every NFL fan knows Christian's name in one way or another. He might be just a few years into his career, but he's already proven he's one of the hardest-working running backs in the league when healthy. This should not surprise anyone. Simultaneously, as Christian was learning how to walk, his father won Super Bowls as a Pro Bowl wide receiver. 
After making his name at Stanford, Ed was a third-round draft pick in the 1991 NFL draft. In New York, Ed came off the bench for three years to provide the Giants with strong hands and an ability to get themselves down the field in a pickle. However, he rarely got to play when things mattered, and in 1994 he packed his bags for San Francisco. 
In one year with San Francisco, Ed had a similar role that he did in New York. This time, however, it was with one of the greatest teams ever assembled. Ed rode the bench en-route to a Super Bowl in San Francisco before packing his bags once again. In 1995, he joined an aging John Elway just in time for the end of his career. 
Rather than staying on the bench, however, Ed quickly got himself a starting role, playing an integral part of the Broncos' back-to-back Super Bowls to end Elway's career. In 1998, he was rewarded with his first and only Pro Bowl. In 2003, however, he retired at 35. Ed is a story of perseverance on the field. But off of it, he taught his son a different type. 
Christian McCaffrey on his dad
Speaking with GQ, Christian discussed seeing his father in the NFL as a young child and how that affected him as an adult. To Christian, the success that his father saw on the football field was inspiration enough, but where he truly learned to take a lesson was when injuries reared their ugly heads. 
During his final season in the NFL, Ed got two different concussions at a time when such injuries were not taken as seriously as they are today. This was when he knew that it was time. It's a testament to the way that Ed paid attention to his body. 
"It's extremely encouraging. I mean, he took care of his body extremely well when he played, and still does now," Christian told GQ. "He hardly ever drinks, if he does. Doesn't smoke. He's on top of his body, especially when he played, he was almost a psychopath about what he ate, when he slept, when he woke up, when he trained. So to see where he's at now is extremely encouraging, because he feels fine, his energy is great, he looks good. So yeah, I'd say it's very encouraging."
This dedication to staying healthy even after his body took a beating might be the key to Christian's own recovery as he tries to get back out on the field. 
Christian learns from the best
Before his current ankle sprain, Christian had good luck with injuries. However, as with his dad, he understands the long-term effects that come with rushing out there and ignoring the body's signals. While he's been lucky when it comes to concussions, Christian can learn at 24 what his father learned at 35 — that football doesn't care about anything. A concussion, ankle injury, or another setback can come at any time. 
Thankfully, Christian had the added benefit of having somebody to look up to when it happens. Now, he has to wait until he can get back on the field and show that he is just as good as he ever was.