Chuba Hubbard and the Top Week 4 Fantasy Football Waiver Wire Adds Guaranteed to Lift Your Team
The 2021 fantasy football season has been a rough one thus far. The big names on top of the average draft position (ADP) charts have been disappointing, such as Saquon Barkley of the New York Giants and Dalvin Cook of the Minnesota Vikings. The consensus No. 1 overall pick — Christian McCaffrey — was injured on Thursday night and is set to miss some time.
Dalvin Cook missed Week 3, and Ezekiel Elliott finally broke out on Monday night against the Philadelphia Eagles. The frustrations go on and on, but with the season almost to the quarter mark, it is time to get extra aggressive on the waiver wire, especially with some big names banged up earlier than anybody had hoped for.
Fantasy football running back waiver wire adds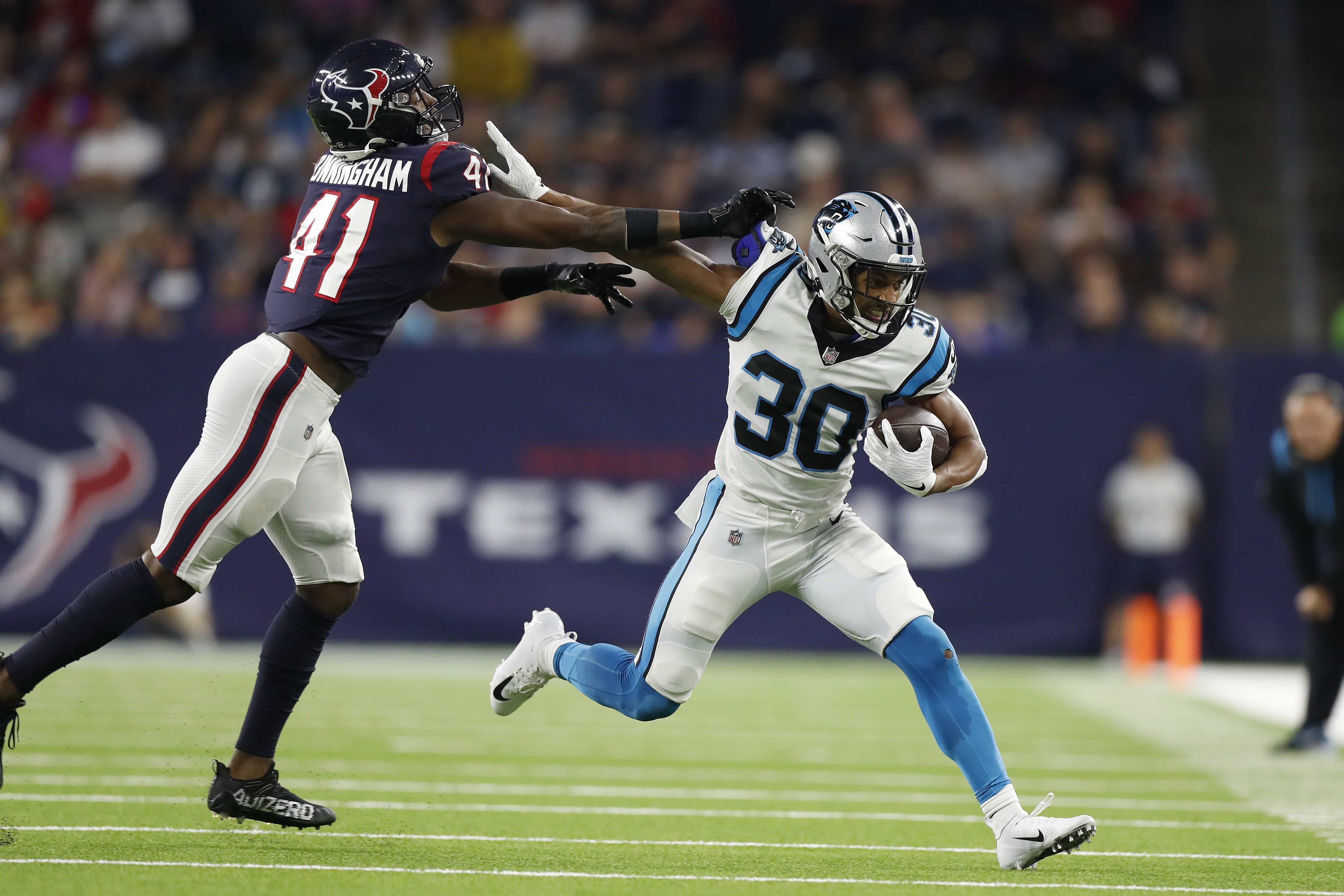 There aren't a ton of options at the running back position, to begin with. It might take some deep diving to find somebody who could pay dividends.
3. Peyton Barber, Las Vegas Raiders
This isn't a safe pickup by any means. Then again, what is a safe pickup?
Barber exploded against the Miami Dolphins with 23 carries for 111 yards and a touchdown. He even added three catches for 31 yards in the Raiders' overtime victory against the Tua Tagovailoa-less Dolphins. Josh Jacobs missed the previous two weeks, and Kenyan Drake was targeted just one time more than Barber, so perhaps this is a sign of how Jon Gruden will use his backs if Jacobs needs to miss Week 4.
The status of Jacobs is still up in the air, so there is a ton of risk here. To go further, the Raiders play the Los Angeles Chargers on Monday night, and Clyde Edwards-Helaire enjoyed his first big game of the season against the Chargers. Perhaps Barber can replicate that success if Jacobs is out for Week 4.
2. Marlon Mack, Indianapolis Colts
Tom Pelissero of NFL Network reported Tuesday that the Colts and Mack have finally agreed to search for a trade partner, finally. A number of teams could use help at the running back position (the New York Jets and San Francisco 49ers are just a couple of options).
Mack played just one game in the 2020 season. He has appeared in only one game for the Colts and will likely have a fair share of suitors. Back in 2019, Mack rushed for 1,091 yards with eight scores and was 92 yards shy of another 1,000-yard campaign in 2018.
Mack is certainly worth a flier, especially if the 49ers — or another running back-needy team — take a shot on him.
Chuba Hubbard, Carolina Panthers
This is the most obvious one. Why? Unlike Mack and Barber, Hubbard has a clear-cut role.
The unfortunate injury to superstar Christian McCaffrey has Hubbard as the hottest add in the fantasy football world. McCaffrey is out for at least a few weeks, and Matt Rhule and Joe Brady seem comfortable handing the ball off to the former Oklahoma State Cowboys running back.
Hubbard had 11 carries for 52 yards and three catches for 27 yards against the Houston Texans on Thursday night, and he should be the No. 1 option on the waiver wire.
Fantasy Football wide receiver waiver wire adds
The wide receiver position always has much more depth than the running back group. This season is no exception. But here are a few options to consider picking up this week.
3. Kendrick Bourne, New England Patriots
This is a major risk but one that could pay dividends.
Bourne's role in the Patriots' offense is up in the air. In fact, the Patriots have suddenly become a run-heavy team, essentially limiting opportunities for their receivers. But Bourne broke out in Week 3 with six catches for 96 yards and a touchdown on eight targets. Jakobi Meyers still paced the team with 14 targets and nine grabs, but Bourne's role has become more and more evident.
Bourne has a great opportunity, but he did have just three catches with six combined targets in the first two weeks of the season.
2. DeSean Jackson, Los Angeles Rams
This has been a thing of destiny. When Jackson signed with the Rams in the offseason, it was clear that Matthew Stafford was a perfect quarterback for him. But in the first two games, he had just two catches for 21 yards.
Then came the Week 3 breakout. Jackson and Stafford connected on a 75-yard touchdown bomb, and he finished the game with three catches for 120 yards and a touchdown. Jackson is essentially a dart throw every single week, but the upside is higher than it is for just about everybody else.
Emmanuel Sanders, Buffalo Bills
Emmanuel Sanders joined the Buffalo Bills in the offseason and was essentially pegged as the No. 2 receiver on the offense, behind Stefon Diggs. Unfortunately, he had a slow start to the year with just six catches for 100 yards. Then in Week 3, he had five grabs for 94 yards and two scores, and the breakout was finally there for the Josh Allen-Emmanuel Sanders connection.
If Sanders is available, pick him up and start him basically every week.
Tight end waiver wire adds
Oh, the dart throws of all dart throws. The tight end position is the ugliest of them all from a fantasy football perspective. After the top options, it gets messy. But if you need a tight end, these guys are worth a shot.
3. Dawson Knox, Buffalo Bills
Ah, the Dawson Knox truthers rejoiced after Week 3. The Bills' tight end had four catches for 49 yards with a touchdown in a good game for just about everybody in the Buffalo offense.
If he is out there, it doesn't hurt to take a shot on him, assuming you need help at the position.
2. Tommy Tremble, Carolina Panthers
Here comes the emergence of Tommy Tremble.
The Panthers' rookie tight end scored a touchdown in Week 3 on Thursday night, and then Carolina traded away Dan Arnold to the Jacksonville Jaguars. This perhaps signals how confident they are in Tremble's ability, and he is worth a stash at the very least.
Tyler Conklin, Minnesota Vikings
Conklin honestly should have been picked up by now. But after two weeks of mediocrity, perhaps people abandoned ship already.
Conklin went off in Week 3 with seven catches for 70 yards and a touchdown. The problem is he is basically fourth on the pecking order, behind Dalvin Cook, Justin Jefferson, and Adam Thielen.
Either way, if he is available, take a shot.
Stats courtesy of Pro Football Reference
RELATED: Fantasy Football Sleepers: Best Flex Position Players for 2021