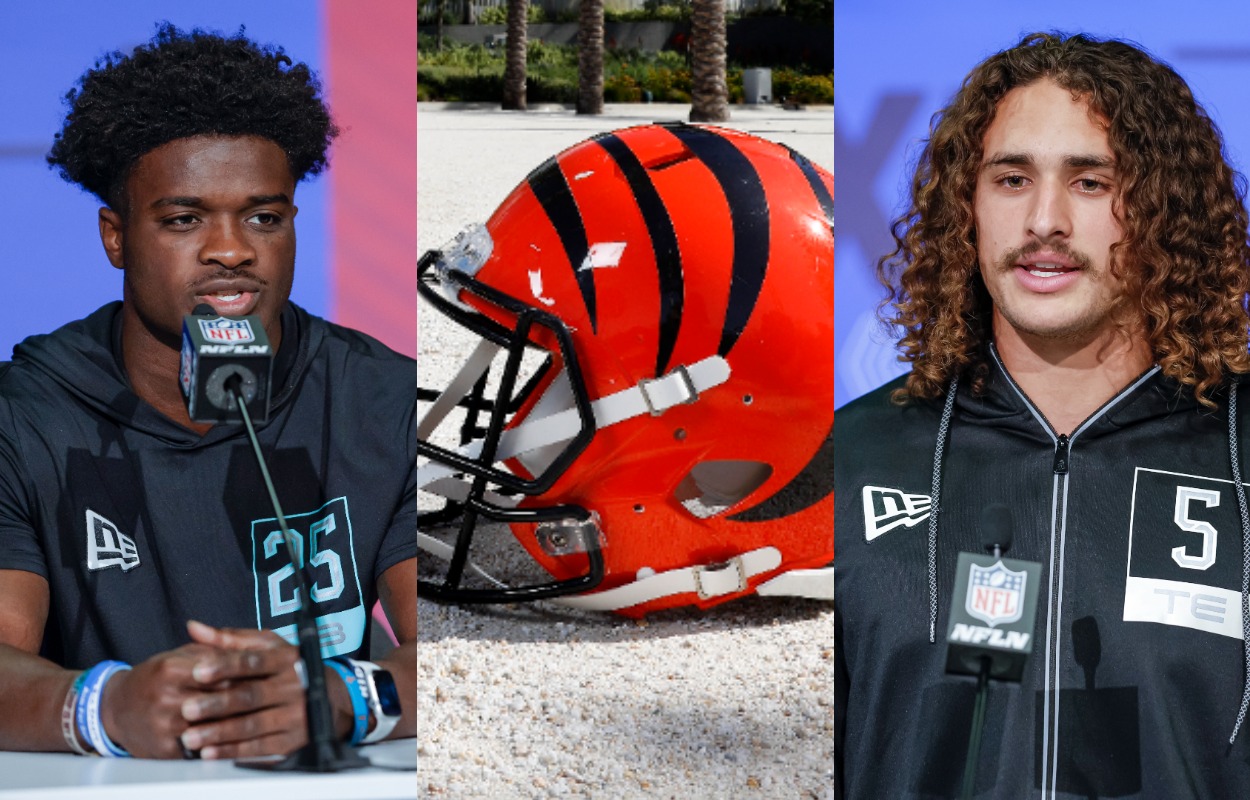 Cincinnati Bengals 4-Round Mock Draft: Joe Burrow Gets a New Tight End, Shutdown Cornerback
The Cincinnati Bengals have plenty they need to do in the 2022 NFL Draft. Good thing we're here to help the defending AFC champions out.
The 2022 NFL Draft is nearly upon us, and the Cincinnati Bengals have plenty of work to do. Good thing they have a franchise quarterback in Joe Burrow, right?
As of publication, the Bengals were slated to have nine total selections in the 2022 NFL Draft, including three picks in the first 100. Now feels like the perfect time to analyze who the reigning AFC champions could select within the draft's first three rounds.
For the sake of simplicity, we only used the Bengals' current draft selections; there are no trades here that have not already happened. We also drafted players based on need and team fit. Luckily for the Bengals, they addressed most of their holes, especially on the offensive line, in free agency.
Based on consideration of the aforementioned prerequisites, our four-round mock draft looks as follows:
Round 1 (No. 31 overall): Roger McCreary, CB, Auburn
Barring injury or suspension, the Bengals will face Lamar Jackson and Deshaun Watson twice next season. Cincinnati will also need to stop Dak Prescott, Josh Allen, Patrick Mahomes, Tom Brady, and Ryan Tannehill, among other veteran quarterbacks.
Needless to say, the Bengals stand to benefit from some help in the secondary. McCreary, a 2021 All-SEC first-team selection, has received rave reviews for his vision, ability to thrive in man and zone coverage, and his hands; he led the SEC with 14 pass breakups during the 2021 campaign. The Bengals have shown continued interest in SEC prospects, and the 6-foot cornerback would be an excellent addition to an already imposing defense.
Other options: Bernhard Raimann, OT, Central Michigan; Daniel Faalele, OT, Minnesota; Kaair Elam, CB, Florida; Kyler Gordon, CB, Washington
Round 2 (No. 63 overall): Nicholas Petit-Frere, OT, Ohio State
If the Bengals opt for an offensive lineman in Round 1, they must target the University of Cincinnati's Coby Bryant if he's somehow available at No 63. For the sake of this draft, we still have the Bengals sticking with an in-state college prospect, albeit in the form of Petit-Frere, who earned second-team All-American honors last season. Although some viewed the 6-foot-5, 316-pound lineman as a potential first-round pick several months ago, it appears he'll be a Day 2 selection.
That fall, if it can even be considered one, would be good news for the Bengals. Cincinnati can do its best to use Petit-Frere as a developmental player in 2022 before elevating him to a starting role in his second season. His athleticism will make him a welcome fit in the Bengals' prolific offense, and it's worth noting he and Burrow have a shared Ohio State background. However, Petit-Frere enrolled in 2018, only months before Burrow became the LSU Tigers' starting quarterback.
Other options: Bryant; Darian Kinnard, OT, Kentucky; Myjai Sanders, EDGE, Cincinnati; Trey McBride, TE, Colorado State
Round 3 (No. 95. overall): Greg Dulcich, TE, UCLA
Although the Bengals signed former Atlanta Falcons tight end Hayden Hurst in free agency, he only inked a one-year, prove-it deal. Dulcich, a first-team All-Pac 12 selection, makes perfect sense as a mid-round addition to the Bengals' tight end room after the 6-foot-4, 245-pound weapon hauled in 42 catches, 725 yards, and five touchdowns during the 2021 campaign.
Dulcich impressed at the Senior Bowl and would bring impressive size to the Bengals' offense. Something tells us he and Burrow would quickly become fast friends, especially after how well C.J. Uzomah played last season.
Other options: Cole Strange, G/C, UT-Chattanooga; Damone Clark, LB, LSU; Marcus Jones, CB, Houston; Kerby Joseph, S, Illinois;
Round 4 (No. 136. overall): Haskell Garrett, DT, Ohio State
Unlike the majority of other 2022 draft prospects, Garrett played with Burrow in college. The two were teammates on the 2017 Buckeyes when Garrett, a 4-star prospect, saw action in eight games as a true freshman. Nearly five years later, the two could be teammates on an Ohio-based championship contender again. What are the odds?
"He can discard the average guard with efficient hand work, but he's missing the length to play read-and-react, and the anchor to occupy space against most double teams," NFL Media's Lance Zierlein wrote. "He's not explosive but does have the tools to help threaten a pocket as a rusher. Haskell is a scheme-dependent, middle-round prospect with rotational value."
All of that would be perfect for the Bengals, and his familiarity with Burrow would certainly help his chances of joining the defending AFC champions. Unless, of course, they argued over whether boneless chicken wings are wings or nuggets when the two were once teammates.
(The answer, by the way, is nuggets. You know it, and I know it.)
Other options: Alec Lindstrom, OC, Boston College; D'vonte Price, RB, Florida International; Jalyn Armour-Davis, CB, Alabama; Matthew Butler, DT, Tennessee; Mykael Wright, CB, Oregon
Like Sportscasting on Facebook. Follow us on Twitter @sportscasting19.