Cincinnati Bengals QB Joe Burrow Reveals He's Eying the NFL MVP: 'I'm Chasing Aaron Rodgers to Try to Be the Best'
Just hours away from Super Bowl 56, Cincinnati Bengals quarterback Joe Burrow has a good idea of which NFL quarterback he'd like to most emulate. Green Bay Packers quarterback Aaron Rodgers just recently won his fourth league MVP and second straight. He seems like a good role model in that regard.
It sounds like Burrow would agree.
Joe Burrow reveals that he's trying to chase down Aaron Rodgers
Rodgers is a no-doubt Hall of Famer when he does eventually retire, which could come sooner rather than later. The legendary Green Bay quarterback egged on the drama of this offseason a bit after winning the league's most prestigious individual award. He's been open about considering his future with the Packers and whether or not he wants to stay in Green Bay, ask for a trade, or ultimatly retire.
"I'm not gonna keep a lot of people waiting," Rodgers said after winning the MVP, according to ESPN.
Whether he stays, goes, or retires, Burrow seems to feel that not only is Rodgers a good role model for him as a young quarterback, but that No. 12's level of greatness is something that would be achievable for him. At the very least, he's going to go after it.
"I'm chasing Aaron Rodgers to try to be the best," Burrow said, also according to ESPN.
Burrow and Rodgers took two different paths to their first Super Bowls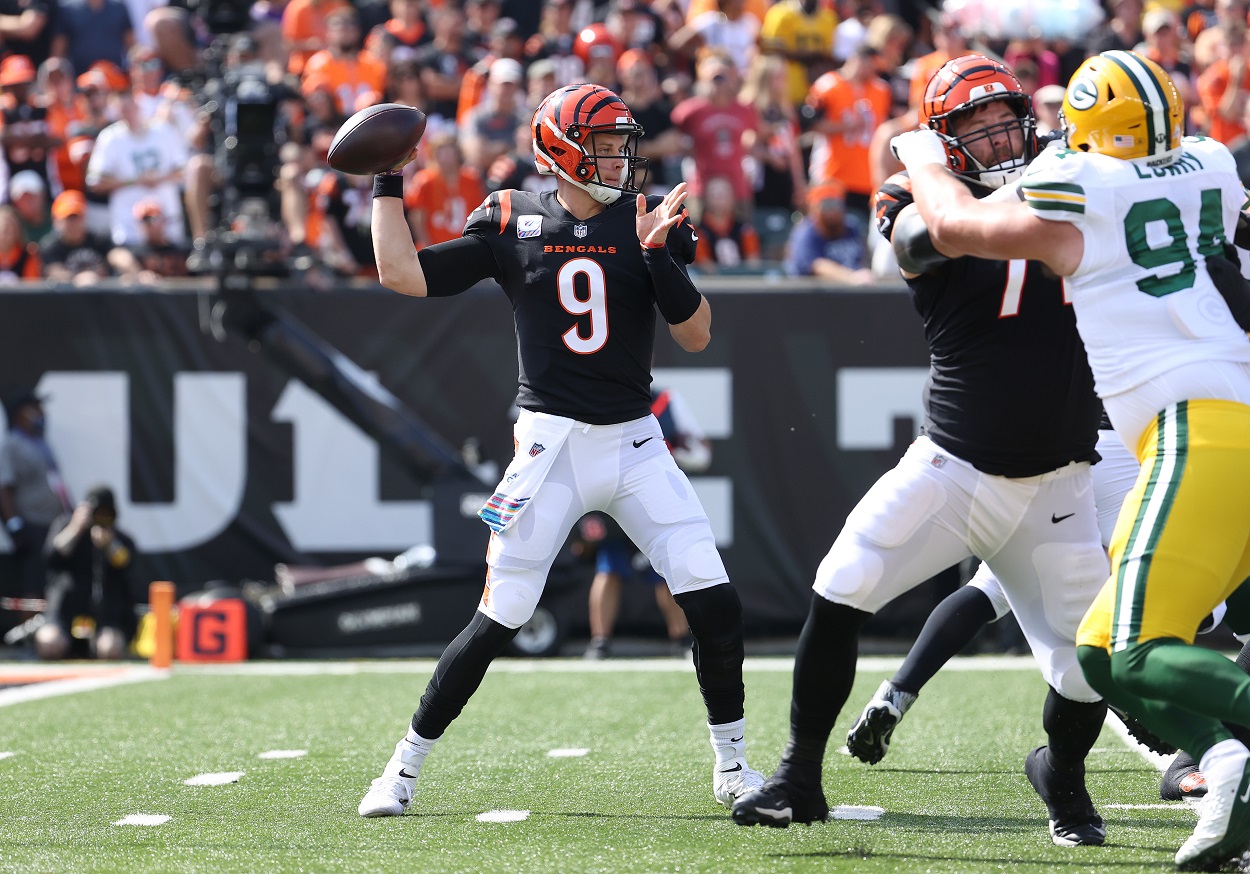 Burrow is correct; Rodgers has been doing it for a long time. If he does end up playing in 2022, it will be his 18th season.
Rodgers won the Super Bowl in his sixth season and third as a starter in Green Bay. The Packers beat the Pittsburgh Steelers, 31-25, in Super Bowl 45. Rodgers completed 24 of 39 passes for 304 yards, three touchdowns, and no interceptions and was subsequently named Super Bowl MVP.
Rodgers was drafted No. 24 overall by the Packers in the 2004 NFL Draft after a draft-day slide that saw him go from the potential No. 1 pick to a borderline day-two selection. It seems silly now, but there were many who thought the former junior college quarterback would be a bust.
He's proven his doubters wrong and more, but even still, Super Bowl glory has been hard to regain. The Packers have made four NFC Championship games since Super Bowl 45. Rodgers is 0-4 in those contests.
One imagines that if Rodgers had any advice for his young counterpart before Super Bowl 56, it would be to enjoy the moment.
In stark contrast to Rodgers' draft day debacle, Burrow was drafted by the Bengals No. 1 overall in the 2020 NFL Draft and was hailed right away as the potential savior of the organization. He's proven that faith right so far, leading Cincinnati to the Super Bowl in just his second season.
He's a second-year quarterback in reality, but he does still feel a bit like a rookie. His inaugural NFL season was cut short after 10 games due to a knee injury. He bounced back in 2021 with a vengeance, though, and he's a win away from adding to what is already a championship resume. Burrow and his superstar rookie teammate, Ja'Marr Chase, won the college football national championship at LSU in 2019.
Burrow can define his legacy early-on with a Super Bowl win for the Cincinnati Bengals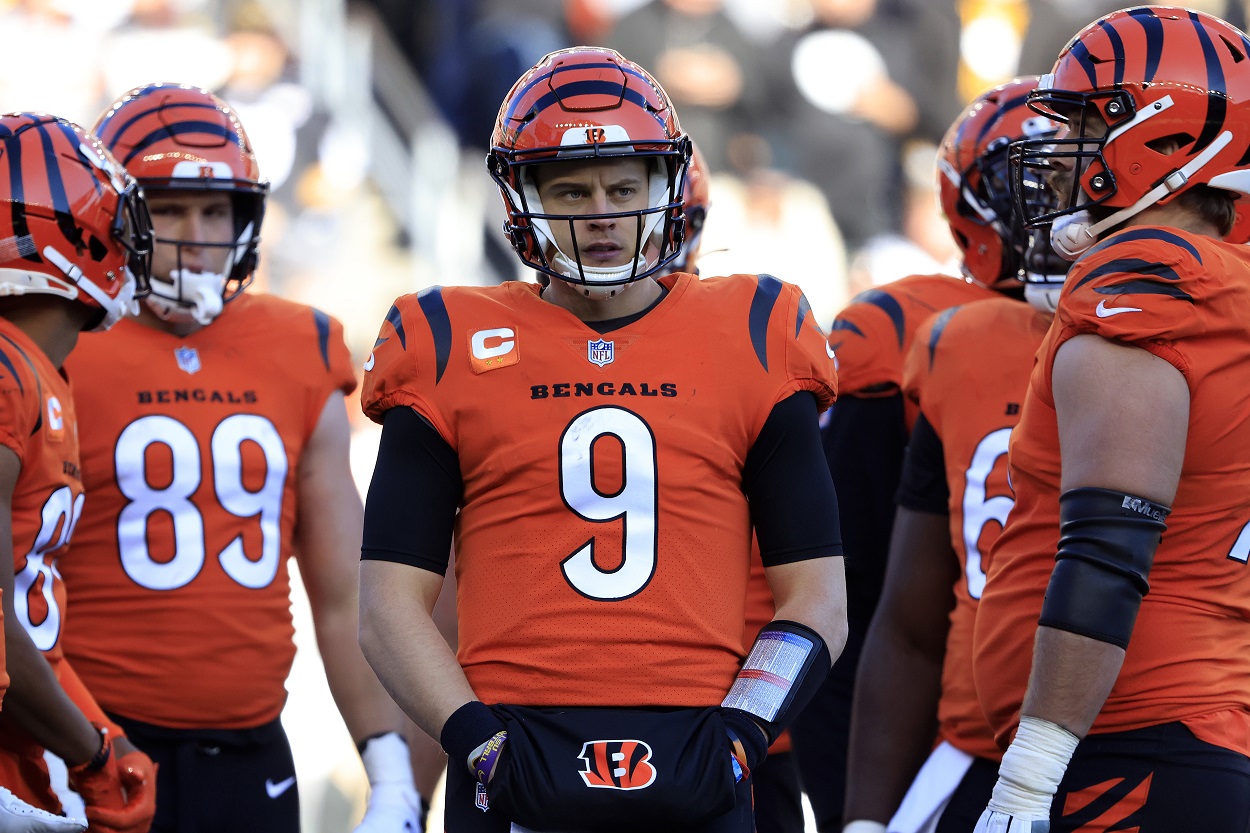 The fact that Cincinnati is even in the Super Bowl is a testament to the turnaround the organization started when Burrow's name was called (virtually) by NFL commissioner Roger Goodell. The season before adding Burrow, the Bengals went 2-14 with the shell of what had once been a respectable quarterback in Andy Dalton. Even Burrow's rookie season was somewhat of a disappointment, though his injury played a big role in that.
The Bengals were 4-11 in 2020 and finished fourth place in the AFC North. They finished the 2021 regular season with a 10-7 record, won the division for the first time since 2015, and then proceeded to roll through the playoffs.
It's been quite a comeback. In fact, Burrow was literally named the NFL's comeback player of the year.
Cincinnati's Super Wild Card Weekend win over the Las Vegas Raiders was the team's first playoff win in 31 years. The Bengals followed that up with two overtime wins in a row…on the road. They knocked off the top-seeded Tennesse Titans in the Divisional Round and then proceeded to beat Patrick Mahomes and the Kansas City Chiefs in the AFC Championship Game.
The Los Angeles Rams are going to be an extremely tough test for the Bengals, but they're battle-tested. They also have potentially the coolest quarterback in the NFL in Burrow. The moment will not be too big for him.
The young phenom told ESPN that he is already thinking what a Super Bowl win would do for his growing legacy and perception around the league, but he's also smart enough to know not to get too far ahead of himself.
"I try not to think about that kind of stuff because I think if you go down that road, you start worrying about the wrong things," Burrow said. "So I've tried to stay focused on the job at hand."
Speaking of a lasting legacy, his task is to bring Cincinnati its very first Lombardi Trophy, and he appears to be the right quarterback for the job.
Stats courtesy of ESPN and Pro Football Reference. Contract information via Spotrac
RELATED: Joe Burrow Reveals the Secret Sauce That Sets the Cincinnati Bengals Apart From the Rest of the NFL: 'Pretty Rare'