Cincinnati Bengals: Joe Mixon's Recent Quote Shows How Much the Vibe Has Shifted in Cincy
For decades, it felt like there was a dark cloud hanging over the Cincinnati Bengals. They went 31 years without a playoff win and had numerous losing seasons in between.
However, the vibe in Cincinnati has shifted drastically. They not only won their first postseason game in over three decades during the 2021 campaign but Joe Burrow and company reached the Super Bowl and even came close to winning it.
For the first time in a long time, there's actual excitement for football in the Queen City. And running back Joe Mixon's recent quote highlighted the attitude shift.
Joe Mixon recently showed his excitement for the Bengals' 2022 season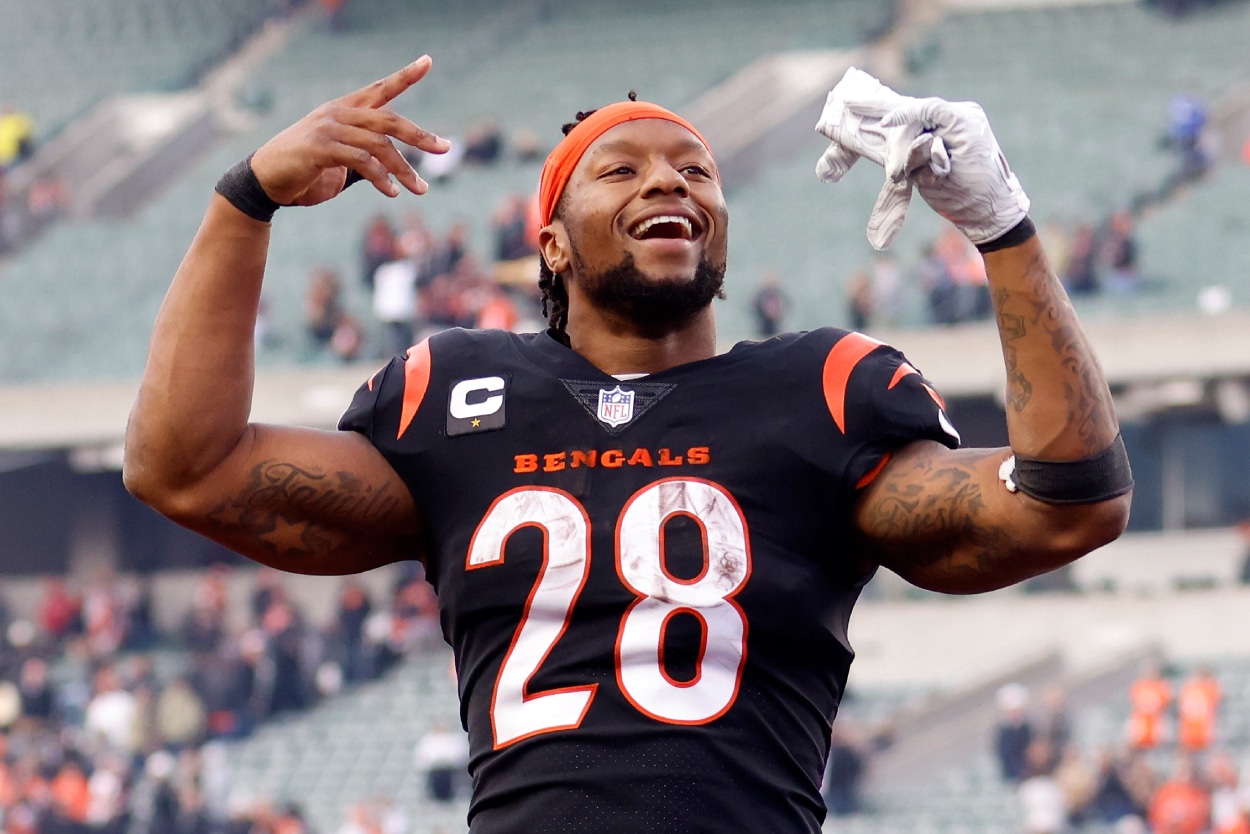 After appearing in their first Super Bowl since the 1988 campaign, the Bengals didn't just rest on their laurels this offseason. They improved their roster, specifically their offensive line, so that star quarterback Joe Burrow finally has protection.
The additions will also likely open holes for Pro Bowl running back Joe Mixon, who ran for a career-high 1,205 yards and 13 touchdowns last year. So, as Mixon gets ready for the start of training camp, which kicks off at the end of this month, he seems excited for the 2022 NFL season.
"To be honest, I feel like we might be the hottest thing smokin' in the NFL on Sundays," Mixon said to CBS Bay Area. "With the talent we got, and who we added on to this year, I feel like we're bound to have a hell of a season. The best thing about it is we've been there before; we know how to get there. We've just gotta stick to the basics and one week at a time, and that's what's gonna happen."
That's a significantly different vibe than the one Bengals players and fans had in years past. Cincinnati missed the playoffs in each of the five seasons prior to the Super Bowl run and went a combined 25-53 between 2016 and 2020. The future looks much brighter than the than those horrific seasons of the past.
Mixon's quote also matched tight end Drew Sample's expectations for the upcoming year.
"I think guys are excited to get back out there," Sample said to Sportscasting while discussing NOW Foods, "get in that grind, trying to get better day to day before the season. And just take it game by game with the end goal being we want to get back to the Super Bowl and we want to win it."
The city went from looking at the team's draft positioning every year to hoping for a return to the biggest game in sports. Saying the attitude has changed would be an understatement.
Joe Mixon and the Bengals are excited for the 2022 season, and no one can blame them.
Stats courtesy of Pro Football Reference
RELATED: Cincinnati Bengals: Tyrann Mathieu's Praise for Ja'Marr Chase Proves Why Cincy's Offense Can Reach a Terrifying Level in 2022