Cincinnati Bengals Quarterback Joe Burrow Has a Chance To Make a Statement Against Lamar Jackson and the Baltimore Ravens
Joe Burrow is already one of the more exciting quarterbacks in the NFL, just in his second season with the Cincinnati Bengals.
The Bengals drafted Burrow with the 1st overall pick in the 2020 NFL Draft, so obviously, expectations have been high for the quarterback. With that said, Cincinnati has to be pleasantly surprised that things have worked out this well so far. It's been a long time since the Bengals have been a contender in the AFC, but they're currently 4-2 and in second place in a very tough AFC North. Burrow being a well-above-average quarterback has played a huge part in their early-season success.
Outside of a knee injury that cost him six games in his rookie season, things have been looking up for both quarterback and franchise.
Now heading into Week 7 of his sophomore season, Burrow is facing a huge test in the Baltimore Ravens. If he can lead his team to a win, it would be a major statement.
Joe Burrow and the Cinncinatti Bengals can turn some heads with a strong performance against the Baltimore Ravens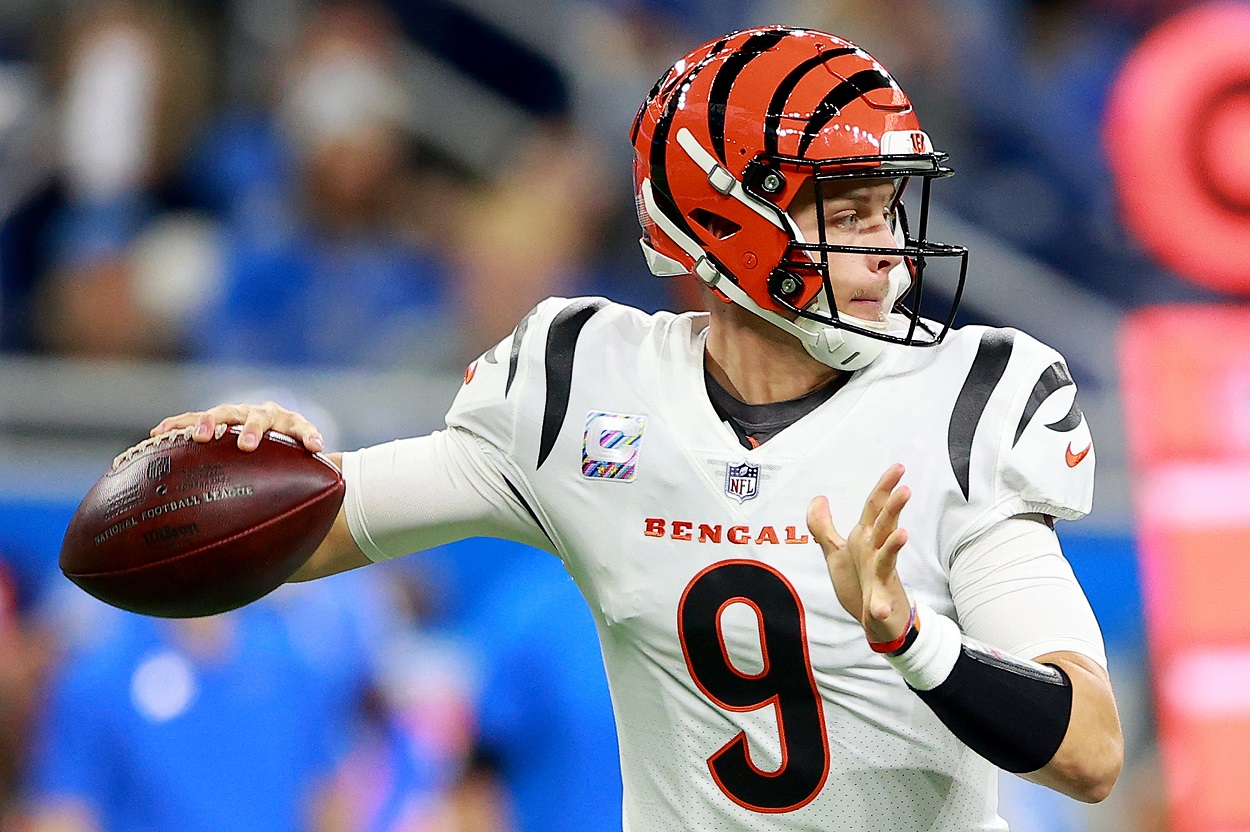 This is without a doubt the biggest game on Cincinnati's schedule to date. The Bengals have to go to Baltimore to face the 5-1 Ravens, and first place for the AFC North is on the line.
Trying to stop Lamar Jackson is going to end up being a huge task for the Bengals' defense, but they are a top-five unit this season, giving up just 18.5 points per game. Cincinnati has a very strong run defense, giving up just 90.5 yards on the ground per game, so it does appear that the Bengals are in a good spot to slow down Baltimore's offense. Jackson is his team's leading rusher this season, having put up 392 yards and two scores on the ground so far. If Cincinnati can limit his ability to run, the Bengals have every chance in the world.
Burrow's offense is going to have an equal test going up against the Ravens' defense. They give up a solid 20.5 points per game and are fresh off a win over an explosive Los Angeles Chargers offense that they held to just six points.
Throw in the fact that this game will be on the road for Cincinnati, and a win would be a watershed moment for this up-and-coming Bengals team.
Baltimore is not an easy place to play, especially for a young quarterback.
Burrow has a chance to show how he compares to Jackson
The storyline within the game between these two teams is that it's going to be a showcase between two of the best young quarterbacks in the NFL.
Jackson already has an MVP under his belt, and he's having that type of season again. He's putting up insane numbers, having compiled 2,078 total offensive yards by himself through six games and 11 total touchdowns. To put that in perspective, Jackson has more total offensive yards than 15 teams do this season, including Cincinnati.
He's absolutely explosive, and a must-watch player. He's also 5-0 against the Bengals in his young career, and Cincinnati knows just how dangerous he can be.
"Lamar hurts a lot of people in a lot of different ways," Cincinnati safety Jessie Bates III said, according to Geoff Hobson. "I think we have a really good game plan going into this week, compared to other weeks where we've played them before."
Jackson does have a strong arm, but the best way to beat him is to play strong against the run, contain the edges with the defensive ends and outside linebackers, and force him to be a pure pocket passer.
That's easier said than done, of course, but the Bengals are strong against the run so far this season. Jackson isn't your typical quarterback, he's more like a shifty running back who can also chuck the ball down the field.
He presents a unique problem for Cincinnati's defense. On the other side of the field, Burrow has the arm and poise to test Baltimore's defense just as much, but in different ways.
Barring any setbacks, this could end up being one of the more entertaining quarterback matchups of this season. The fun part, for us, is that they get to do it again later this season as well.
Aren't division rivalries great?
Burrow is easily one of the better young quarterbacks in the NFL
Jackson is elite, but Burrow hasn't been a slouch himself in 2021. He's passed for 1,540 yards and 14 touchdowns this season with seven interceptions. Most importantly for Cincinnati, he's shown poise and leadership. He plays with more experience than his short time in the NFL would suggest, and he's certainly lived up to expectations as a No. 1 overall pick so far.
He's also been greatly helped out by the addition of rookie wideout Ja'Marr Chase, his former teammate at LSU.
Burrow and Chase have connected 27 times on 41 targets, and Chase has produced 553 yards and five touchdowns as a result. The rookie wideout gets 20.5 yards per catch, and he's easily Burrow's favorite target.
There's chemistry, and then there's chemistry.
Burrow and Chase have the latter, and they have the opportunity to show that off in this huge game against the Ravens.
Stats courtesy of ESPN and Pro Football Reference.
RELATED: Joe Burrow Might Become the Next Great NFL Quarterback, but He Could Have Dominated in Another Sport