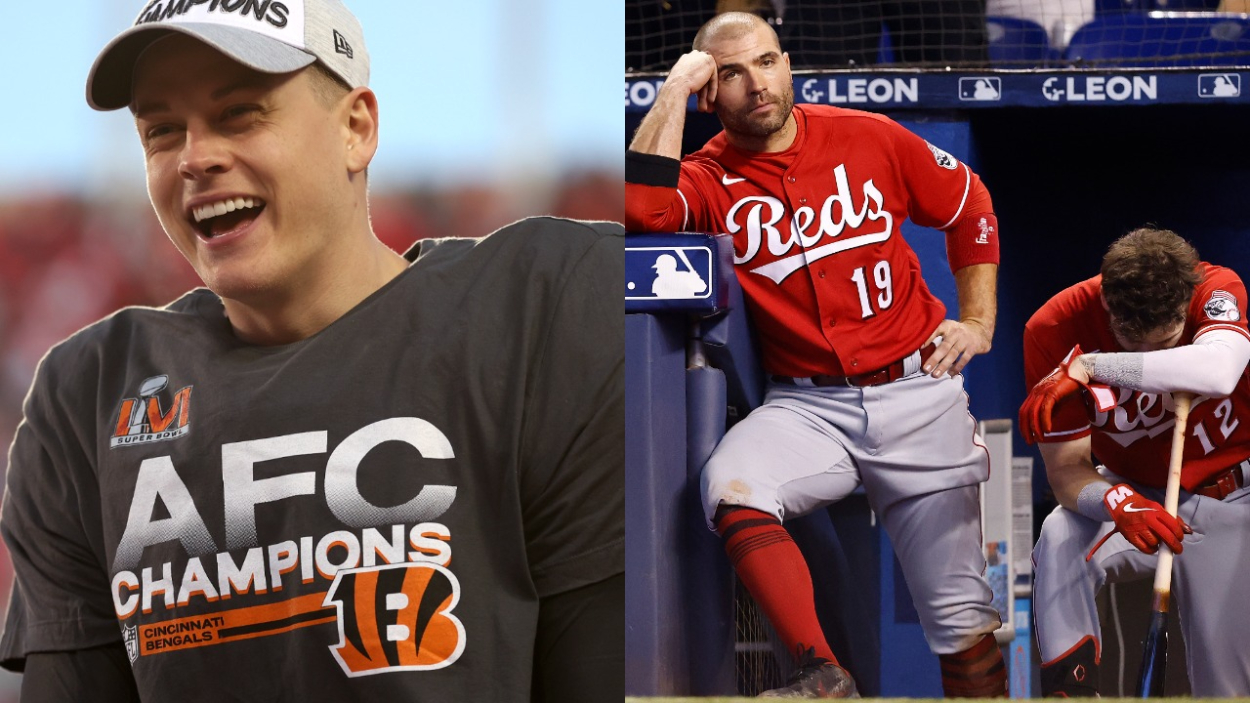 The Cincinnati Bengals' Super Bowl Appearance Puts Pressure on the Reds to Finally Abandon Their Losing Ways
The Cincinnati Bengals are finally back in the Super Bowl, which should immediately put pressure on the Cincinnati Reds to abandon their losing ways.
The Cincinnati Bengals are doing something no professional sports team in their city has done in over 30 years: They're playing for a championship.
After decades of mediocrity and losing, the Bengals are finally in the Super Bowl with a chance to win the first title in franchise history. However, while the fan base is exuberant, there's also a dark cloud hanging over everything.
That's because everyone knows the Cincinnati Reds still stink.
While the Bengals have overcome the "they're too cheap" narrative, the Reds haven't. But maybe the football franchise's success will now pressure the town's MLB team to finally abandon its losing ways.
The Cincinnati Bengals have been rewarded for finally spending money
Cincinnati Bengals owner Mike Brown has often received criticism for being too cheap.
In 2011, former ESPN columnist Rick Reilly wrote that "Brown is cheaper than your local Goodwill" when covering the team's breakup with quarterback Carson Palmer and how it had treated players in the past.
However, Brown has put that narrative to bed the past couple of years.
According to ESPN, the Bengals forked over $39 million in guaranteed cash on external free agents alone in 2020. They signed Trae Waynes, D.J. Reader, Vonn Bell, and Xavier Su'a-Filo. In 2021, they added notable contributors like Trey Hendrickson, Mike Hilton, Chidobe Awuzie, Larry Ogunjobi, and Eli Apple.
Those key additions, paired with guys they drafted in Joe Burrow, Ja'Marr Chase, Joe Mixon, Tee Higgins, and others, have led the Bengals to their best season in decades.
After winning just six games combined in 2019 and 2020, Cincy went 10-7 and won the AFC North title this season. Then it beat the Las Vegas Raiders and Tennessee Titans in the first two rounds of the playoffs (the franchise's first postseason wins since the 1990 season) before taking down the Kansas City Chiefs in the AFC Championship Game via an overtime thriller to reach their first Super Bowl since the 1988 campaign.
But do you know of that hilarious meme where Squidward is watching Spongebob and Patrick have fun outside while he's stuck inside his house? Well, the Bengals are the ones having a blast, and the Reds are Squidward.
They're just watching from afar.
The Cincinnati Reds have been cheap losers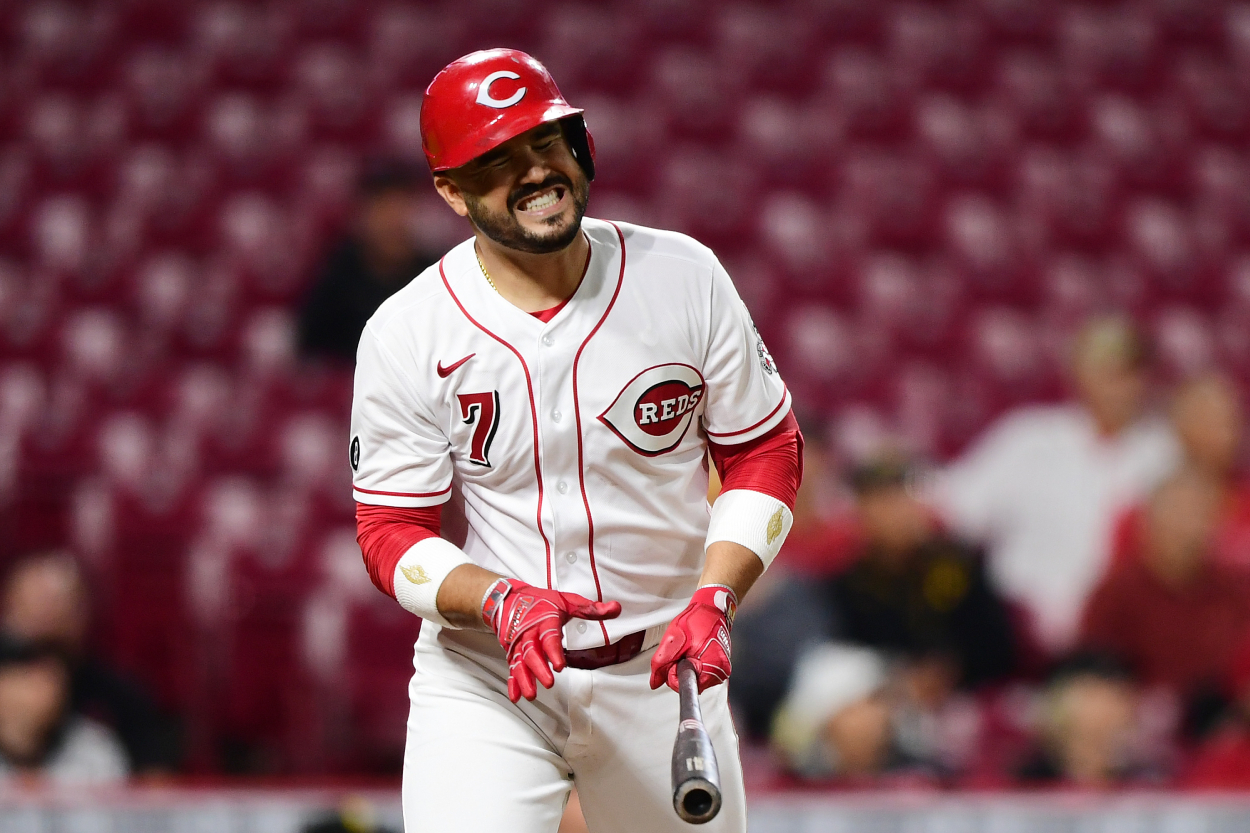 For years, the Cincinnati Reds have had to bank on homegrown players such as Johnny Cueto and Jay Bruce who developed within their farm system to have success. Once those guys have become good, though, they have likely left for teams that will actually pay them (or the Reds have traded them before having to give them money).
That strategy has resulted in years of losing. The Redlegs have only made the postseason five times since 1991, and they haven't won a playoff series since 1995. In the last 31 seasons, they have had a losing record 20 times.
This is the same franchise that used to dominate with the Big Red Machine. But it seems it couldn't care less about winning now.
A couple of seasons ago, it looked as if the Reds had changed their strategy. They had their biggest offseason in regards to free agency in over a decade, signing Nick Castellanos and Mike Moustakas to four-year, $64 million contracts. But the spending spree has only resulted in one postseason appearance during a COVID-19-shortened 2020 season.
Wade Miley threw a no-hitter for the Reds last year and finished 12-7 with a 3.37 ERA. But following the horrific collapse at the end of 2021 that resulted in them missing the playoffs, the front office reverted back to its old ways and refused to pick up his $10 million club option in November. It also traded Gold Glove catcher Tucker Barnhart and will likely lose Castellanos in free agency (pending the MLB lockout) after he opted out of the last two years of his deal, presumably seeking more money following his All-Star campaign in 2021.
The reasoning? General manager Nick Krall said (h/t Cincinnati.com), "We're aligning our payroll with our resources." So, in other words: After just two years of half-heartedly trying to win, the Reds have decided to be cheap again.
But maybe the Bengals will put pressure on them to finally ditch their losing efforts.
The Cincinnati Reds should feel pressure to abandon their losing ways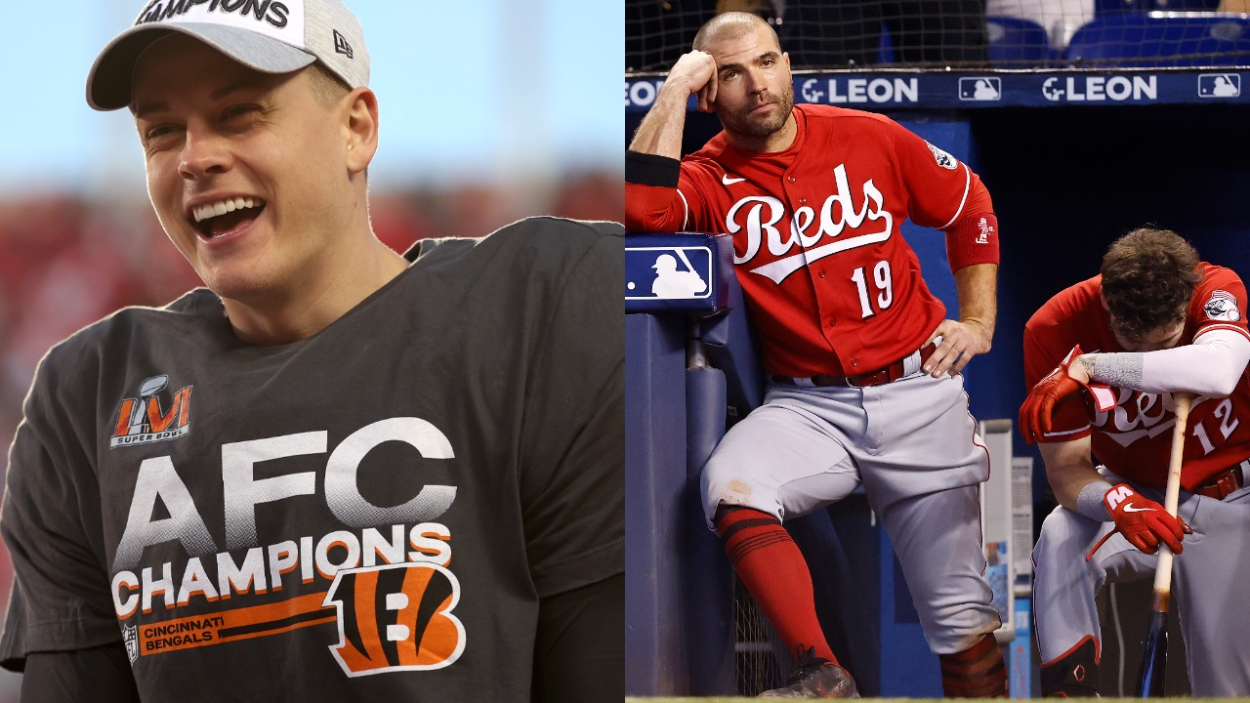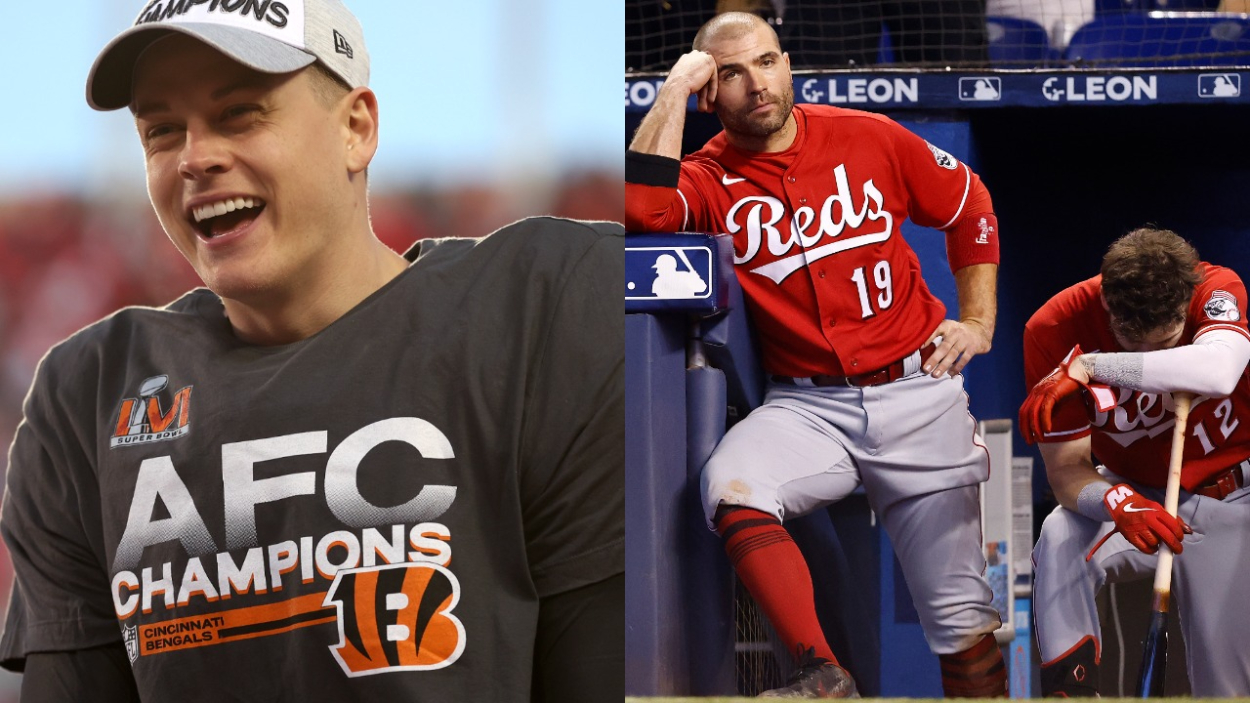 During the Bengals' run, the team's fan base and city has gotten fully behind it. The games have been packed (the playoff game against the Las Vegas Raiders broke a stadium record for attendance), and fans now have an opportunity to purchase plenty of new gear.
Winning equals more cash flow.
And if the Reds want Cincinnati to support them by actually coming to see them play, they need to start winning.
No one wants to go to a game in the middle of the summer when their team stinks. That's why the Reds ranked 26th in attendance in 2017 when they went 68-94, per ESPN.
But maybe since the town is getting a taste of winning with the Bengals, the fans won't want to support a franchise that doesn't even want to try, immediately putting pressure on the Reds to abandon their losing ways. If history is any indication of what the future holds, though, they probably won't do anything about it, but they will at least start feeling more heat.
All in all, the Reds have a lot of work to do to become an MLB powerhouse again. Spending money on their roster would give fans what they've wanted for a long time: a step in the right direction.
Stats courtesy of Baseball Reference