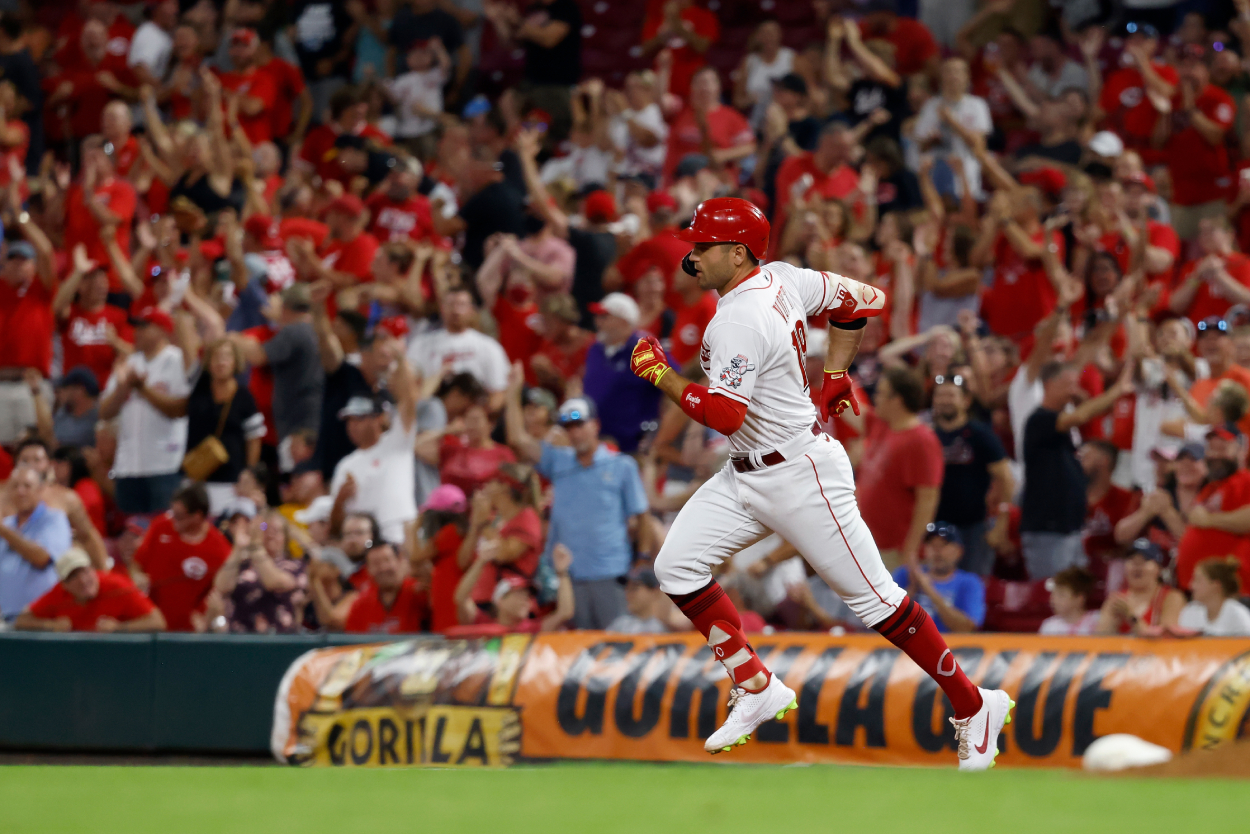 Cincinnati Reds President Phil Castellini Insults Cincy Fans With Outrageous Comments
The Cincinnati Reds are a trash MLB team again, and president Phil Castellini recently used just two comments to insult Cincy's frustrated fan base.
The Cincinnati Reds are a joke, and that's being nice.
After half-heartedly trying to win for a whopping two seasons, the Reds appear to be in rebuilding mode yet again. Their fans have grown accustomed to it. The organization has fielded one of the MLB's worst teams almost every year for the past 25 seasons.
But Cincinnati's ownership either doesn't think its fans are smart enough to figure things out on their own, or it believes everyone has just forgotten about the last two decades of their lives.
The Reds are bad, but the front office wants fans to believe they're actually good.
The Cincinnati Reds have become trash again
Prior to the 2020 MLB season, the Reds had recorded six straight losing campaigns. They had only made the playoffs three times since 1995 and hadn't won a postseason series since that same year.
However, for the first time in what seemed like decades, Cincinnati spent a little money heading into the 2020 season. The team added guys like Mike Moustakas, Nick Castellanos, and Wade Miley.
It resulted in a playoff appearance during that COVID-19 shortened year and immediately created high expectations for 2021.
The Reds didn't improve their roster too much before last season, but they still had a solid squad. It then helped them notch their second winning season since 2013, despite barely missing the playoffs.
This offseason, though, Cincinnati has returned to its losing ways.
It didn't pick up Miley's option and traded Tucker Barnhart, a two-time Gold Glove-winning catcher, to the Detroit Tigers. It then shockingly dealt Sonny Gray to the Minnesota Twins before sending All-Star outfielder Jesse Winker and former 49-home-run-hitter Eugenio Suarez to the Seattle Mariners. The Reds then put a bow on their dumpster fire of an offseason by not re-signing All-Star slugger Nick Castellanos and allowing him to go to the Philadelphia Phillies.
So, why did the team give up on winning after just two seasons?
Well, while the front office still refuses to admit that it's rebuilding, general manager Nick Krall said in November that "(h/t Cincinnati.com), "We're aligning our payroll with our resources."
That means they are just being cheap and don't want to pay their stars. In fact, Ken Griffey Jr. became their sixth-highest paid player after their flurry of offseason moves.
Phil Castellini insulted Reds fans with two comments
Baseball means a lot to the city of Cincinnati. The Reds were the first MLB team in history, and Opening Day is a holiday.
However, fans can only take so much. After watching their team stink for over two decades, why would they want to continue putting time and energy into an organization that doesn't care about winning or (more importantly) them?
So, ahead of the team's home opener on April 12, the Reds still have tickets available. But Phil Castellini, the team's president and the son of owner Bob Castellini, seemingly doesn't want people to think it has anything to do with Cincy's questionable moves.
"Because of the date change, a lot of people who had the plans for tomorrow's game couldn't make it," he said, per WCPO. "We still have Opening Day tickets available, which I don't think I've ever been able to say at this podium at this time of year."
Oh, it's just because of the date change? Got it.
So, what about this trash can you call a roster?
"I think if you watched any spring training games, this is a good, entertaining team and I think you'll see that play out on Opening Day and throughout the season," Castellini said, per WCPO. "So have a little bit of faith in what we're doing with your Cincinnati Reds."
Phil Castellini and the Reds should show their fans a little more respect
There's a lot to unpack from Castellini's comments.
First of all, the (what is expected to be) poor attendance for the home opener has nothing to do with the date change. Fans would go above and beyond to get to the ballpark if they had a reason to be excited about their team. To suggest otherwise is an insult to the fan base's dedication.
But while that comment was ridiculous, the other one was worse.
Do you really think spring training games indicate how your season is going to go? The Reds went 16-19 during 2017 Spring Training but finished the regular season 68-94.
And what has the front office ever done to earn faith from its fans?
Bob Castellini became team owner in 2006. Since then, the Reds have only had five winning seasons, four playoff appearances, and no postseason series wins.
Yeah, but fans are supposed to trust you?
The Cincinnati Reds used to be the standard in the MLB. They were the first team in league history and won five World Series championships, including two with the Big Red Machine. 
Now, they are just perennial losers who don't care about their fans. If they don't turn things around soon, Opening Day attendance will just worsen and worsen each year.
Stats courtesy of Baseball Reference