Cincinnati Reds Star Joey Votto Has Somehow Found a Way Around the No-Fans Protocol
Fans are starting to get used to watching regular-season MLB games without fans in attendance. Many TV channels are trying to make the experience as normal as possible too as some have put graphics of fake fans on their broadcast, and many have added fan noises in the background of the game. However, players are not really getting a home-field advantage while they play as they do not have their home fans cheering them on. Joey Votto, the Cincinnati Reds star, though, has found a way around the no-fans protocol.
Joey Votto is a Cincinnati Reds legend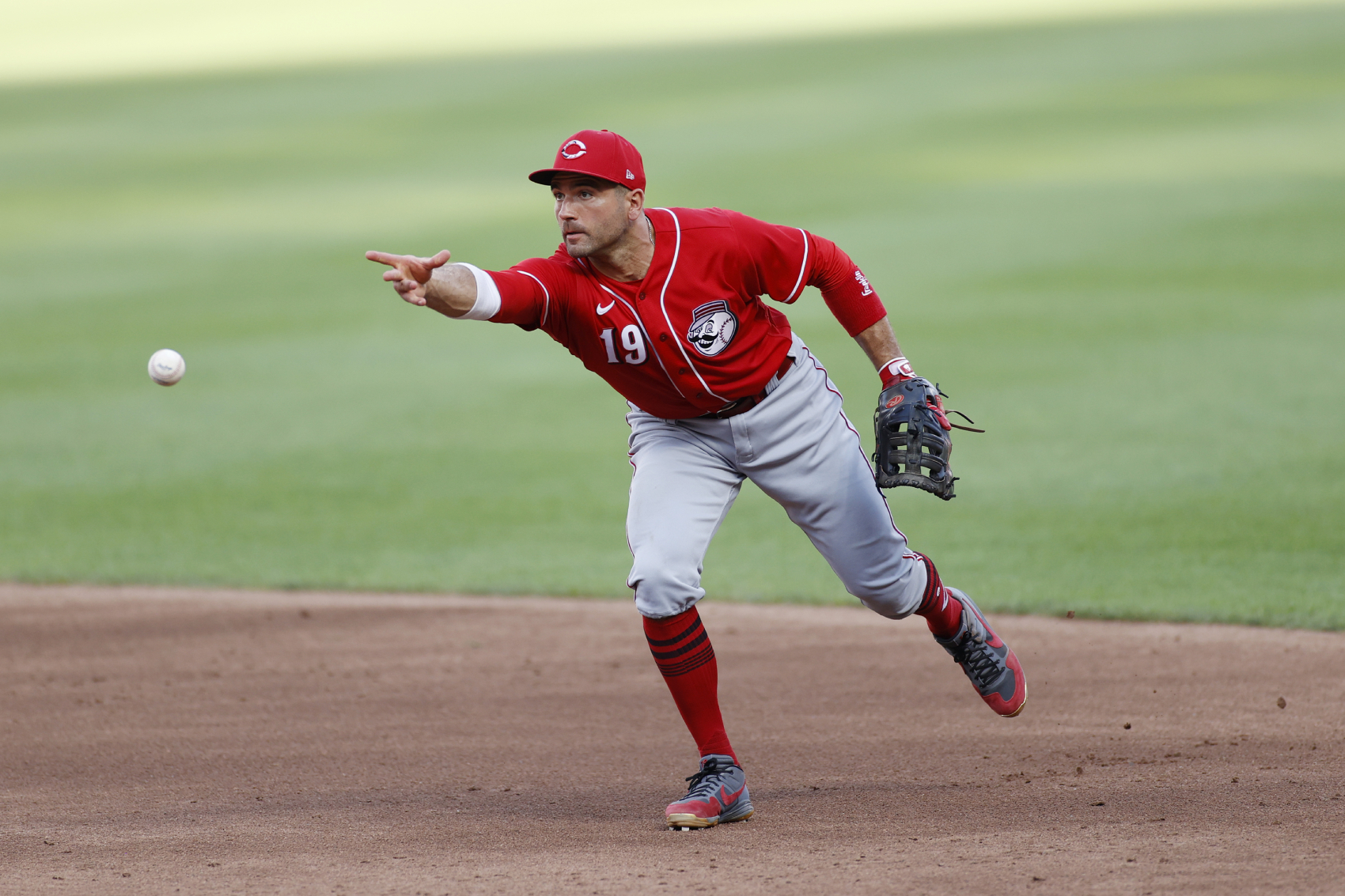 RELATED: Kyler Murray's Life-Changing Decision Was Similar to Former Reds Slugger Adam Dunn's
The Cincinnati Reds drafted Votto in the second round of the 2002 draft. He has ultimately become one of their best players of all-time. 
Votto made his debut with the Reds in 2007, and then became an everyday player in 2008. He had a .297 batting average in 2008 to go with 24 home runs and 84 RBIs. He ultimately finished second in the NL Rookie of the Year race too.
Votto continued to get better in 2009 as he had a .322 average to go with 25 home runs and 84 RBIs. However, in 2010, he was the best player in baseball. Votto earned his first All-Star selection that season, but he also won the NL MVP award. He had a .324 batting average to go with 37 home runs and 113 RBIs. He also led the NL in on-base percentage and slugging percentage that season.
Votto ultimately earned four straight All-Star selections from 2010 through 2013. He hit .305 or better in each of those seasons and led the NL in on-base percentage each of those years. The Reds were pretty good in those seasons too, making the playoffs in three of those four years.
The Reds have not been very good since then. Votto has continued to have success, though, earning two more All-Star selections in 2017 and 2018. For his career, in addition to the MVP, he has been a six-time All-Star and a Gold Glove winner. He also has a .306 career batting average to go with 286 home runs, 949 RBIs, and 1,015 runs scored. His career on-base percentage (.421) is 17th in MLB history.
Joey Votto has found a way around the no-fans protocol
RELATED: The Sad Death of Former Cincinnati Reds Star Ryan Freel
MLB teams are not having fans in attendance of their games due to the COVID-19 pandemic. This means that the stadiums are pretty quiet while they play. 
However, Votto is making sure that the Cincinnati Reds still have a home-field advantage.
During a recent game against the Chicago Cubs, Fox Sports broadcaster Jim Day noted how Votto brought noisemakers for the Reds' grounds crew.
"There is one cheering section here at Great American Ball Park — it is the grounds crew," Day said on Fox Sports. "[The players] have been so impressed with the cheering that the grounds crew has done, they showed up today with a big box near the clubhouse, and it was Joey Votto that bought them some noise-making items."
The items must have helped the Reds. They snapped a four-game losing streak on July 29 with a 12-7 win over the Cubs.
How good are the Cincinnati Reds this season?
RELATED: Ken Griffey Jr.'s Son Has Had a Less-Than-Stellar NFL Career So Far
The Reds have not made the playoffs since 2013, but they have high expectations for the 2020 season. In addition to Votto, they also have Eugenio Suarez, who hit 49 home runs for the Reds last season. The team also added Mike Moustakas, Nicholas Castellanos, and Shogo Akiyama this past offseason.
Moustakas hit 35 home runs last year, and Akiyama is a five-time Japanese Pacific League All-Star and has a .301 lifetime batting average, per WCPO. Additionally, Castellanos had 27 home runs and a .289 batting average last season.
The Reds also have one of the best starting rotations in baseball with Luis Castillo, Sonny Gray, and Trevor Bauer. Gray had 20 strikeouts in his first two starts this season while Bauer had 13 strikeouts in his first start. Castillo also had 11 in his first start.
The Reds did start out 1-4 on the season, but Moustakas and outfielder Nick Senzel did not play in three of those games. Both of them said that they had not felt well, according to MLB.com. So, with the COVID-19 pandemic going on, it appears that they missed those games as a precaution. In their first game back on July 29, the Reds won 12-7, and they both hit home runs in the game.
If the Reds can be at full strength for the majority of this shortened season, and the grounds crew continues to bring the noise for them, they can certainly have a really good season this year.
Stats courtesy of Baseball Reference