Cincinnati's Huge Victory Over Notre Dame Comes With a Million Reasons to Smile
One of the biggest stories over the weekend of college football was Cincinnati's impressive victory against Notre Dame in South Bend against a pair of top-10 teams. The Bearcats walked into a packed house and took care of the Fighting Irish to continue their torrid season to this point.
Bearcats head coach Luke Fickell keeps winning games and is silencing the rumors of other head coaching jobs with all the focus on Cincinnati for the time being. In turn, the victory over Notre Dame sent Cincinnati to the Top 5 in the latest AP Top 25 poll that was released, and just one spot away from a trip to the College Football Playoff.
Moreover, the Bearcats have a million reasons to smile after the victory, especially because Notre Dame paid them to play them at home, and it cost over $1 million.
Cincinnati wins, climbs the rankings, and earns some cold, hard cash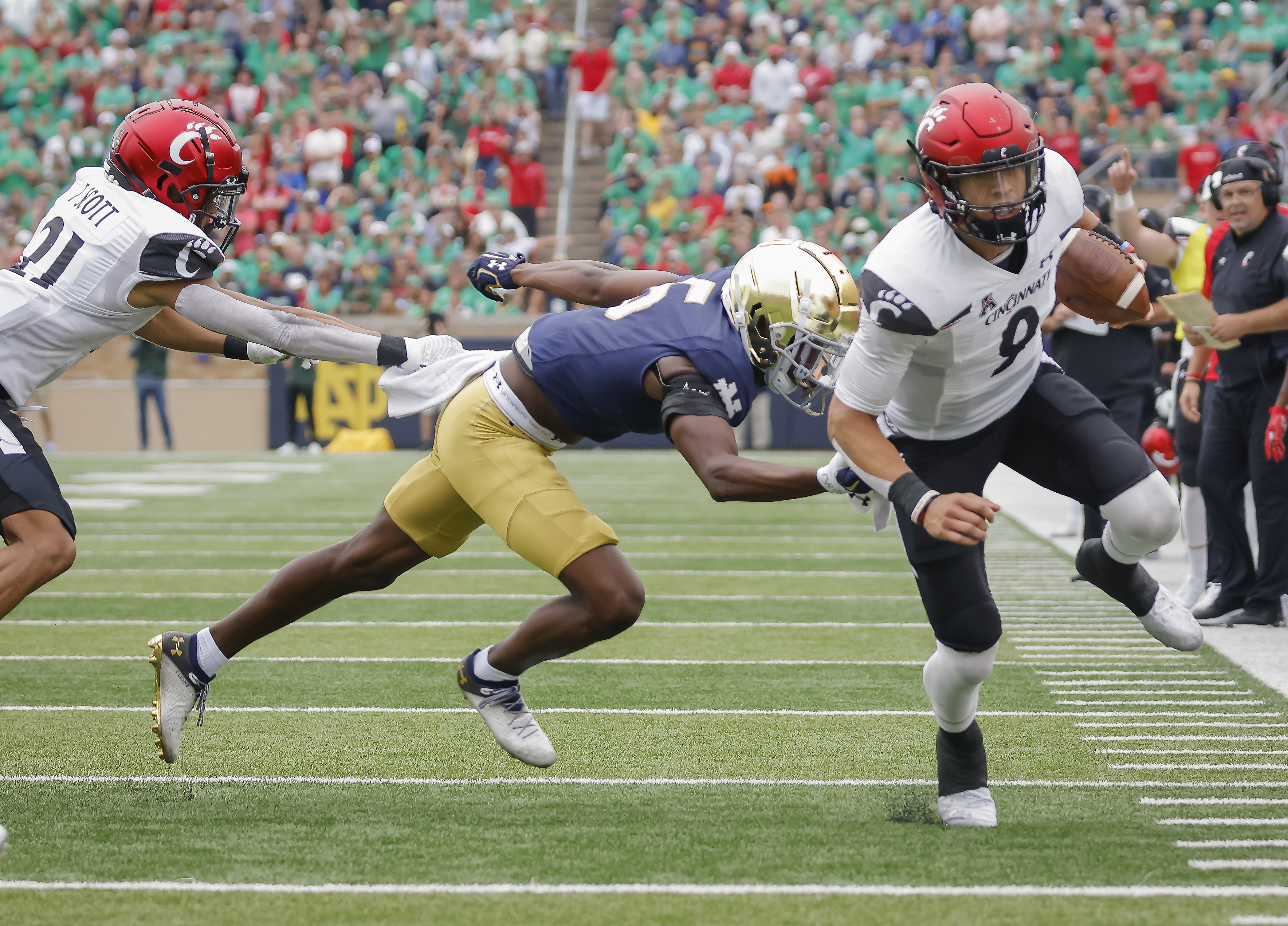 Everything went right for Cincinnati. Fickell improved his coaching resume, they moved up in the Top 25, and the Irish paid them a total of $1.2 million for the game, according to a tweet from Steve Berkowitz of USA Today.
That is a hefty price to pay for any opponent, and it hurts even more considering that Notre Dame couldn't secure a win– at home– against a Top-10 program. Heisman Trophy candidate Desmond Ridder did his part for the Bearcats, finishing the game with a 19-for-32 clip for 297 yards and a pair of touchdowns in the 24-13 victory.
They smacked around Notre Dame, and Kelly's Irish team dropped to No. 14 in the rankings. Just a fantastic weekend for Cincinnati, who got the victory and over a million bucks in the process.
The Bearcats put everybody on notice with a statement victory
Fickell's Bearcats' team walked in and frustrated Notre Dame in their biggest win of the season– and perhaps in program history. Cincinnati's schedule was pretty straightforward and will be for the remainder of the season until a matchup against No. 24 SMU on November 20.
The next couple of months won't be too much of a challenge. They face Temple, UCF, Navy, Tulane, Tulsa, and South Florida before the game against SMU. The American Athletic Conference has five teams at .500 or worse and three teams sitting on the cusp at 3-2.
If everything goes as planned, the Bearcats could be flirting with a spot in the treasured College Football Playoff field by the time the season ends.
College Football Playoff shakeup after this past weekend
This past weekend in college football was absolute chaos as nine ranked teams suffered losses. No. 8 Arkansas got shutout against Georgia, and No. 3 Oregon lost against Stanford in overtime in a highly controversial ending. In a massive upset, No. 10 Florida lost to Kentucky, and No. 15 Texas A&M fell to Mississippi State.
Those losses created some havoc for the rankings, with Alabama, Georgia, Iowa, and Penn State as the top four teams with Cincinnati and Oklahoma right behind, respectively.
Furthermore, Iowa and Penn State have a massive clash at Iowa on Saturday. The loser might fall behind Cincinnati, putting the Bearcats in prime position to stay put if they can win out the remainder of the season.
Oklahoma faces Texas, and Georgia takes on Auburn in a pair of Top 25 matchups, so a lot can change– not just this weekend, either.
All eyes are on Cincinnati after their huge victory and massive payday against Notre Dame, and a trip to the College Football Playoff is as accurate as ever for Fickell's team.
Stats courtesy of Sports Reference
RELATED: Notre Dame's Brian Kelly Echos an Old NFL Joke About 'Executing' His Players Then Calls Media' Crazy' for Taking It Seriously