MLB: The 6 Cities Where the Baseball Fans Have it the Worst
The Chicago Cubs went more than a century without a World Series. Most of their fans still stuck with them through the good and bad times, and they finally got rewarded with a championship in 2016. Some Major League Baseball fanbases, however, are currently suffering through bad times that don't necessarily look to be ending anytime soon. Whether it's inept ownership or playoff droughts, let's take a look at six cities where the baseball fans that have it the worst.
Baltimore Orioles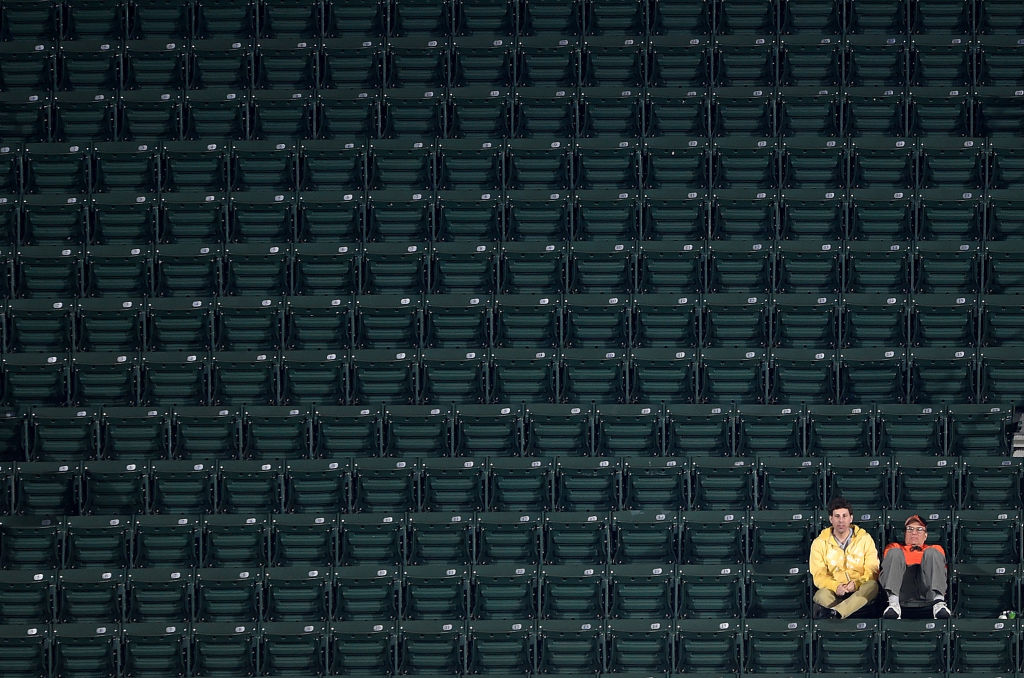 Orioles' owner Peter Angelos is considered one of the worst owners in all of professional sports. He is cheap — 28th in payroll this season — which, combined with mismanagement, makes for a team that lost a staggering 115 games last season. Improvements don't appear to be on the immediate horizon with a first baseman, Chris Davis, who is making more than $21 million this season and has gone more than 40 straight at-bats without a hit, going back to the latter part of the 2018 season. The Orioles are in full tear-down mode, some of the best baseball fans out there will have to wait to see how the rebuild comes to fruition.

Miami Marlins
The Marlins have only been around since 1993 and already have two World Series championships under their belt. Unfortunately for their fans, they also have a history of fire sales, including after both of the title seasons. The most recent fire sale has come in the last two offseasons. After the 2017 season, they traded then-reigning National League MVP Giancarlo Stanton and Christian Yelich, who went on to win the NL MVP last season — which resulted in a 98-loss season. This offseason's traded players include all-star catcher J.T. Realmuto. The prospects they got in those three trades may end up being stars, but it'll be a while before that happens.

Seattle Mariners
The Mariners are off to one of the best starts in MLB in 2019, but that probably doesn't give their fans much hope considering they have the longest playoff drought in the majors since their last appearance, which came in 2001. It looked like they might end that drought last season, but a 31-34 second half record caused them to finish eight games back of the second Wild Card in the American League. While the rebuild in the Emerald City might be finished sooner than expected, the Mariners have some of the most tortured baseball fans around.

Pittsburgh Pirates
Like with the Orioles, Pirates' ownership isn't known for having a high payroll — 27th in 2019. And the team's on-field performance is reflective of that. The Pirates went 94-68 in 2013, for their first winning season — and playoff appearance — since 1992. The young core of that 2013 squad included OF Andrew McCutchen and SP Gerrit Cole, both of whom left town in trades the last couple of seasons. In his first season with the Astros in 2018, Cole finished fifth in American League Cy Young voting and set a career high with 276 strikeouts.

Cleveland Indians
The Indians may be the most surprising team on this list because they have made the playoffs in each of the past three seasons, including a World Series appearance in 2016, and are the favorites in the AL Central and maybe the World Series this season. But they lost some key pieces of the team — OF Michael Brantley and RPs Cody Allen and Andrew Miller — in free agency this winter without adding any significant players to help fill those holes.

They also were reportedly shopping around some of their top starting pitchers. But Indians' fans frustration reached a boiling point recently when owner Paul Dolan said they should "enjoy him" when asked about the future of Francisco Lindor, who is one of the best shortstops in baseball. Many fans took that as an indication that Dolan doesn't plan to make Lindor a legitimate offer for a contract extension at a time when teams are locking up star players, such as Angels OF Mike Trout and Mets SP Jacob deGrom, before they hit free agency. If the Indians balk at giving Lindor a big contract, the loyal lakeside baseball fans will have every reason to be upset.

Chicago White Sox
Since winning the World Series in 2005, the White Sox have just one postseason appearance on their ledger, an ALDS exit in 2008, and they haven't had a winning season since going 85-77 in 2012. The White Sox gave their fanbase hope this offseason by indicating they were going to be involved in the bidding for stars Manny Machado and Bryce Harper, but they failed to land either one.
Their offer to Machado was reportedly worth a guaranteed $250 million over eight years — well below the 10-year, $300 million deal he eventually agreed to the Padres — with incentives that could have brought the total "well north" of $300 million. They also failed to land Harper, and their biggest offseason acquisition was arguably RP Alex Colome or DH Yonder Alonso, both of whom are a far cry from Machado or Harper. There are potential stars down on the farm, but the southside baseball fans in Chicago don't have much to cheer for in 2019.