CJ McCollum Contract: How Many Years Remain on His $100 Million Deal?
The general feeling heading into the week of the 2022 NBA Trade Deadline was that fans should buckle up because it's going to be a wild ride.
It has lived up to that expectation so far.
On Feb. 8, new broke that the Portland Trail Blazers are trading guard CJ McCollum to the New Orleans Pelicans in a deal that will have major ramifications for the Western Conference.
But how long will New Orleans have him on its roster? Since McCollum is changing teams for the first time in his career, we looked at his contract and how many years remain on his deal.
How many years remain on CJ McCollum's $100 million contract?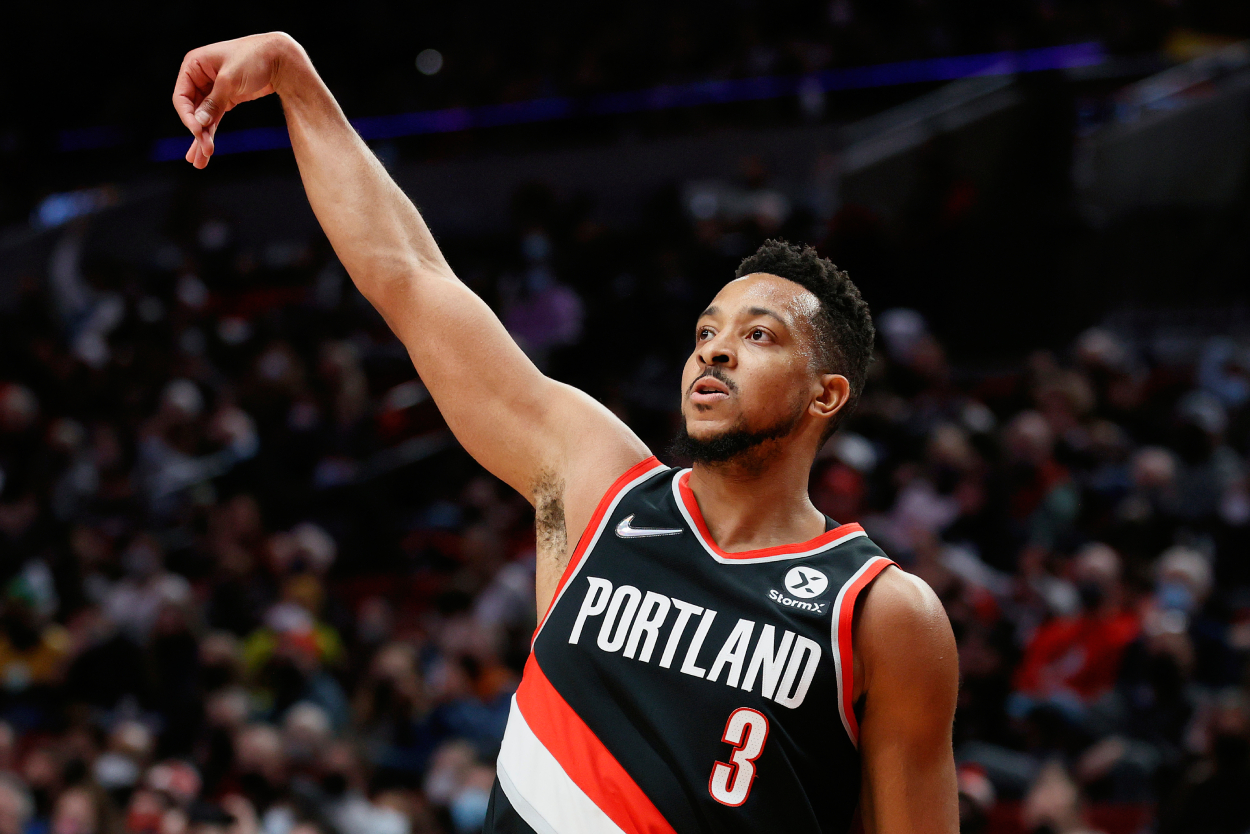 In 2019, CJ McCollum signed a three-year, $100 million contract extension to continue playing with the Trail Blazers, the only team he has known his entire career.
McCollum entered the league in 2013 and played on his rookie contract with the Blazers through the 2016-17 season. He became such an integral part of their squad that the organization gave him a four-year, $106 million extension in 2016.
After continuing his high-level play, the Blazers signed him to his current deal in 2019.
This season is McCollum's first year on that three-year contract, which means the Pelicans will have him under their control through the 2023-24 season.
The Lehigh product is earning $30.8 million this year and will make $33.3 million in 2022-23 before raking in a whopping $35.8 million in 2023-24.
He gives the Pelicans a dynamite scorer
According to ESPN's Adrian Wojnarowski, the Trail Blazers agreed to send CJ McCollum, Larry Nance Jr. and Tony Nell to the Pelicans on Feb. 8. New Orleans will send Josh Hart, Nickeil Alexander-Walker, Didi Louzada, Tomas Satoransky, a protected first-round draft pick, and a couple of second-round selections to Portland.
The immediate thought in regards to this trade is how much of a scoring punch McCollum will give the Pelicans.
We all know he's a walking bucket.
After averaging just 6.3 points in his first two seasons, CJ hasn't averaged fewer than 20.0 points per game since. He earned the 2015-16 Most Improved Player Award after astonishingly jumping from 6.8 points to 20.8, and he recorded as many as 23.1 in 2020-21.
McCollum has become so dangerous on that end of the court because of his elite shooting ability. He's a career 39.6% three-point shooter and is 27th among active players in career field goals from deep with 1,297 (as of Feb. 8, 2022).
CJ will shoot the ball for New Orleans and will do it at a high level.
However, the next question (other than what this means from his former running mate Damian Lillard) is in regards to how this will affect Zion Williamson.
CJ McCollum should help the Pelicans hopefully keep Zion Williamson
Speculation surrounding Zion Williamson's future in New Orleans has gone bonkers this year. But their play without him this season, combined with the recent addition of McCollum, should have him feeling encouraged about the team's future.
Despite Williamson not playing a single second with a foot injury, the Pelicans are fighting for a spot in the NBA Play-In Tournament. They are 21-32 and rank 10th in the Western Conference thanks to the stellar play of Brandon Ingram and Jonas Valanciunas.
Ingram is averaging 22.8 points, and Valanciunas is recording 18.2 per game. So, adding McCollum gives them another scorer who averages at least 20.0 points, meaning they could have a legit squad once Williamson returns.
Zion proved he can become the All-Star-level player we all thought he could be coming out of Duke when he averaged 27.0 points and 7.2 rebounds last season. If he can stay healthy, the Pelicans will have two legit threats down low in himself and Valanciunas and two perimeter options in Ingram and McCollum.
Barring another future trade, it looks like McCollum will spend his next two-and-a-half seasons with the Pelicans. And his skills next to Williamson, Ingram, and Valanciunas could turn New Orleans into a force for years to come.
Stats courtesy of Basketball Reference; Contract numbers courtesy of Spotrac
RELATED: Caris LeVert Contract: How Many Years Does He Have Left?