CJ McCollum Inexplicably Compared Eric Bledsoe to LeBron James: 'He's Like Mini LeBron'
What do LeBron James and Eric Bledsoe have in common? On the surface, absolutely nothing. However, according to CJ McCollum, the two players are extremely similar.
The Portland Trail Blazers shooting guard bizarrely compared James and Bledsoe recently, an opinion that will need a significant amount of context if McCollum wants to garner any support.
CJ McCollum called Eric Bledsoe a 'mini' LeBron James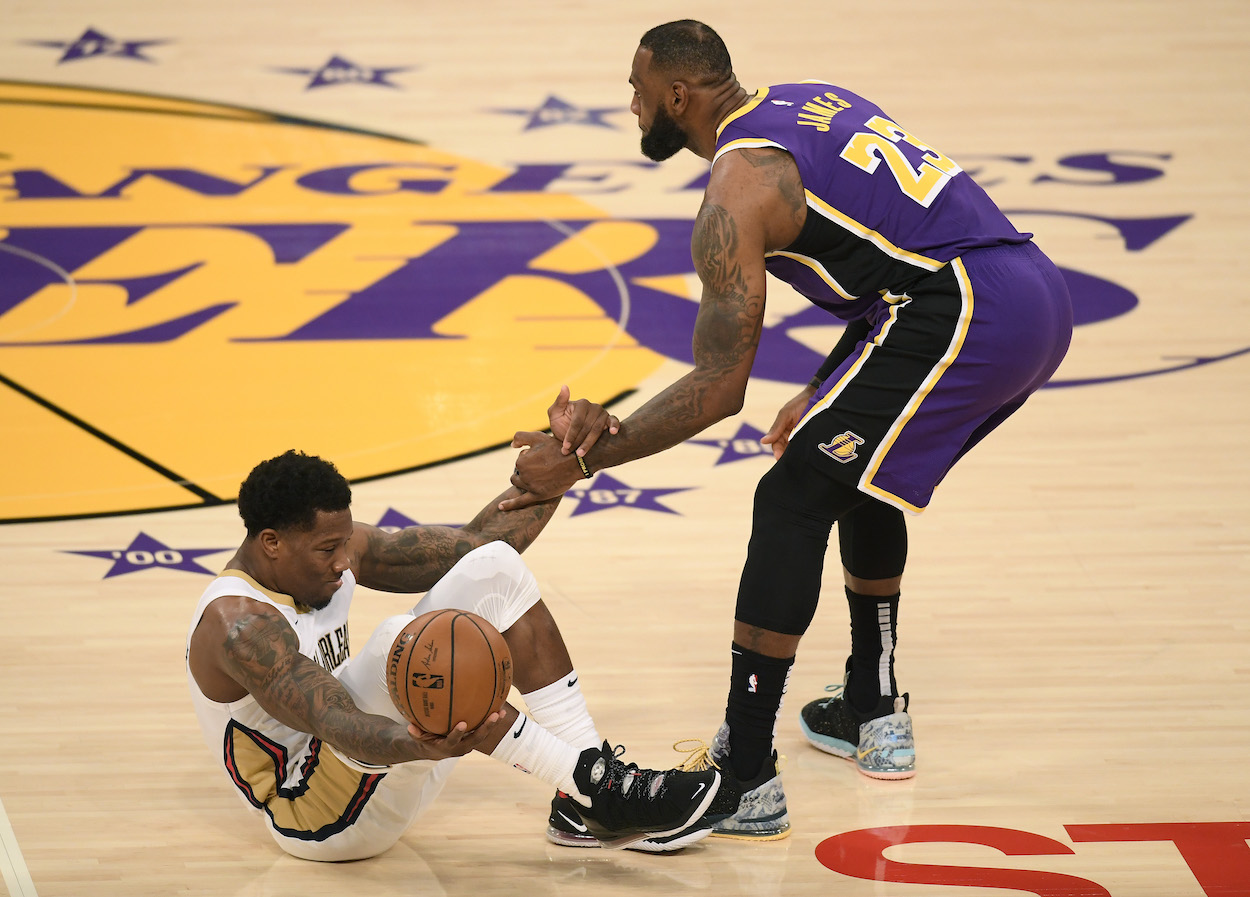 During a recent episode on his podcast "Pull Up with CJ McCollum," the Portland guard made the strange comparison. Citing his admiration for Bledsoe as a player, McCollum highlighted the similar play styles that the two players possess:
"I'm a big fan of Eric Bledsoe. He's like mini LeBron. Super athletic, explosive, can lead a team, can run a team

CJ McCollum via Pull Up with CJ McCollum
There's a lot to digest in a claim like this.
First and foremost, the idea of comparing Bledsoe of all players to James is outlandish. Bledsoe has been a solid NBA role player for most of his career, but James is one of the best players in basketball history. Comparing a rising superstar like Luka Doncic or Zion Willamson to James is one thing, but 32-year-old Bledsoe?
Come on.
James is a 17-time All-Star and four-time MVP with a long list of additional accolades attached to his name. He's averaging 27 points per game for his career and, of course, is a multi-time world champion. On the other hand, Bledsoe has never been an All-Star or MVP and is only averaging 14.0 points per game for his career. In fact, the only accolades that Bledsoe actually has to his name are an All-Rookie Team appearance and two All-Defensive Team appearances.
CJ McCollum was likely trying to compare play styles and not individual ability
Now that it's been established that James and Bledsoe have nothing in common from a pure production standpoint, what exactly was McCollum trying to get at with this claim?
No one knows the answer to that outside of McCollum, but based on his comments, one can assume that he was attempting to highlight the similarities in the two's games.
James is the focal point of any offense he plays in. He spends most of the game handling the basketball, running the offense, setting up open shots for teammates, isolating on the perimeter, etc.
Once upon a time, Bledsoe played with a similar level of importance. He was the primary guard in Phoenix and Milwaukee for a handful of years. Was he as dominant as James in said role? No, not even close. Still, you can make a small argument that the two operated with somewhat similar playing styles when it came to "running the offense."
James himself gave Bledsoe the "mini LeBron" nickname after a game in 2013, so that's where that stems from (clipperholics.com). There's no guarantee McCollum was referencing this incident, though.
The Trail Blazers are in for a tricky season
Circling back to McCollum, he should have bigger issues on his mind. The Trail Blazers are due for a rocky 2021-22 season. There are zero guarantees McCollum will even be on the Portland roster when the trade deadline rolls around.
There have been heavy trade rumors surrounding both Damian Lillard and McCollum throughout the offseason.
McCollum might be in the market for a new podcast studio sometime soon if a trade is, in fact, pulled off.
All stats courtesy of Basketball Reference.
[Correction: An earlier version of this article mistakenly referred to Eric Bledsoe as Eric Gordon.]