CJ McCollum Trusts in Friendship with Damian Lillard Amid Ben Simmons Trade Rumors: 'His Word Is Bond'
The friendship between Portland Trail Blazers teammates Damian Lillard and CJ McCollum could be tested in the weeks to come. But McCollum is placing his faith in Dame amid a slew of trade rumors.
Reports of Lillard's frustration with the Blazers created a firestorm on Monday. His alleged desire to play with Philadelphia 76ers star Ben Simmons could bring a McCollum trade into play. However, the Blazers 2-guard is trying to steer clear of the noise and choosing to lean on his friendship with Lillard.
Damian Lillard reportedly wants to play with Ben Simmons, which could see CJ McCollum go to the Philadelphia 76ers
CJ McCollum experienced a whirlwind over the course of the past year.
McCollum had a child this past January. According to Shams Charania and Sam Amick of The Athletic, the Blazers later discussed sending him to the Philadelphia 76ers in an effort to trade for Ben Simmons. However, Portland backed out when the Sixers asked for multiple first-round picks and swaps.
However, things have changed quite a bit since this summer.
The Blazers sit at 11-14 after Monday's loss to the Los Angeles Clippers and have dropped six of their last seven games, spurring reports of Damian Lillard's angst. The Athletic reported tensions are rising between the players and first-year head coach Chauncey Billups and detailed Dame's apparent wish to play with Simmons. Plus, the Blazers fired former general manager Neil Olshey — one of McCollum's staunchest advocates — over the weekend.
All the scuttlebutt led to numerous trade proposals, many of which again centered around McCollum. Sending the scoring combo guard to the 76ers makes sense for the Blazers if they ultimately intend to acquire Simmons because their salaries align well.
However, McCollum is not dwelling on trade chatter. He emphasized faith in his friendship with Lillard and hopes their dynamic results in clarity.
McCollum expresses confidence in his friendship with Lillard
McCollum admitted to feeling slightly distracted during an exchange with Jason Quick of The Athletic. However, he wants to wait for Lillard himself to voice displeasure before expressing concern.
The 30-year-old told Quick that Lillard has always spoken for himself. As such, he tries to avoid rumors of his All-NBA teammate's exasperation unless it comes from Lillard's mouth.
"If [Lillard] wanted me to leave, I think he would say that. He's not speaking on me behind closed doors because that's not in his DNA. He's not built like that. He's solid, and I know his word is his bond."

–CJ McCollum, via The Athletic
Indeed, Lillard is already attempting to quiet the noise.
The All-Star point guard tweeted a response to the initial report on Monday, saying, "These mfs love drama too damn much." So, is that the end of it? Well, not necessarily.
Olshey is no longer the primary decision-maker for the Blazers. New general manager Joe Cronin calls the shots and now must decide whether to make a big play to keep Lillard content or grapple with trading Dame and starting over.
Friendship aside, Portland's backcourt duo may eventually get broken up.
The Blazers might have to decide whether to trade McCollum or Lillard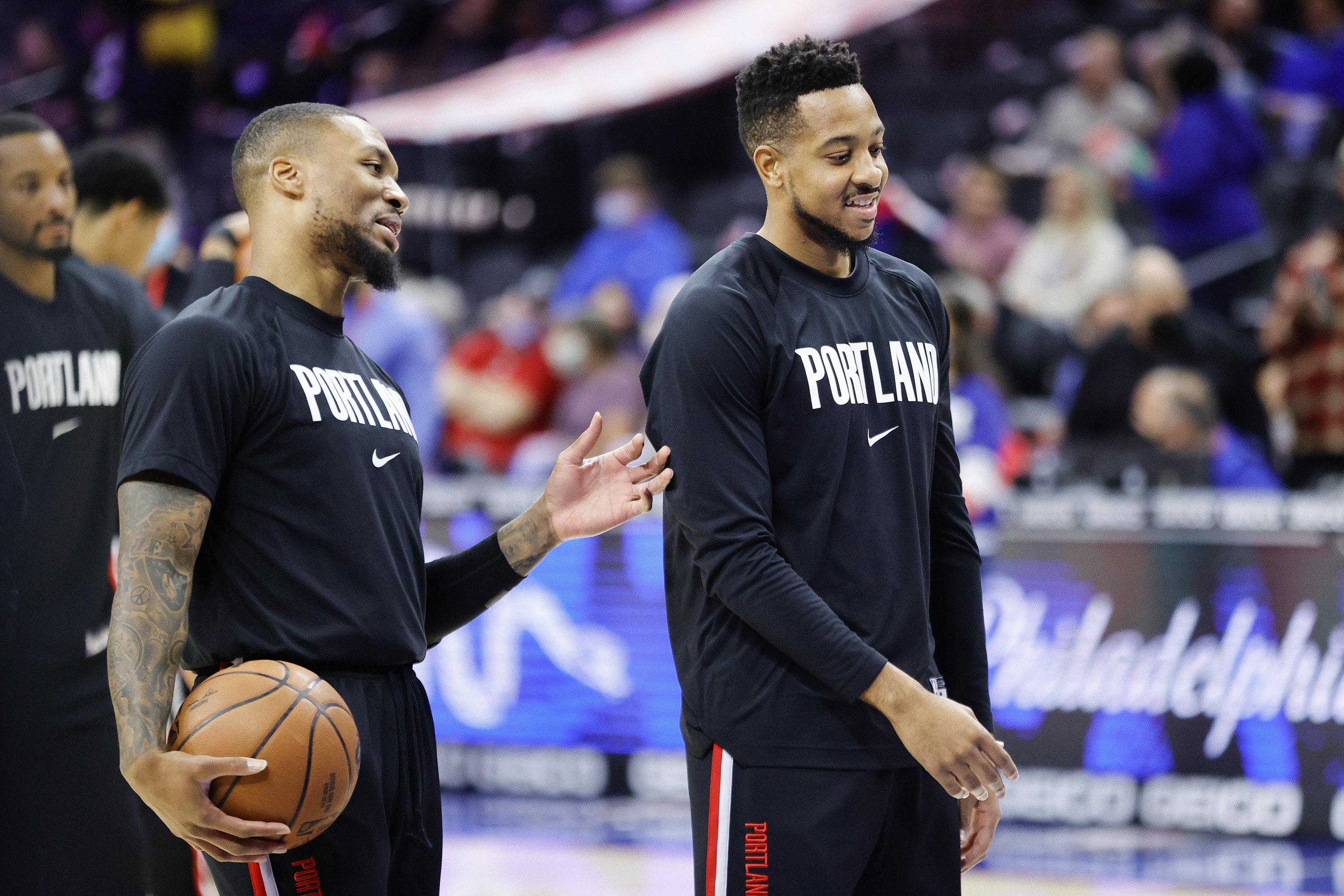 The Blazers are in dangerous territory, and one of CJ McCollum or Damian Lillard could likely find themselves on another team by the February trade deadline or this upcoming center.
If Portland still hopes to build around Lillard and trade for a star like Ben Simmons, McCollum is their best asset. The former Most Improved Player is one of the better scoring guards in basketball, a guy who shoots the ball well from beyond the arc and gets to his midrange spots off the dribble.
But should Portland look to start over, then retaining McCollum and trading Lillard in exchange for a top player and draft capital is probably the best path forward.
So while McCollum's loyalty to Lillard is admirable, the business of basketball cares little about friendships. As McCollum himself acknowledged, the Blazers have to make the move(s) they feel necessary to build a winner. That likely means breaking up one of the more potent backcourts in the NBA.