Clay Travis Once Asked Gators Legend Tim Tebow About His Sex Life
Tim Tebow was known for two things during his four years at the University of Florida.
On the field, Tebow was a bruising dual-threat quarterback who excelled at scoring touchdowns in any way possible. Off the field — and on it too, when the situation called for it — Tebow was a devout Christian who made his faith known.
Tebow's public comments on his religious views once allowed for an interesting conversation, to say the least, between him and college football reporter-turned-radio host Clay Travis.
Tim Tebow had a legendary career at Florida
RELATED: How Much Money Did Tim Tebow Make in the NFL?
There is a very strong case to be made that Tim Tebow is not only the greatest quarterback in Florida Gators history, but the best signal-caller ever to play college football.
Tebow completed 66.4% of his passes for 9,285 yards, 88 touchdowns, and 16 interceptions in four seasons. He took over the starting role in 2007 and won the Heisman Trophy as a sophomore.
Tebow finished in the top-3 of Heisman Trophy voting every year he was a starter. The star quarterback also ran for 2,947 yards and 57 touchdowns in those four seasons.
Tebow's 57 rushing touchdowns were both the most by any player from a Florida FBS college or who played high school in Florida until Buffalo Bills running back Devin Singletary, then at Florida Atlantic, passed Tebow in 2018.
Florida won the national championship in Tebow's freshmen and junior seasons. The Denver Broncos used a first-round pick on Tebow in 2010 and he played three NFL seasons.
Tebow spent the last few years playing professional baseball for the New York Mets. It is not yet known if Tebow, who turns 33 on August 14, will return to the minors next year.
Tebow is a devout Christian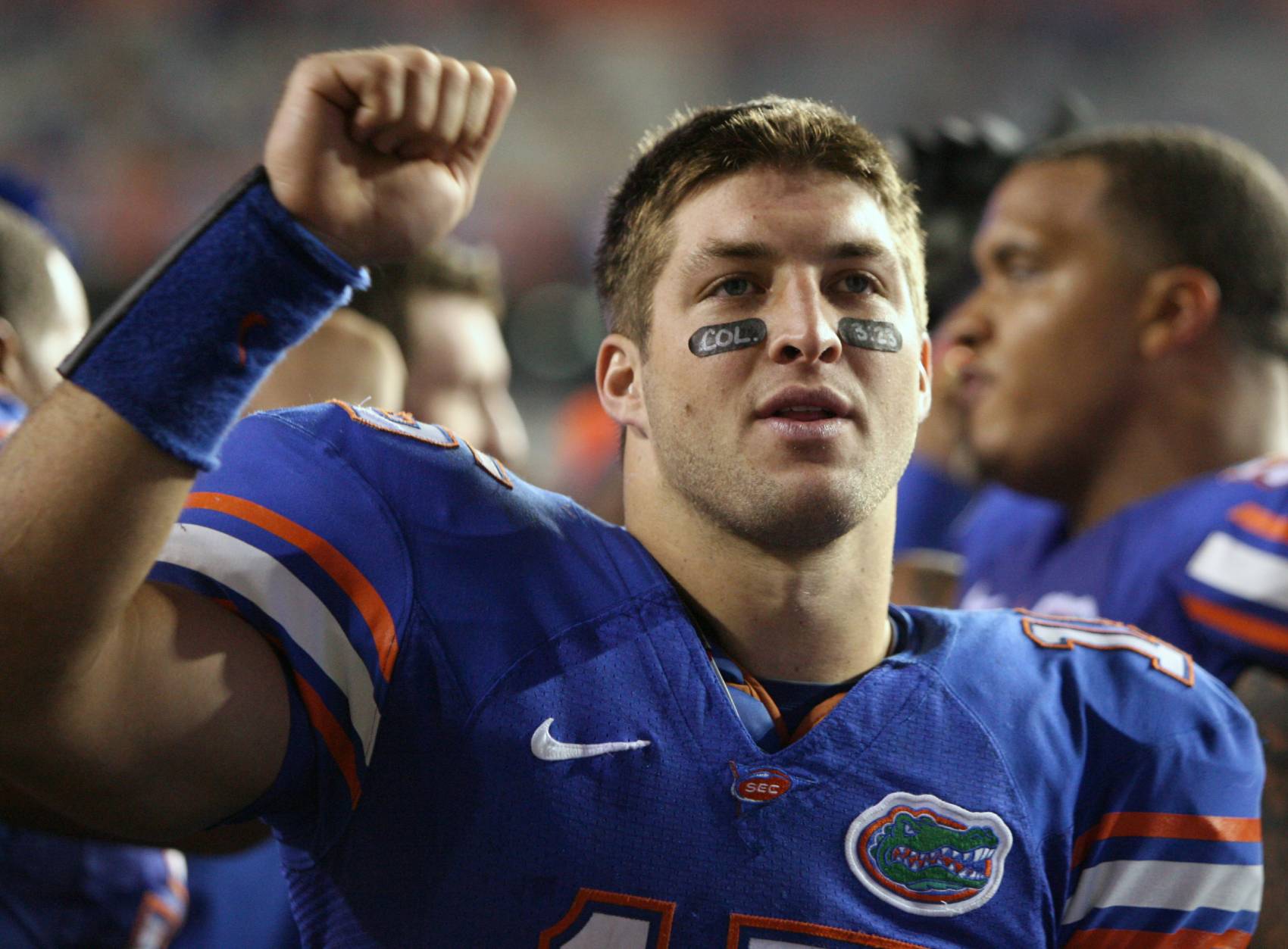 RELATED: Will Tim Tebow Play for the New York Mets in 2020?
Tim Tebow has always been vocal about his faith. He wore Bible verses on his face during his college career and kneeled in prayer before NFL games.
The NCAA later banned Tebow's practice of wearing Bible scriptures on his face.
Tebow regularly cited his faith in press conferences, the huddle, and anywhere he felt was appropriate.
Tebow's 2017 book, Shaken, discussed his faith and what it taught him when his NFL stint ended so quickly. It was named the 2017 Christian Book of the Year by the Evangelical Cristian Publishers Association.
Clay Travis once asked Tim Tebow about his sex life
RELATED: Is Dave Portnoy Really the Most Valuable Name in Sports?
The annual college football media days present a time for the nation's best players to meet reporters and answer everything from questions about the upcoming season, their draft hopes, and their pets.
Clay Travis, who then worked for FanHouse but is now known as the founder of Outkick, went a different route in 2009. Attending that year's SEC media days, Travis asked Tim Tebow if the star quarterback was "saving himself for marriage." Tebow laughed and said, "Yes, I am."
When another reporter tried asking Tebow about his senior year, the quarterback looked at the crowd and laughed again.
"I think ya'll are stunned right now. Ya'll can't even ask a question. Look at this. The first time ever. Wow. I was ready for the question. I don't think ya'll were, though."
Travis defended his question on a segment later that day with Paul Finebaum, according to Bleacher Report.
Tebow married South African model Demi-Leigh Nel-Peters in January 2020.