Clay Travis Rips 'Malcontent' Kyler Murray Over Recent Contract Demands
Article Highlights:
Fox Sports' Clay Travis isn't pleased with Arizona Cardinals quarterback Kyler Murray's recent contract demands
The OutKick founder labeled the 2018 Heisman Trophy winner a "malcontent" and said he's done nothing to earn a new deal
Murray might not want to hear it, but his contract demands should only hurt his case to receive an extension in the coming months
Arizona Cardinals quarterback Kyler Murray wants a new contract, and Fox Sports' Clay Travis wants the two-time Pro Bowl selection to go away.
Murray and his agent, Erik Burkhardt, made it clear on Monday, Feb. 28, that the young quarterback wants to remain in Arizona — at least, so long as he is given the contract he feels he deserves. Travis, for his part, saw no reason why the Oklahoma product would even bother making his demands clear given his lack of leverage.
Clay Travis isn't pleased with Kyler Murray's recent contract demands
On the eve of the 2022 NFL Combine, Murray and Burkhardt released a statement, one delivered through respected NFL reporters such as Adam Schefter and Ian Rapoport, and addressed lingering rumors about the quarterback's frustration with the Cardinals. Although Murray wants to remain with the Cardinals, the 24-year-old and his agent also feel "actions speak louder than words in this volatile business."
In short, Murray said pay me or else without resorting to such terms. Aren't words fun?
Travis certainly had words for Murray on the Feb. 28 episode of OutKick The Show. The OutKick founder called the quarterback's statement a "big error in judgment" and referenced the 2018 Heisman Trophy winner's lack of playoff wins and his one winning season as reasons why he doesn't deserve a significant contract yet.
"This release that he put out really is strange. All caps, way too long. It, to me, makes it look like even more that he is actually a malcontent. That is not the kind of player that you can build a championship team around."

Clay Travis
Travis also cited Murray's lack of success in several advanced statistics. As of publication, neither Murray nor Burkhardt had addressed the host's comments or "malcontent" remark.
Murray might not want to hear it, but Travis is spot-on regarding the contract demands
In fairness to Murray, the term "malcontent" might be a bit harsh. The quarterback is chasing the money and seeking what he feels he deserves, as is his right as a professional athlete.
The problem is the reality of the situation. Travis is correct that Murray really hasn't done enough to prove he deserves a new deal after three seasons. There have been five first-round quarterbacks selected since 2016 who signed an extension after three years, and Murray isn't as good as Josh Allen or Patrick Mahomes.
Houston Texans standout Deshaun Watson was a superior quarterback when he inked his extension in 2020. Whether or not he'll be better than Murray if or when the Clemson product returns to the NFL is another conversation.
As for Carson Wentz and Jared Goff, both were traded after signing their extensions. Murray is roughly on Wentz's tier as a solid starter, albeit an unreliable one who is yet to get the proverbial monkey off his back and win a playoff game.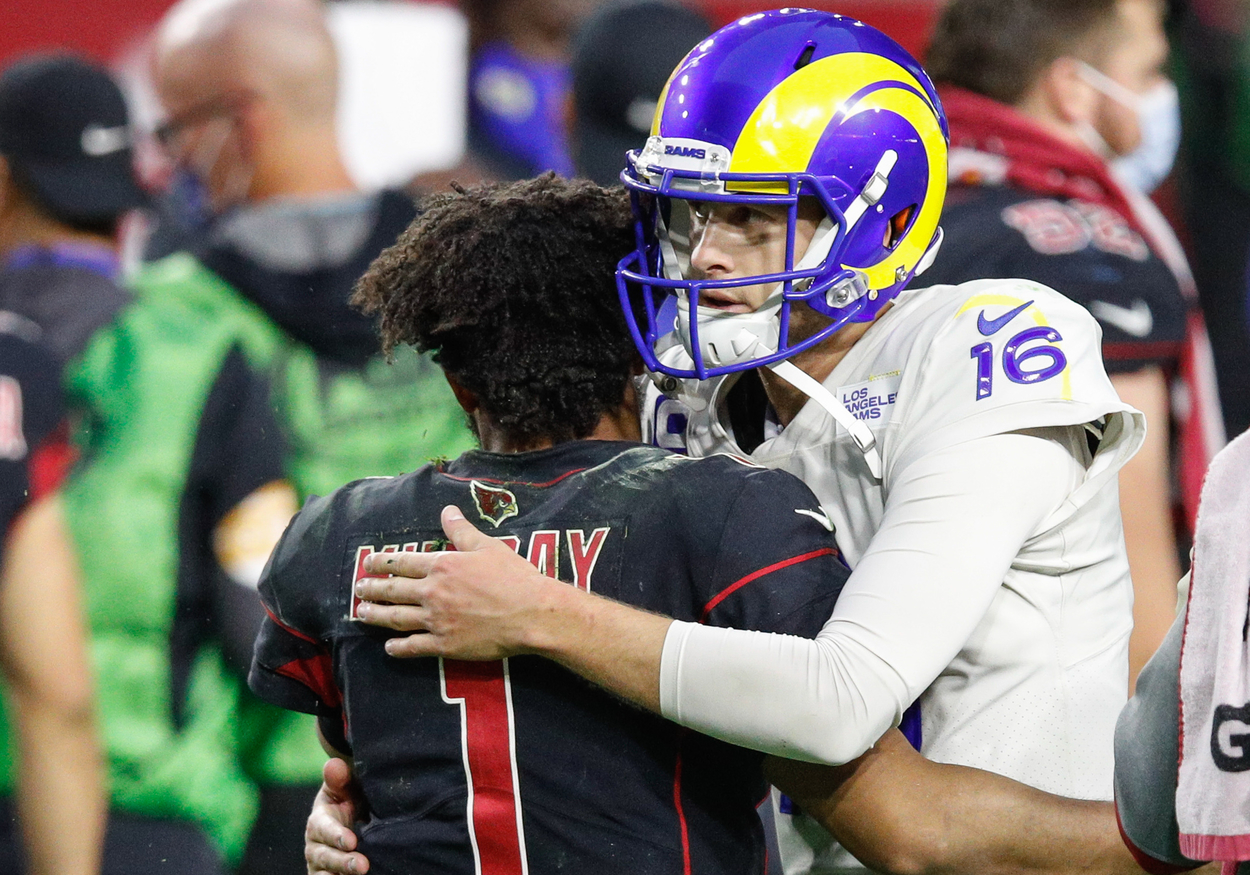 When Allen signed his extension, he'd already led the Bills to an AFC Championship Game appearance. Watson had a playoff win to his name and had established himself as a borderline top-5 quarterback. Mahomes was already on a Pro Football Hall of Fame pace.
Murray? He's been above-average at times, but he hasn't done enough yet to justify earning a $200 million contract — and there's nothing wrong with that reality. He still has plenty of time to change the existing narratives.
Will the Cardinals give in and extend Murray? Should they?
What's seemingly been lost in Murray's contract demands is that he's still under team control for two more years. In fact, the Cardinals owe him $5 million in total money next season; as of publication, his potential 2023 salary, assuming Arizona picked up his fifth-year option, remained uncertain.
The Cardinals shouldn't cater to Murray's wishes and extend him now, not when the reality is that he doesn't have as much leverage as he might believe. He can't jump to Major League Baseball right now given their lockout — and remember, he'd likely need to play in the minor leagues before reaching the bigs.
So, what is Murray to do? He should either agree to play on his fourth-year next fall and plan on signing an extension next spring, or he should simply demand a trade. There will likely be one team desperate enough to sign the two-time Pro Bowler to a new deal immediately after acquiring him via trade.
Murray and Burkhardt believe actions speak louder than words, right? A dominant 2022 season and winning a playoff game would undoubtedly go a long way in proving he deserves to cash in.
Like Sportscasting on Facebook. Follow us on Twitter @sportscasting19.
RELATED: Pros and Cons to the Arizona Cardinals Trading Star QB Kyler Murray During the 2022 NFL Offseason