Clayton Kershaw Rumors: Dodgers Contract Extension, Rangers Roster Spot Possibilities
Few, if any, MLB players of the 2010s were as dominant as Clayton Kershaw. The Los Angeles Dodger ace lefty racked up 146 wins, 2,179 strikeouts, and never finished a season with an ERA higher than 3.03 or a WHIP higher than 1.17 from 2010-2019.
Kershaw earned eight All-Star Game nods, three NL Cy Young Awards, and an NL MVP along the way, and he finally won his elusive World Series title when the Dodgers won it all in 2020.
The Dodgers, which count Sandy Koufax, Don Sutton, Don Drysdale, and Orel Hershiser among its pitching greats, can count Kershaw among their all-time mound masters. But LA's shocking decision to let Kershaw hit free agency at the end of the 2021 season means he could have already played his last game with the Dodgers.
Kershaw's career is at a crossroads, and it could go a few directions from here.
Latest Clayton Kershaw rumors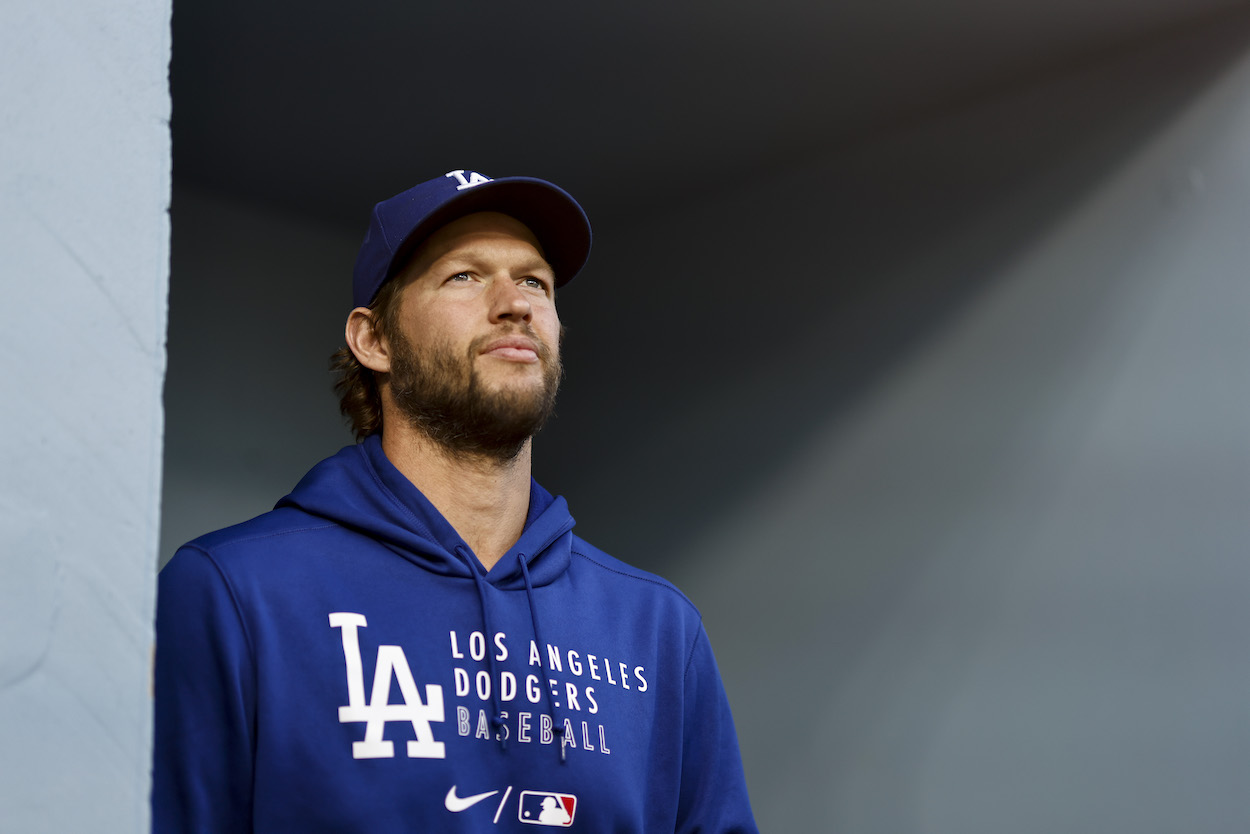 As a free agent starting pitcher with a history of success, Kershaw would virtually have his choice of where to sign next. The latest rumor about his future indicates he has already made a decision.
If the Dodger are serious about cutting ties, then Kershaw would likely reach out to the Texas Rangers, as reported by USA Today's Bob Nightengale (h/t MLB Trade Rumors). Per the report, a desire to be closer to his growing family is a consideration for the Texas native. If the rumor proves true, Kershaw would likely immediately slot into the No. 1 spot in a rotation that includes Jon Gray and Dane Dunning as the most experienced arms.
Texas added several players before the lockout (Gray, Marcus Siemien, and Kole Calhoun ampong them) and still have a projected payroll of just $114.1 million, so it seemingly has the financial flexibility to add Kershaw to the mix.
If not the Rangers, then the Mariners, Mets, Blue Jays, Angels, Mets, and Giants could be suitors, according to Bleacher Report. Still, the Dodgers could very well be the first team to call, but we won't know more until the messy MLB lockout sorts itself out and teams and free agents can start negotiating.
The case for Clayton Kershaw to stay with the Dodgers
Aside from wanting to keep a franchise foundation in place, the Dodgers' possible desire to keep Kershaw really isn't that shocking when you look at the rest of the pitching staff.
Trevor Bauer is ostensibly the staff ace, and he has the stuff and a Cy Young Award to back it up. He's also been accused of sexual assault and has more or less been exiled by his Dodgers teammates because of it. Bringing back Bauer, even if he's under contract, could be a dicey move.
David Price is entering his age 37 season, and he's a far cry from the pitcher that had seven straight seasons of double-digit wins and sub-3.50 ERA totals earlier in his career. Price started just 11 games and went 5-2 with the Dodgers in 2021. His 102 ERA+ was the lowest since his first full season as a starter with Tampa Bay in 2009. His $32 million salary all but ensures Price will be in the rotation in 2022, but his effectiveness and health (he suffered arm and hamstring injuries in 2021, per Fox Sports) make him a big question mark.
Andrew Heaney signed as a free agent before the lockout, but he's hardly a sure thing. He's only pitched more than 130 innings in a season once — in 2018. His career trajectory through 2021 is too iffy to rely on.
Walker Buehler is a two-time all-star who went 16-4 in 2021, but he's never been in the ace role before. Moving him up to replace Kershaw as the No. 1 for a team that is still very much a contender seems like a risky move.
Julio Urias has long been touted as the next big thing, but 2021 (a 20-3 record, 3.13 FIP, seventh in the Cy Young voting) was the first time he truly showed it. Like Buehler, placing him at the top of the rotation is a big ask.
Given the makeup of their starting rotation, bringing back Kershaw would be a smart move for the Dodgers, especially if they don't want to be scrambling for starting pitching. Still, they have a few reasons to move on.
Why the Dodgers could move on
Though he's already an all-time Dodger great, saying goodbye to Kershaw could easily be the play for three reasons.
It makes sense financially
The Dodgers have been spenders. They had payrolls of $200 million or more in eight of the last nine seasons through 2021, according to True Blue LA. Their projected salary entering 2022 is more than $214 million. Even if Kershaw signs for $21.7 million (a 10% pay cut from the $31 million he earned in 2021), LA would still carry a heavy salary load and impacts its ability to add to the payroll at the trade deadline.
Kershaw has battled injuries
Kershaw took two trips to the injured list in 2021 because of elbow and forearm issues. Arm injuries for a soon-to-be 34-year old pitcher with a ton of mileage (nearly 2,500 career innings pitched) might not be the smartest investment for the Dodgers, even if Kershaw agrees to a discount.
Free agent pitchers abound
While most of the top free agent pitchers signed with new teams before the lockout, dozens of starters remain on the market, per SI.com. If the Dodgers think their young studs are ready to take the spotlight, then they could look to supplement their rotation with perhaps more affordable options, such as Zack Greinke, Chris Archer, Johnny Cueto, or Danny Duffy. 
All stats courtesy of Baseball Reference. All contract figures courtesy of Spotrac.