NFL: Cleveland Browns QB Baker Mayfield, Coach Call out Teammate on Trade Request
The Cleveland Browns are in an odd place for them this offseason. After trading for Odell Beckham and looking competitive to finish last season, they're now being looked at as many people's upset pick for AFC North champions next year.

As the Browns settle into their new role of having high expectations, they have one internal squabble to figure out. One of their players — running back Duke Johnson — is unhappy, and his unhappiness drew strong reactions from the QB Baker Mayfield as well as head coach Freddie Kitchens.

Duke Johnson's trade demand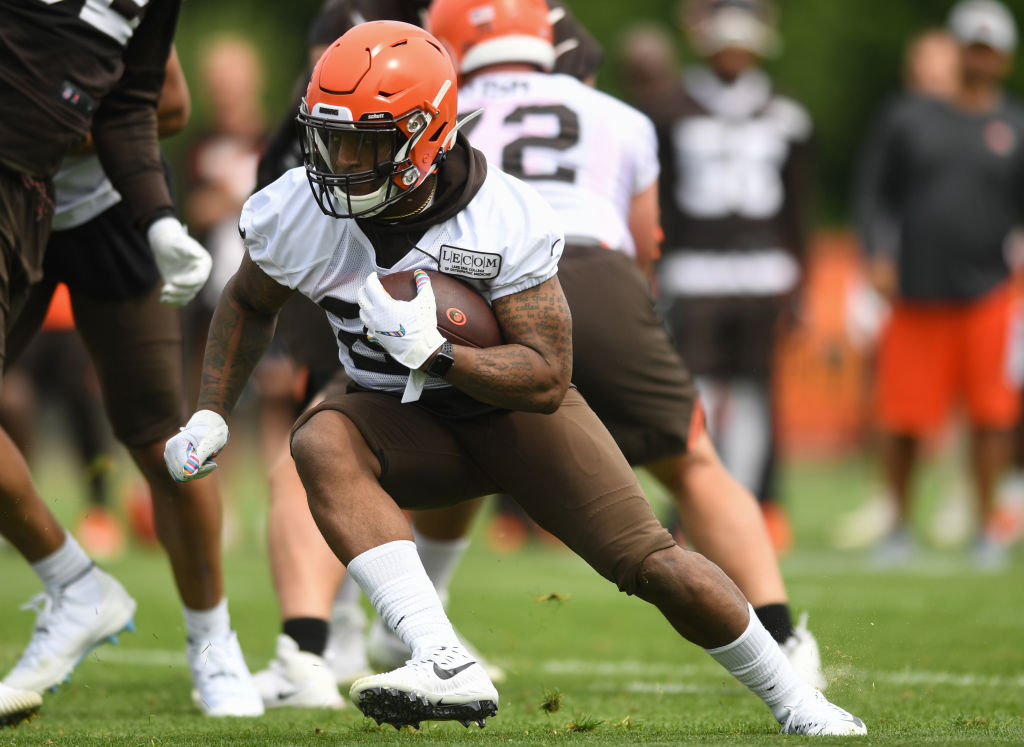 The Browns picked Johnson in the third round of the 2015 NFL Draft, and he's mainly used as a third-down back. Last season he rushed for 201 yards on only 40 carries despite playing in all 16 games (but starting only two).

The Browns made several transactions at running back over the last couple seasons. They drafted Nick Chubb out of Georgia last year. This offseason they added controversial running back Kareem Hunt, who is suspended for the first eight games of 2019 due to an assault.
Unhappy with his role on the team, Johnson requested a trade this offseason. It makes sense. During his time with the Browns, Johnson has not been a featured back, and he hasn't had much usage as a runner. His highest rushing totals were during his rookie season, when he rushed for 379 yards on 104 carries.

Johnson's role on the team has primarily been a pass catcher. H has 235 receptions in his career, a high total for a running back. His career best year as a receiver was in 2017 when he caught 74 passes for 693 yards and three touchdowns. Johnson's receiving yardage nearly doubles his rushing yards — 2,170 to 1,286. However, he wants to play for a team that will use him as a more traditional running back.

Baker Mayfield's reaction to Johnson's trade demand
Cleveland Browns quarterback Baker Mayfield was not exactly sympathetic to Johnson's plight, calling the awkwardness surrounding his demand "self-inflicted."

If there is any doubt over whose team this is, it should be cleared up now. Mayfield is asserting himself as the Browns' leader after emerging last season as their best QB prospect in 20 years. Mayfield is in only his second season, while Johnson enters his fifth. Johnson clearly has more seniority than Mayfield, yet Mayfield is essentially calling him out for the trade demand.

After a stellar rookie season, Mayfield seems to have earned the right to assert himself. It's hard to imagine many within the front office or the Browns' fan base siding with Johnson over the team's No. 1 overall pick and franchise QB.
Coach Freddie Kitchens weighs in
Cleveland promoted Freddie Kitchens from being a position coach to the Browns head coach this offseason. Like Mayfield, he didn't seem to have much sympathy for Johnson. His take is essentially that as long as Johnson is under contract, he's expected to show up and play his hardest in a Cleveland Browns uniform.
Kitchens' attitude is a remnant of a bygone era, when players were expected to "suck it up" as Kitchens says, playing despite less than ideal playing time or contract situations.

In today's NFL, with its lack of guaranteed contracts, players try to find leverage any way they can as the teams wield most of the power. No one asked Kitchens what his attitude towards Johnson would be if the Browns cut the running back, leaving him without a job and without much penalty to the team.

Prediction: whether Johnson has a point or not is immaterial. The franchise QB and the head coach have lined up against him, so he'll have no choice but to show up, play, and perform. He will likely get his wish, however. Expect the Browns to trade Johnson at some point during training camp or the preseason after they have had a chance to highlight him in a game or two.