The Cleveland Browns Are Dealing With a Massive Injury That Could Completely Derail Their Chances of Making the Postseason
The Cleveland Browns are off to an impressive 3-1 start this season. They're firmly in the race for the AFC North crown and will likely contend for a Wild Card playoff spot all year long.
However, questions are still circulating around the team's starting quarterback, Baker Mayfield.
Despite the Browns' overall team success, Mayfield has thrown just two touchdowns this season, and his quarterback rating sits at a measly 40. It would be a career-worst QBR for Mayfield should he continue along this trajectory.
Baker Mayfield is playing injured
Why is Mayfield struggling? The answer is a pretty straightforward one.
He's playing through a torn shoulder.
According to Ian Rapoport (and a handful of other NFL reporters), Mayfield partially tore the labrum in his left shoulder on September 19 against the Houston Texans. Mayfield is right-handed, so this injury isn't affecting his throwing arm. However, he's still being forced to wear a shoulder harness during games.
Football is a full-body, full-contact sport. It's reasonable to assume that adding a shoulder harness/brace limits Mayfield's ability to play quarterback the way he has in the past.
The Cleveland Browns' playoff hopes are in danger
Mayfield is one of the more frequently criticized quarterbacks in the NFL. However, he is still crucial to the Browns' aspirations of making the postseason this year.
The AFC North is only getting better due to the emergence of Joe Burrow and the Cincinnati Bengals. The Browns could easily be left in the dust if their quarterback cannot perform at a high level.
The Browns' offense is also largely built around their passing attack. Jarvis Landry and Odell Beckham Jr. are two players who need downfield targets, and tight end Austin Hooper is being paid a substantial amount of money to perform like an elite pass-catcher.
What next for the Cleveland Browns?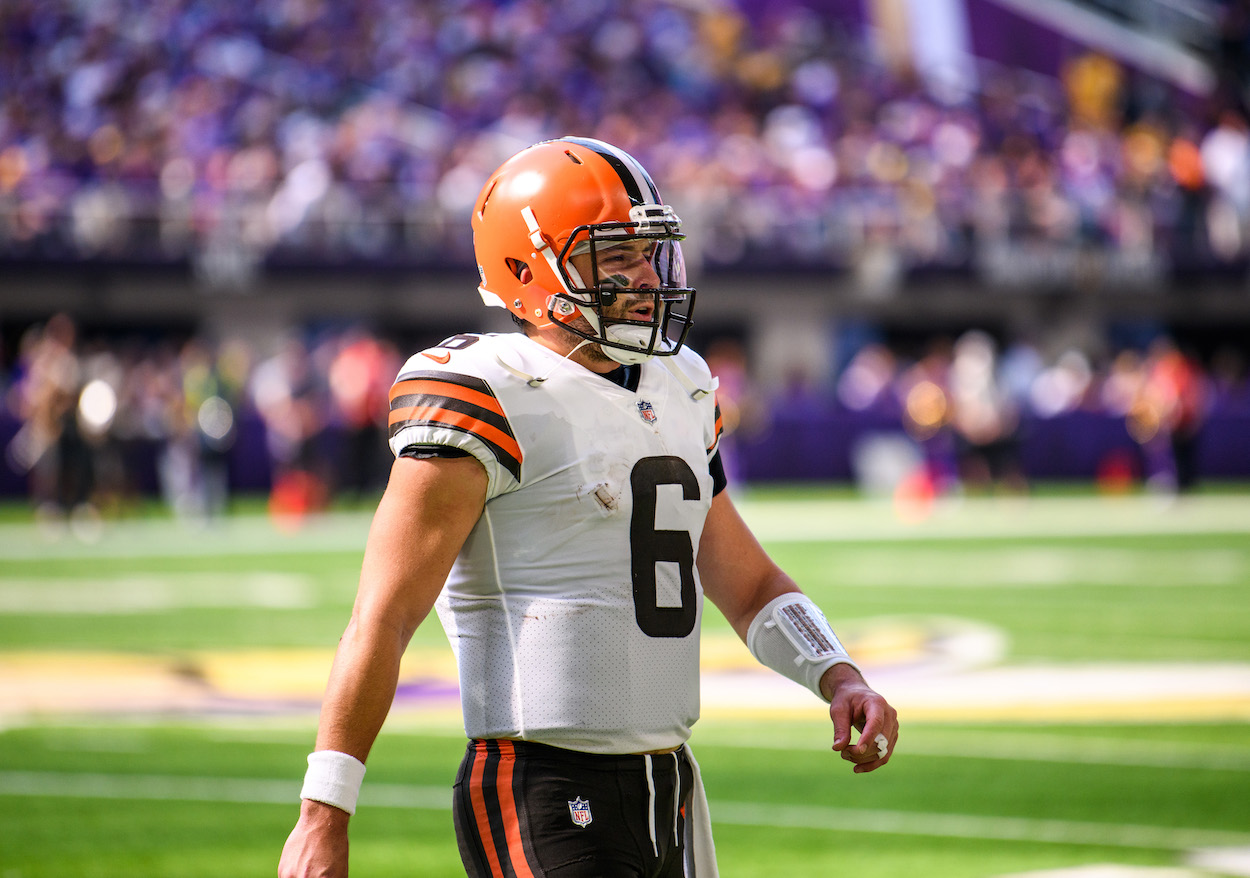 Despite Mayfield's injured shoulder, they're 3-1 on the season, and they still have one of the more talented rosters in the NFL. There's a pathway to success buried somewhere in here.
Becoming a run-first team centered around Nick Chubb and Kareem Hunt is the most logical first step. Both players are extremely talented running backs who've proven the ability to carry an offense in the past. Chubb finished 2020 with 1,200-plus scrimmage yards — getting him the football at a high rate is a must.
Additionally, restructuring the Browns' offense to involve less deep shots will likely have to occur. It's an unfortunate reality due to the explosiveness that someone like Beckham Jr. has. However, keeping extra strain off Mayfield's upper body takes priority here.
Of course, the Browns' defense will have to step up as well while Mayfield battles through wearing a shoulder harness. They've already gotten off to a strong start led by standout pass-rusher Myles Garrett. More production needs to follow.
Navigating through the NFL landscape with an injured quarterback is a near-impossible task. However, all hope is not lost for the Browns quite yet. They have a talented enough roster to offset some of Mayfield's current limitations. Only time will tell if they can pull it off.
All stats courtesy of Pro Football Reference.
RELATED: New York Giants General Manager Dave Gettleman Foolishly Believes He Won the Odell Beckham Jr. Trade: 'I'm Happy'