Cleveland Cavaliers: 4 Bold Offseason Moves to Strengthen Their 2022-23 Title Chances
The Cleveland Cavaliers had a tremendous 2021-22 season. However, there are four offseason moves the Cavs should consider making to increase their 2022-23 title chances.
The Cleveland Cavaliers were contending for a top spot in the Eastern Conference before this year's All-Star break. However, injuries resulted in them falling in the standings and losing in the NBA Play-In Tournament.
The Cavs still showed their sky-high potential this season, finishing 44-38 behind the play of young stars Darius Garland, Jarrett Allen, and Evan Mobley. So, what moves can they make to solidify their title chances for the 2022-23 season?
We took a look at some trades the Cavaliers should consider. It's important to note: We're not salary cap geniuses, so the financials might not work out entirely with each of these trades, but we tried to be as realistic as possible. These are also isolated deals. They would not all happen in the same offseason.
Here are four bold moves the Cavs should consider.
Acquire Dejounte Murray from the San Antonio Spurs
This is one of the wackier ideas, but we figured we would get the two that are least likely to happen out of the way.
The San Antonio Spurs had their third straight losing season this year, going 34-48. And with Gregg Popovich's future in question, perhaps San Antonio will look to blow things up and rebuild for the future.
If the franchise goes that route, the Cavs should reach out about Dejounte Murray. Cleveland would likely have to part with some young assets like Collin Sexton (who is a restricted free agent this year and could sign a deal similar to Murray's) and Isaac Okoro, in addition to some draft picks. But the move would be worth it.
Murray had a breakout season in 2021-22, earning his first career All-Star selection with 21.1 points, 8.3 rebounds, and 9.2 assists per game. A backcourt consisting of him, Darius Garland, and Caris LeVert would be one of the scariest trios in the league and would instantly make the Cavs a top-five team in the East.
Trade for Utah Jazz star Donovan Mitchell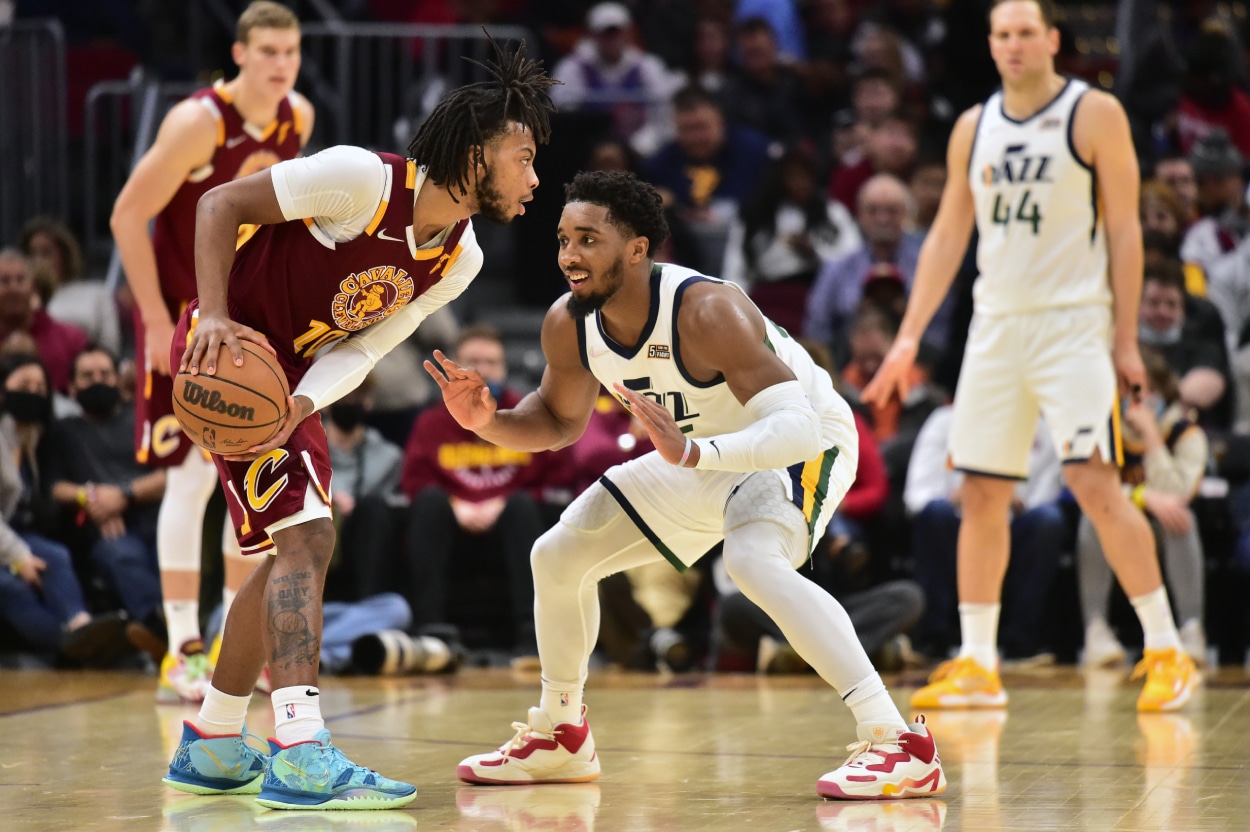 OK, this one is the most outrageous of the four. The Cavaliers would likely have to give up a boatload of picks and young assets to acquire Donovan Mitchell.
However, with the Utah Jazz suffering yet another early playoff exit, perhaps he will want to move somewhere he can actually win. Putting Mitchell, a three-time All-Star who has averaged at least 23.8 points each of the last four seasons, on a team with Garland, Jarrett Allen, and Evan Mobley (three Cavs players who are likely untouchable) would give him an excellent chance to do just that.
The Cavs would be in a position to win for years to come.
Pull off a deal for Detroit Pistons forward Jerami Grant
Cavs reporter Evan Dammarrell recently reported that Jerami Grant could be a realistic option for Cleveland this offseason. Perhaps Lauri Markkanen and a package of picks would be enough to pull it off, especially since the team has a lottery pick and two second-rounders this year.
Grant recorded an average of 20.9 points for the Detroit Pistons the last two seasons and has become a decent three-point shooter, making over 35.0% of his deep attempts. He would potentially be the athletic scoring threat the Cavaliers were missing at times this past season.
Trade up in the 2022 NBA Draft
As mentioned earlier, the Cavaliers have a lottery pick in the 2022 NBA Draft due to their loss in the NBA Play-In Tournament. There's a chance they could get an early selection, but the odds of that happening aren't too great. So, a trade up in the draft could be a smart move.
Adding a young perimeter/wing player like Paolo Banchero, Jabari Smith, Shaedon Sharpe, or Jaden Ivey would take Cleveland's offense to the next level. Teams wouldn't just have to focus on defending Darius Garland from beyond the arc but would have to pay attention to multiple threats.
There are numerous moves the Cavaliers could make to solidify their 2022-23 title chances. Trading up in this year's draft might be their most realistic.
Stats courtesy of Basketball Reference