The Cleveland Cavaliers Could Pull off a Blockbuster Deal With the Indiana Pacers and Propel Into the Top 3 of the East: 'Multiple People in Organization Are Fans'
The Cleveland Cavaliers have been the most surprising team in the NBA so far this year. Well, surprising for most people (check out my predictions from before the season began). But as the trade deadline gets closer and closer, the Cavs could be buyers for the first time since LeBron James last played for them.
So, who would they trade for? Well, the Indiana Pacers could actually be the perfect partner for the Cavs. According to recent reports, Cleveland is supposedly a fan of their guard, Caris LeVert, and Indiana likes Collin Sexton.
The Indiana Pacers could trade Caris LeVert and others in an attempt to rebuild
The Pacers have had a horrific start to the season. They are 12-16 through their first 28 games, and reports have suggested that they could start a total rebuild.
In all seriousness, though, Indiana should have done this years ago. While they missed the playoffs for the first time since 2014-15 last year, they had five straight first-round exits before that.
So, those playoff struggles combined with their underwhelming play the last two years could now result in the team finally rebuilding.
According to Shams Charania and Bob Kravitz of The Athletic, Indiana is expected to have trade discussions regarding some of their veteran players, including Caris LeVert.
LeVert went to the Pacers in the James Harden-Brooklyn Nets deal last season. He averaged 20.2 points in 47 total games in 2020-21 while also pulling down 4.6 rebounds and dishing out 5.2 assists per game. He has struggled a bit this year, only averaging 15.5 points, 2.9 rebounds, and 3.2 assists, but a change of scenery could do him well.
That's where the Cavaliers could come in.
The Cavaliers like LeVert, while the Pacers like Collin Sexton
The Cavaliers have taken the NBA by storm this year. After missing the playoffs in each of the last three seasons, they have started the 2021-22 campaign 16-12 behind the play of Darius Garland, Jarrett Allen, and rookie Evan Mobley. They are currently No. 5 in the Eastern Conference.
What's most impressive about their success, though, is that the majority of it has come without their leading scorer from the last two years, Collin Sexton. Sexton posted 24.3 points and 4.4 assists per game last season and was averaging 16.0 points this year before going down with a season-ending knee injury.
But now, he could become a key piece of a blockbuster trade.
According to Joe Vardon of The Athletic, The Pacers reportedly like Sexton, and although he will be a restricted free agent this year, his injury could lead to a team-friendly deal, which would be a perfect scenario for Indiana.
But how does any of this help the Cavs?
Chris Fedor of Cleveland.com recently reported this: "LeVert could be available. He's exactly what Cavs need as a Sexton replacement/shot-maker/scorer. They have expendable pieces. They are looking to potentially upgrade that 2 guard spot. Multiple people in organization are fans. It makes sense to consider them a strong suitor."
So, could a LeVert-Sexton swap be on the horizon? Vardon reported that the Pacers had yet to discuss the latter with the Cavs, but if the deal does go down, Cleveland could propel into the top three of the East.
The Cleveland Cavaliers could become a top-3 team in the East by making the blockbuster move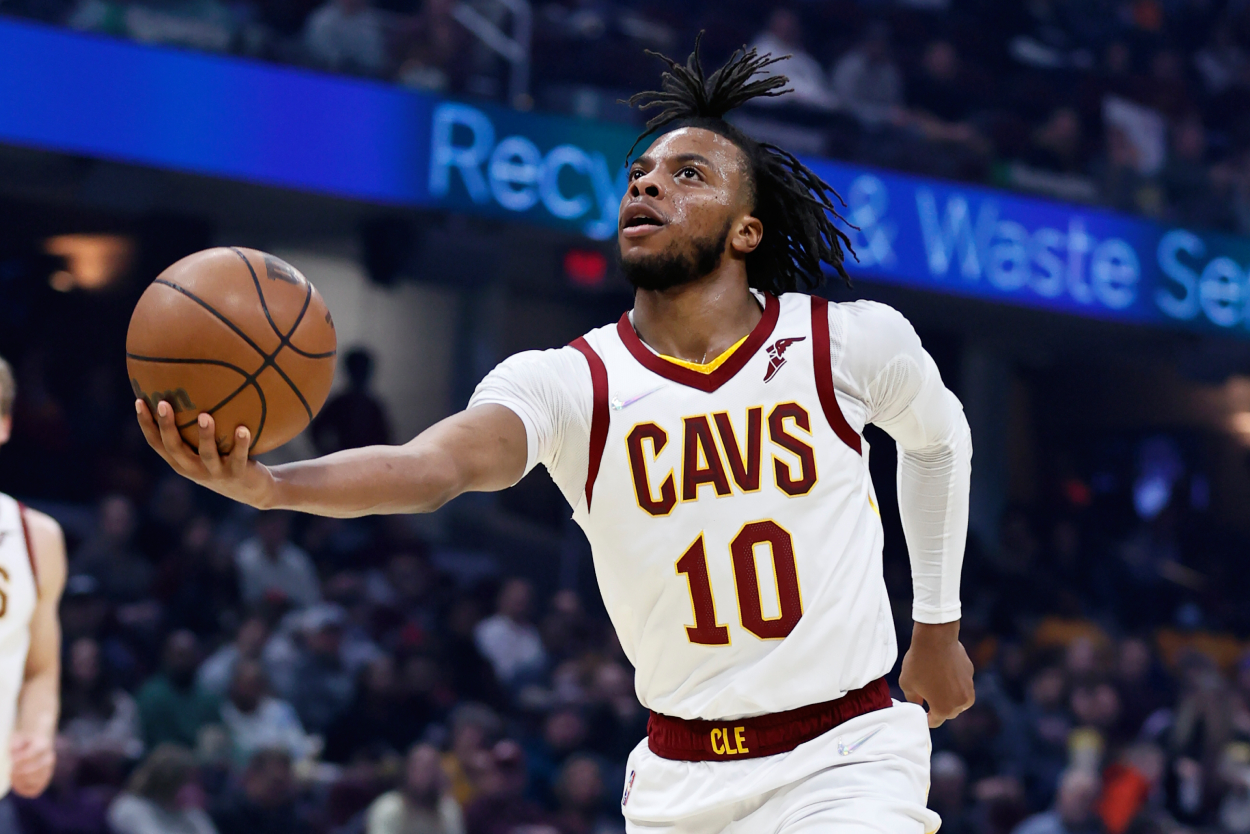 Saying the Cavs can become a top-three team might sound unrealistic given where they have been the past few years, but it's actually pretty reasonable.
As of Dec. 13, they are just 3.5 games back from the No. 1 seed and 1.5 games back of No. 3. 
That's without a scoring two-guard.
Second-year player Isaac Okoro has started at shooting guard since Sexton's injury, and while he's a great defensive player, there's a lot to be desired offensively. He's only averaging 8.4 points on 41.4% shooting this year. The Auburn product is also only making 24.2% of his 3-pointers.
LeVert would give the Cavs a legitimate scoring punch at that position. He's a career 14.2 points per game scorer and has averaged over 15.0 each of the last three seasons. He would be a nice complement to Garland, Allen, and Mobley and would help Cleveland become a real threat on the offensive end of the court, matching its defensive production of only allowing 102.2 points per game.
The Eastern Conference is wide open right now. While the Brooklyn Nets and Milwaukee Bucks are likely locks for the top two seeds, the Philadelphia 76ers still have a Ben Simmons problem. So, Caris LeVert could be exactly what the Cavs need to jump up into the top three.
Stats courtesy of Basketball Reference