Cleveland Cavaliers Make Sneaky Good Move With Koby Altman Extension, Solidify Championship Chances for Years to Come
Just four seasons ago, it appeared Cleveland Cavaliers general manager Koby Altman had no idea what he was doing. The team parted ways with championship-winning executive David Griffin and then saw Chauncey Billups decline a front-office position. So, the Cavs promoted Altman, the assistant general manager at the time, to GM.
Following his hiring, Altman made a flurry of questionable moves that risked Cleveland's chances of winning an NBA championship in 2017-18. They also, in turn, hurt the likelihood of LeBron James staying in town.
However, what appeared to be a plan with no sense of direction turned out to be a genius strategy that has since put the Cavs on a path toward championship contention again. So, to reward their mastermind, Cleveland recently made a sneaky good move by giving Altman an extension, which now has the Cavaliers ready to contend for years to come.
Koby Altman played the long game when building the Cavs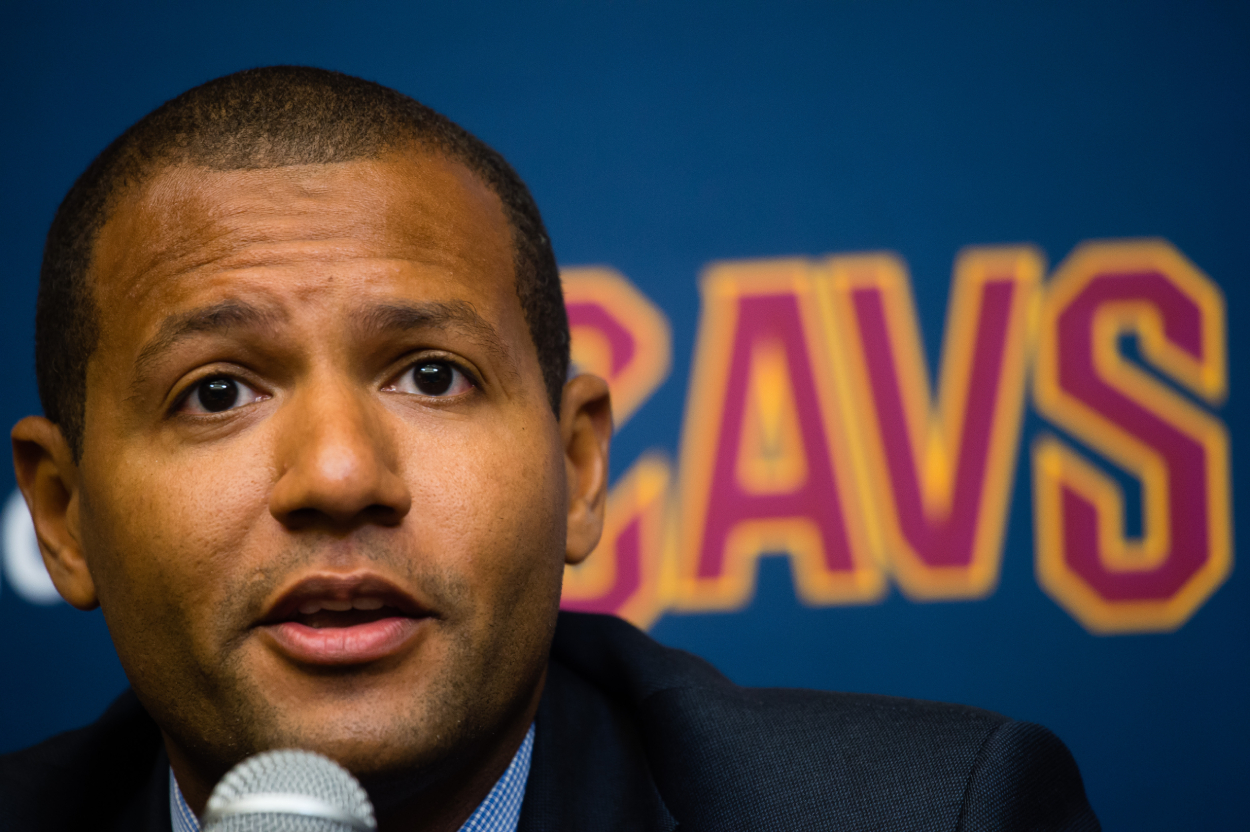 Koby Altman inherited a Cavs team with an unhappy Kyrie Irving in the summer of 2017. So, he then traded the team's All-Star, who played a crucial role in Cleveland's 2016 championship, to the Boston Celtics for Isaiah Thomas, Jae Crowder, Ante Zizic, and a first-round pick.
Thomas and Crowder didn't work out in Cleveland. So, at the time, it appeared the Cavaliers lost the trade. Altman later made a plethora of deals at the 2018 trade deadline, including one in which he sent Thomas, Channing Frye, and a draft pick to the Los Angeles Lakers for Jordan Clarkson and Larry Nance Jr. 
It resulted in another NBA Finals run, but after losing to the Golden State Warriors in four games, LeBron James left for LA that next offseason and Altman used that pick from the Celtics to start building toward the future. He selected guard Collin Sexton.
Following The King's departure, the Cavs entered a rebuild with three consecutive losing seasons from 2018-19 through 2020-21. But Altman used the team's draft capital to select Darius Garland, Isaac Okoro, and Evan Mobley. He also used other acquired assets to jump in on the James Harden-Brooklyn Nets deal, which led to Jarrett Allen coming to Cleveland.
Now, his genius plan is coming to fruition. The Cavs are one of the best teams in the Eastern Conference this season and have a talented roster filled with several young stars. So, the organization naturally rewarded its GM.
The Cavs made a sneaky good move by extending Koby Altman
With the NBA trade deadline approaching on Feb. 10, fans are likely looking for teams to make big moves that involve star players. While the Cavs could do that, they also just made a sneaky under-the-radar one by signing Koby Altman to an extension.
According to ESPN's Adrian Wojnarowski, Cleveland and Altman agreed to an extension that lasts through the 2027-28 season. He has also taken on a new title as the team made him president of basketball operations.
Securing Altman for the next several years not only gives the franchise stability, but it also ensures that it has a proven talent in his position. Executives have wrecked teams in the past. For example, former Cavs GM Chris Grant did whatever he could to keep Cleveland at the bottom of the Eastern Conference after it saw LeBron James leave for the Miami Heat. He drafted Kyrie Irving but whiffed on several other selections, including 2013 No. 1 pick Anthony Bennett.
Altman has proved the Cavaliers can win without LeBron and has made wise choices to put them in this position.
They now have a chance to compete for years to come.
Cleveland is set up for years of dominance
The Cleveland Cavaliers' current position is similar to where the Golden State Warriors were at the start of their dynasty. Their roster was built, not bought. (Yes, before the Kevin Durant signing.) 
Altman has potentially set Cleveland up for years of success.
It has a potential Big Three in Darius Garland, Jarrett Allen, and Evan Mobley, who are all younger than 24 years old. Garland has proved an excellent 3-point shooter and top-notch facilitator, and Allen is a double-double machine who has athleticism impossible to defend. Mobley, on the other hand, is fantastic around the rim and is a solid mid-range shooter. He can also defend at a high level, especially for a rookie.
Those three youngsters, with some complementary pieces around them, have all the potential in the world. If they can keep improving their skills and Altman can continue adding more talented players to the roster, Cleveland can contend for years to come.
And that's why the Cavs extended Altman. He's the reason the franchise has a bright future and is in a position to compete for championships.