The Cleveland Cavaliers Are Reportedly Looking to Make Numerous Trade Deadline Deals, Signaling Their Desire for Championship Contention: 'I Would Almost Guarantee That They're Going to Make Deals'
The last time the Cleveland Cavaliers accomplished what they are doing now, Seinfeld's last season was still airing, Brad Pitt and Jennifer Aniston weren't married yet, and NSYNC's first album had recently debuted in America.
The Cavs are winning without LeBron James.
Cleveland has been the most surprising team in the NBA this season, proving it has as bright a future as any squad in basketball. And this doesn't appear to be a fluke; the franchise seems ready for championship contention.
In fact, according to a recent report, the Cavaliers could be one of the busiest teams at the NBA Trade Deadline, meaning they might just be a couple of moves away from becoming a legit contender.
The Cleveland Cavaliers proved they're ready to win by trading for Rajon Rondo
It's pretty miraculous to see what the Cavs have accomplished so far. Not only are they pretty young, but they have lost two of their top scoring guards to season-ending injuries, Ricky Rubio and Collin Sexton.
Stars like Darius Garland, Jarrett Allen, and rookie Evan Mobley have led them to a 23-18 record, and are essentially becoming the Cavaliers' new Big Three.
If anyone was unsure about Cleveland and whether it actually wants to compete in the Eastern Conference — something it hasn't done without LeBron James since the 1997-98 season with Shawn Kemp and Zydrunas Ilgauskas — the team proved its intentions with its recent trade. Instead of just rolling with its current roster after the injury to Rubio, it acquired four-time All-Star Rajon Rondo to help Garland help run the offense.
Rondo has been outstanding in his three games with the Cavs, averaging 10.3 points, 4.0 rebounds, 4.7 assists, and playing huge game-winning defense in a contest against the Sacramento Kings. But he has rarely provided his teams with a big-time scoring punch, so it appears the Cavaliers are looking to pull off a couple of more moves.
The Cavs will reportedly be busy at the NBA Trade Deadline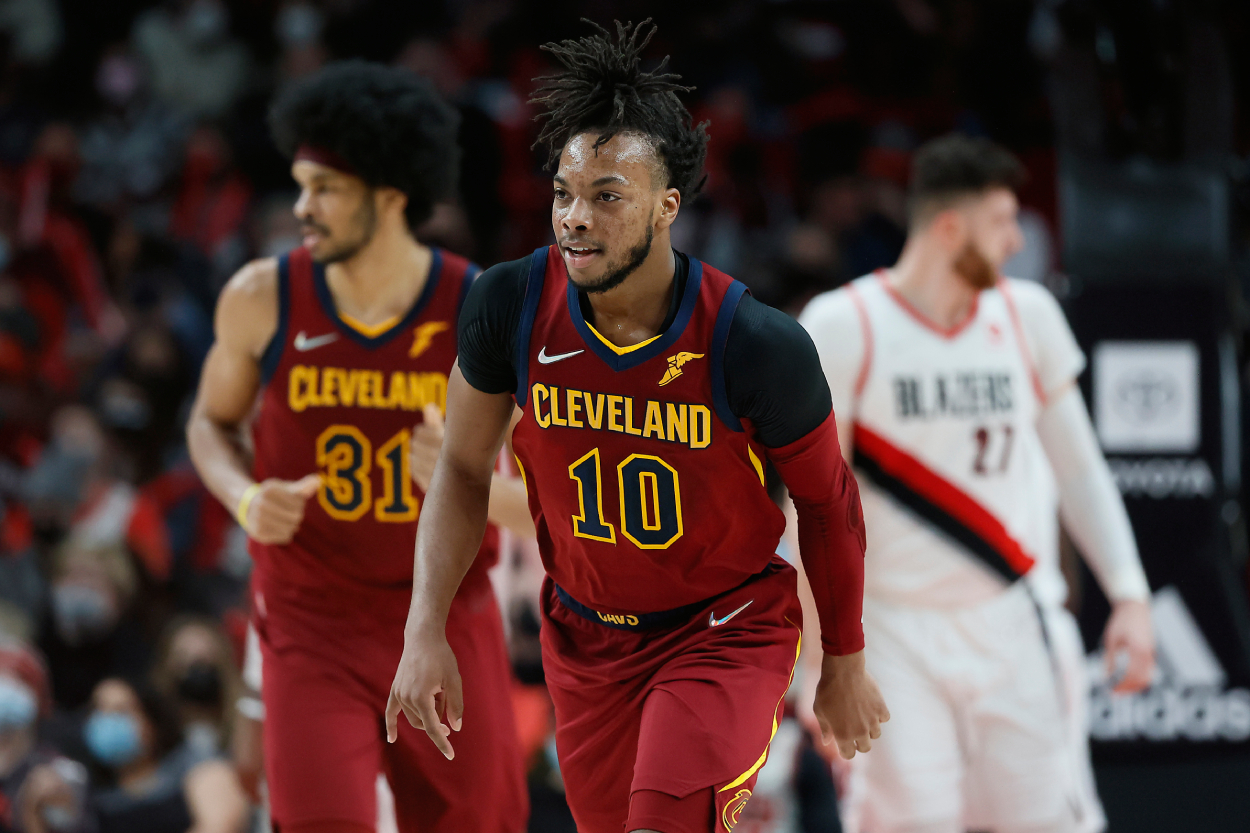 The Cavaliers had essentially been sellers at the trade deadline in the last three seasons. And the strategy worked, as they tanked enough to get stars like Garland and Mobley. But it appears they not only plan to be buyers this season; they potentially want to go on a shopping spree.
While on ESPN last week, Brian Windhorst reported that the Cavs will likely be busy throughout this next month (H/T NBC Sports).
"As I talk to people around the league, the Cavs are one of the most active teams," he said on the Jan. 5 episode of NBA Today. "They're talking to three or four different teams about scenarios. They want perimeter players. They want guards."
Windhorst mentioned that the Cavs can now include Rubio's contract in trade talks, which is up after this season. They also have a few valuable draft picks that, paired with Rubio, could get them some nice pieces in return.
"You may be able to find some help on the perimeter for this year," he said. "The Cavs are being very active. I would almost guarantee that they're going to make deals beyond what they just did for Rajon Rondo."
So, fans can expect a busy couple of weeks for the Cavaliers, as the trade deadline is Feb. 10. And if they get the right pieces, the Cavs can put themselves in a position to contend for a championship.
The Cleveland Cavaliers are just a piece or two away from championship contention
Cleveland has proven it's the real deal with numerous blowout wins and sustained success throughout this season. Some likely scoffed at the idea of the Cavs starting three big men in Jarrett Allen, Evan Mobley, and Lauri Markkanen. But Allen's athleticism has turned him into an All-Star-level player, and Mobley's natural potential has made him a Rookie of the Year candidate. Markkanen has also given the team a scoring punch when needed.
Guys like Kevin Love, Cedi Osman, and Isaac Okoro have also come up big, but Darius Garland has proven to be the team's most important player. He's now a dangerous scoring threat, averaging 19.4 points, and his ability to either find his big men for lobs or keep the defense guessing by making a floater in the lane has made him almost impossible to guard.
But with Sexton and Rubio both out, the Cavaliers need another scoring threat along the perimeter. Rajon Rondo gives them a facilitator, but they need someone who knows how to get buckets.
There are guys like Buddy Hield or Caris LeVert who could become available. Or the team could swing big by trading for Ben Simmons (although they would likely have to give up a lot for him).
All in all, it's unclear what direction the Cavs are planning to go within the next couple of weeks, but getting the right pieces could catapult them from the middle of the Eastern Conference to the very top.
Stats courtesy of Basketball Reference