Cleveland Cavaliers Get an Immediate Return on Their Stunning $100 Million Investment With Something No Cav Has Accomplished Since LeBron James
When the Cleveland Cavaliers re-signed center Jarrett Allen to a five-year, $100 million contract, the move was met with some surprise and derision. Jarrett Allen, nine-figure NBA player? Preposterous! Perhaps that reaction was premature, considering Allen did something no Cavaliers has done since LeBron James.
Allen is the Eastern Conference Player of the Week after he put up 20.5 points and 16.3 rebounds per game while pacing Cleveland to a 4–0 week. The Cavaliers have won four straight games for the just the second time since James left for the Lakers in 2018. Cleveland also put up four victories in a row from Feb. 23-March 1 last season.
Jarrett Allen is the first Cleveland Cavaliers Player of the Week since James
Before Jarrett Allen was named Eastern Conference Player of the Week, you must go back to March 26, 2018, to find the last Cleveland Cavaliers player so honored. James won the award two weeks in a row and four times in all in 2017–18.
It's the first time Allen, the 23-year-old from Texas, has been named Player of the Week. The 22nd pick in the 2017 NBA Draft, Allen spent his first three seasons-plus with the Brooklyn Nets. He came to Cleveland as part of the massive James Harden trade in January 2021.
Allen and Taurean Prince went from Brooklyn to the Cavaliers in the swap. They sent a 2024 second-round pick to the Nets and also gave up Dante Exum and the Milwaukee Bucks' 2022 first-rounder to the Houston Rockets.
The Cavaliers haven't made the playoffs since James left in 2018 and the last time they were in the postseason without James on the roster was in 1997–98. That's the hill the young (and really large) Cleveland squad is climbing.
The Cavs are 7–4, tied for fifth in the Eastern Conference. There's a lot of season left, but the last time Cleveland was off to this good a start without LeBron was when they opened 9–3 in 2000–01. That team finished with 30 wins and missed the playoffs by a bit (if 11 games can be considered a "bit").
Jarrett Allen keeps things simple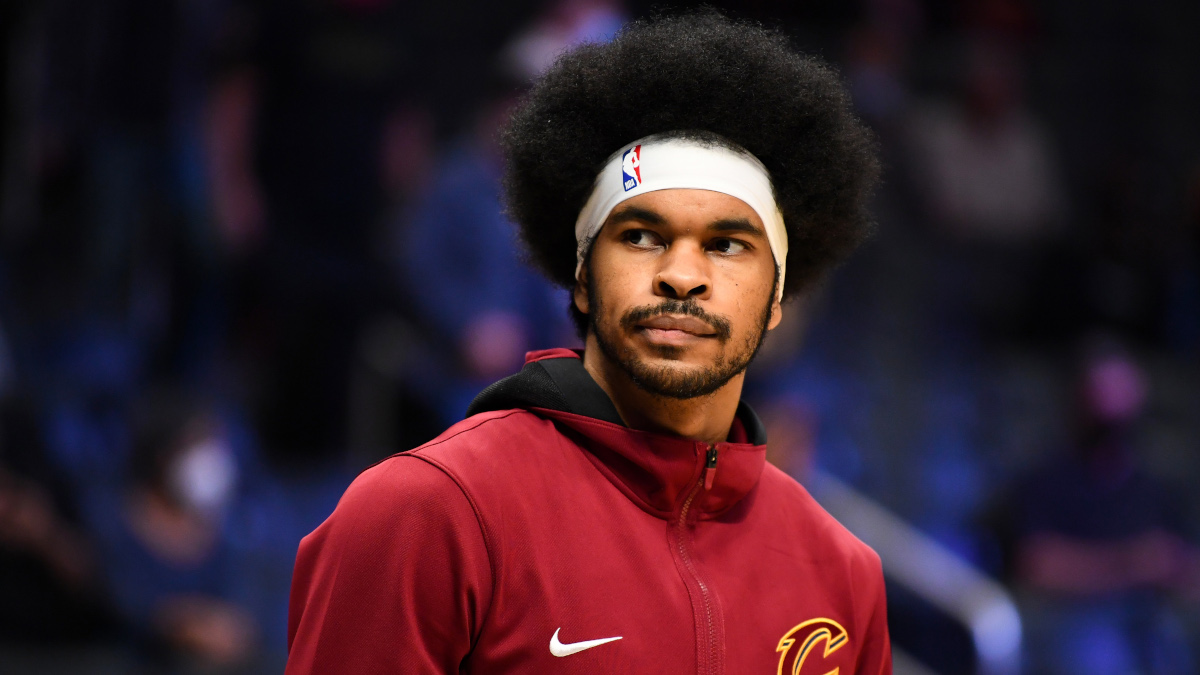 Now in his fifth NBA season, Jarrett Allen does what he's asked and not a lot more. But he's doing those things better all the time. This season, he's third in the NBA in field-goal percentage, hitting 68.7% of his shots. Nearly 69% of those attempts are in the restricted area and he's got 35 dunks in 11 games. That's on pace to shatter his career-high of 177 flushes he set with the Nets in 2019–20.
But he's a big part of the Cleveland Cavaliers' fast start. He's on pace for career highs with 14.9 points and 11.6 rebounds per game. Brooklyn experimented a bit with Allen as a corner 3-point shooter, but after he was just 6-of-45 in 2018–19, he's been primarily used as a roll man.
He's added some needed bulk to his 6-foot-11 frame. Now listed at 243 pounds, Allen doesn't get pushed around inside as much as he once did. His first playoff series in 2019 featured many highlights of The Fro serving as a mere speed bump in the path of Joel Embiid during a five-game loss to the Philadelphia 76ers.
That was the same season he gained notoriety for blocking dunks by Blake Griffin (twice) and James. With experience, he's evolved into a more reliable player and Cleveland is reaping the benefits.
There are challenges ahead for the Cleveland Cavaliers
The Cleveland Cavaliers suffered a setback when point guard Collin Sexton went down with a meniscus injury. Sexton leads a balanced Cleveland attack in scoring at 16.0 points per game, down from 24.3 last season when the Cavs didn't have as many weapons to work with.
Cleveland coach J.B. Bickerstaff is flying in the face of modern convention this season, deploying a gigantic front line of Jarrett Allen at center, 7-foot Lauri Markkanen at the 4, and 7-foot rookie Evan Mobley playing the 3.
It's paying dividends on both ends. Cleveland's offensive rating of 108.3 points per 100 possessions is 14th in the NBA, a huge jump from their 28th-ranked offense with a rating of 105.8 last season. Defensively, the Cavaliers have jumped from 25th, allowing 114.4 points per 100 possessions, to 14th at 107.2.
A big improvement for Cleveland has been with its defensive discipline. The Cavaliers are allowing .125 free throws per field-goal attempt, the lowest rate in the NBA. Allen is part of that trend, averaging 1.8 fouls per 36 minutes, on pace for a career best.
Jarrett Allen's name might not rank highly in the All-Star voting. But the Cleveland Cavaliers are letting him do what he does well and not asking for much more. It's a formula that has them winning regularly for the first time in their second post-LeBron era. They're also thinking playoffs without it being a pipe dream.
Statistics courtesy of Basketball Reference and Stathead.