NBA: How the Cavaliers Paid the Best Team in the Eastern Conference
In 2015–16, the Cavs faced a seemingly insurmountable deficit. They needed to remain calm and collected and win back-to-back games against the defending champion Golden State Warriors. Against all odds, the Cleveland Cavaliers scrapped and clawed their way back from the brink of elimination to find themselves claiming an improbable NBA championship.
Not only were the Warriors a historically great team, but they were also practically unbeatable on their home floor at Oracle Arena. If ever there was such a thing as home-court advantage, this was it. Of course, in the end, it came down to which of these two teams wanted it the most. When the dust settled, this turned out to be Cleveland.
One year later, after winning the Eastern Conference for the third consecutive season, the 2016–17 Cleveland Cavaliers were again in position to stake their claim as the best team in the National Basketball Association. Of course, their latest Finals against the Golden State Warriors didn't go their way.
With that, based on salary-cap distribution, here's a look at how the Cleveland Cavaliers paid the best team in the Eastern Conference in 2017 (ranked from earning the least to the most amount).
15. Walter Tavares 
– $5,145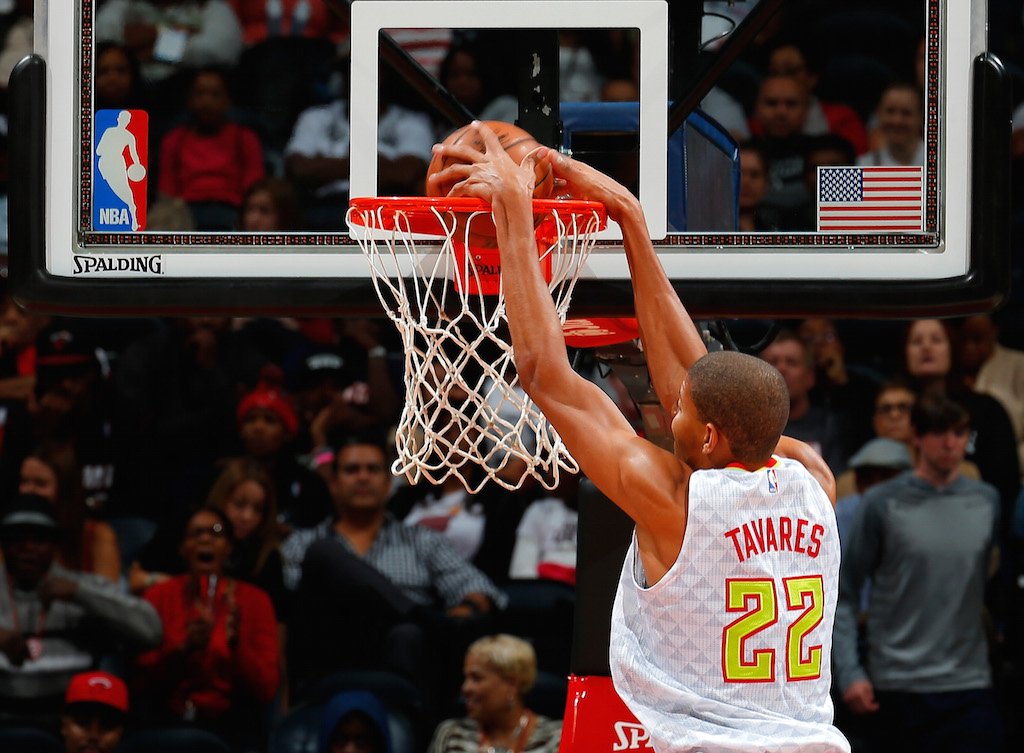 Contract details: restricted free agent after 2017 season
The Atlanta Hawks took Walter Tavares with the 43rd overall pick in the 2014 draft. After being waived by the club on October 31, 2016, the 7-foot-3 center signed with the defending champs on April 12, 2017. Unfortunately, he played just one game with the Cavs before breaking his right hand and being ruled out for the remainder of the 2016–17 season.
14. Dahntay Jones 
–

 $5,767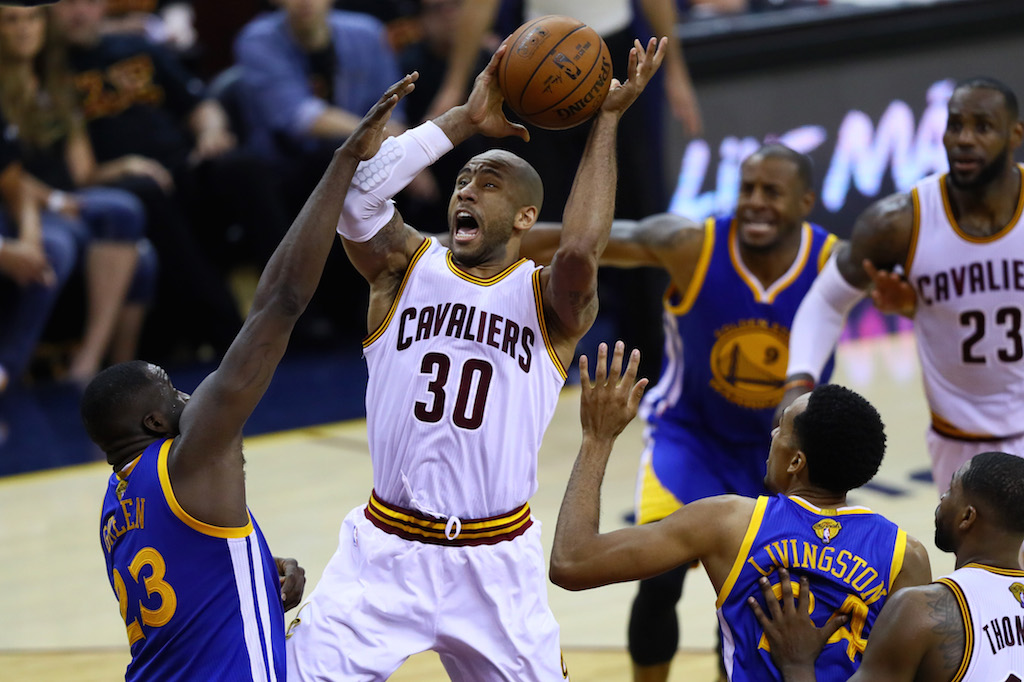 Contract details: unrestricted free agent after 2017
Despite being drafted No. 20 overall in the 2003 draft, former Duke Blue Devil Dahntay Jones has spent the bulk of his NBA career journeying from one team to the next, looking for a steady home, while spending a considerable amount of time in the D-League. On April 12, 2016, the Cavaliers added him to their roster with a two-year, $1.56 million contract for the remainder of the 2015–16 season.
Of course, even though Jones helped the Cavs win the title last season, the club had no issue waiving him on July 30, 2016. Luckily for all parties involved, Jones was signed and waived one more time, before eventually earning a contract with the Cavs on April 12, 2017. For those keeping track at home, Jones has played more postseason games than regular-season games for Cleveland.
13. Derrick Williams – $230,690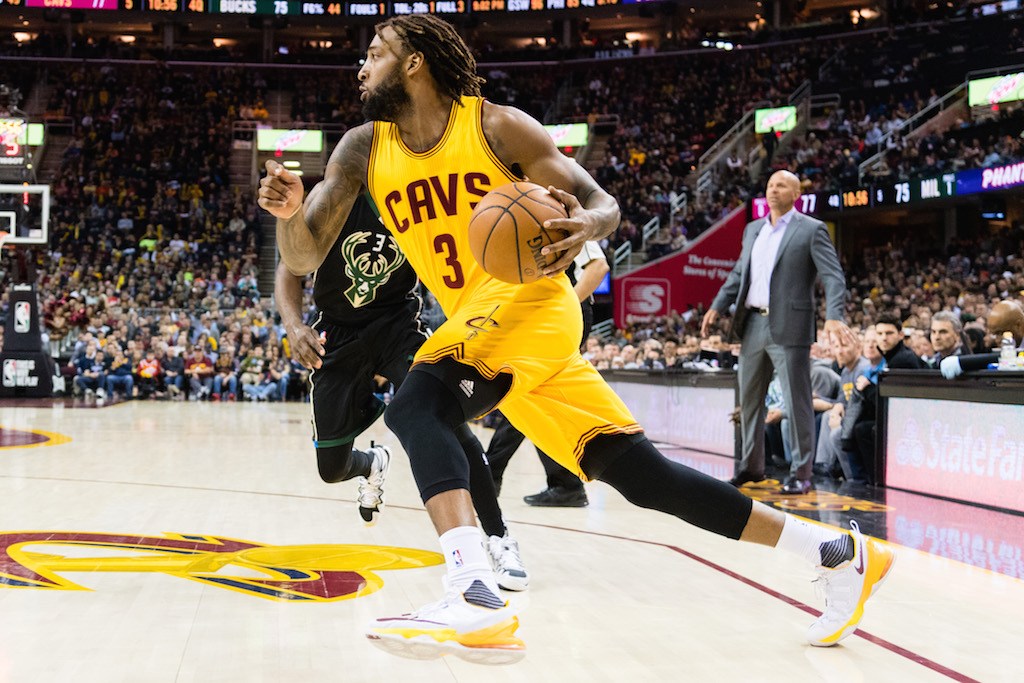 Contract details: unrestricted free agent after 2017
Derrick Williams has never lived up to the hype that's usually associated with being a former No. 2 overall pick. That being said, he's definitely proved himself to the Cleveland Cavaliers. In 2016–17, the club gave Williams two separate 10-day contracts and then signed him to a one-year, $268,029 deal on March 4, 2017. Considering Williams' cap hit is just $230,690, this is a relatively low-risk move on the part of the defending champs.
12. Deron Williams 
– 

$259,526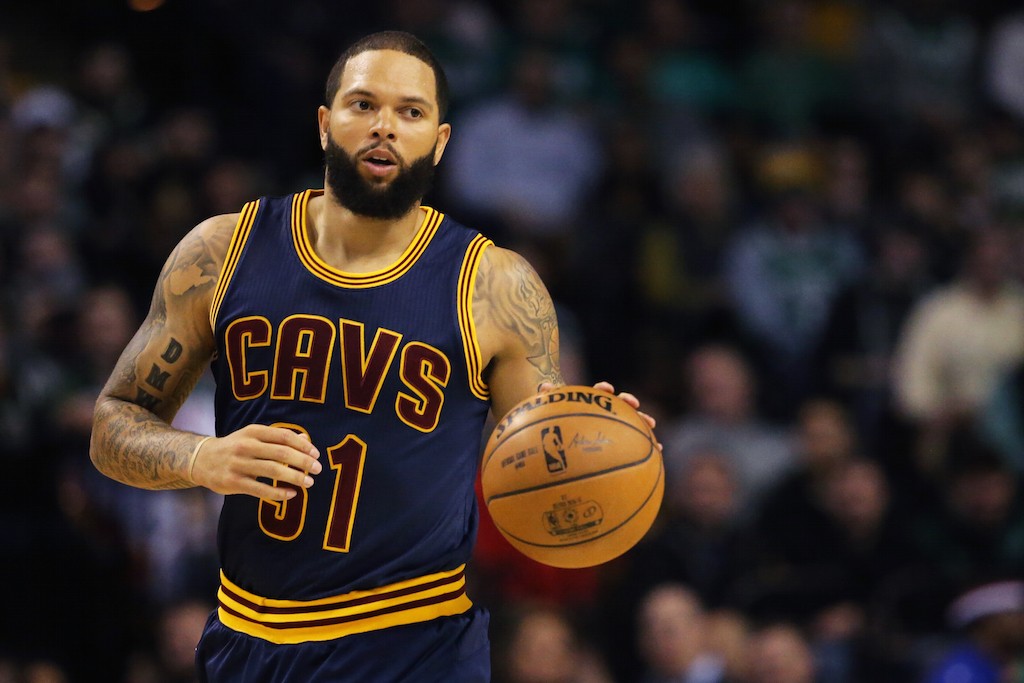 Contract details: unrestricted free agent after 2017
For most of the 2016–17 season, the Cavaliers desperately needed a backup point guard. Their prayers were answered in the form of Deron Williams, whom the team signed to a one-year, $410,733 contract on February 27, 2017. Williams may no longer be the same player who made three All-Star Game appearances and earned two All-NBA honors. But at $259,526 in cap space, the Cavs couldn't have asked for a better option to run the show in a backup role.
11. Kay Felder – $543,471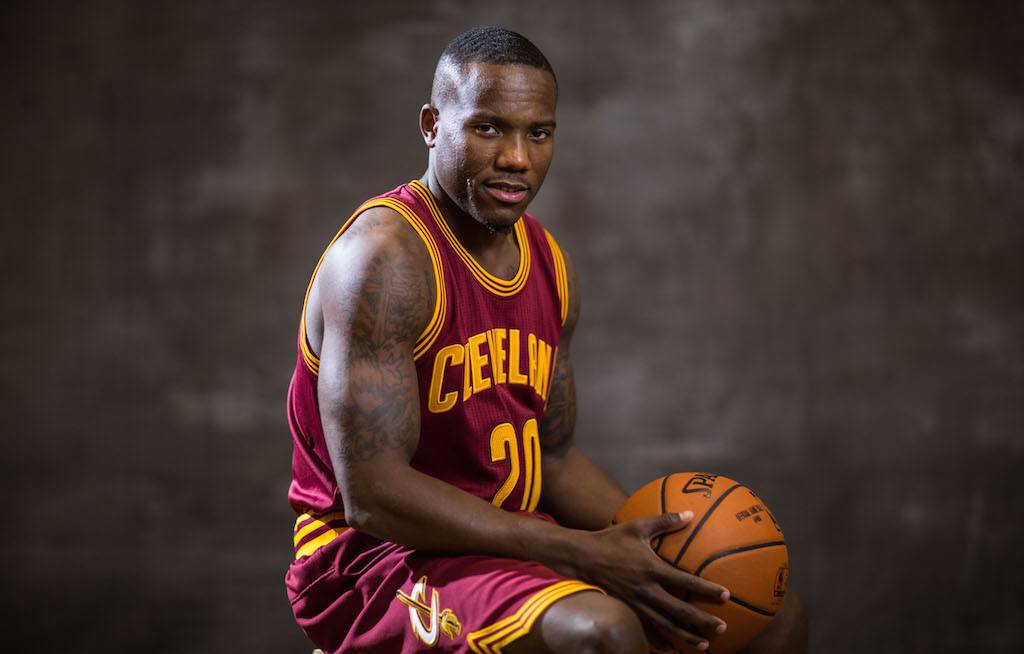 Contract details: one partially guaranteed year for $1,312,611 in 2017–18.
The Cavaliers acquired rookie Kay Felder — whom the Atlanta Hawks selected No. 54 overall in 2016 — on draft night for a cool $2.4 million in cash. Since that time, the former Oakland University product spent the majority of his first year in the NBA going back and forth between the Cavs and their D-League affiliate, the Canton Charge.
10. James Jones 
–

$980,431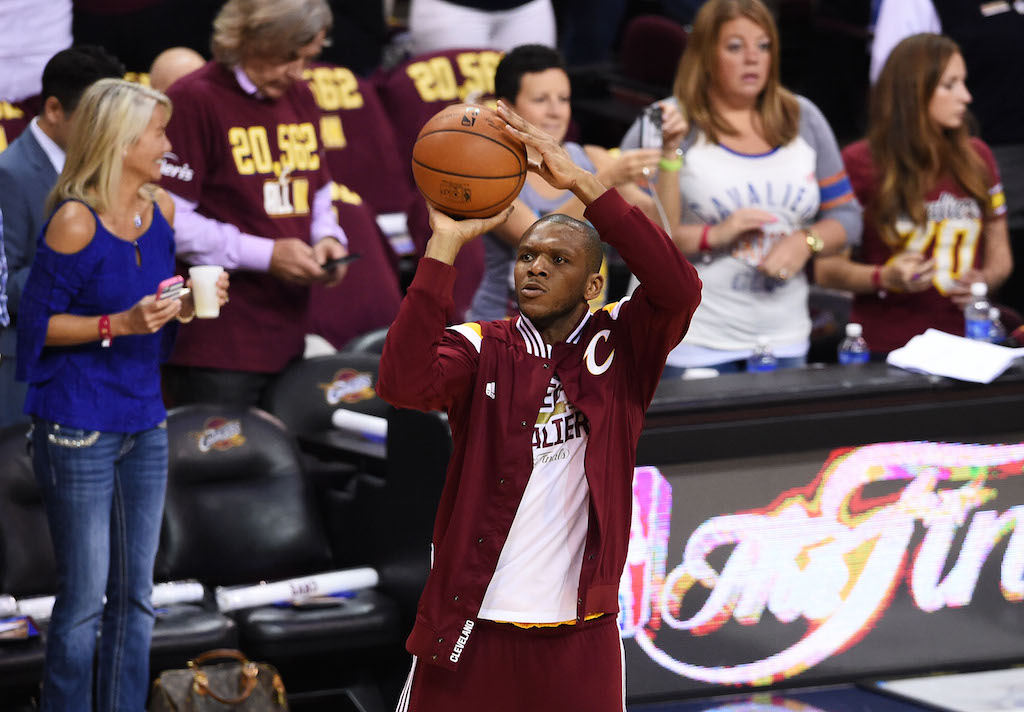 Contract details: unrestricted free agent after 2017
Now in his 14th NBA season, James Jones has developed a reputation for being the guy you can bring off the bench at a moment's notice; one who will shoot the spot-up triple and knock it down with confidence. Jones is not a star, he's not exceptionally athletic, but he's a reliable player who's become quite comfortable in his role. This is why the King loves him, and this is why he's been with Cleveland since the 2014–15 season.
9. Richard Jefferson 
– $2,500,000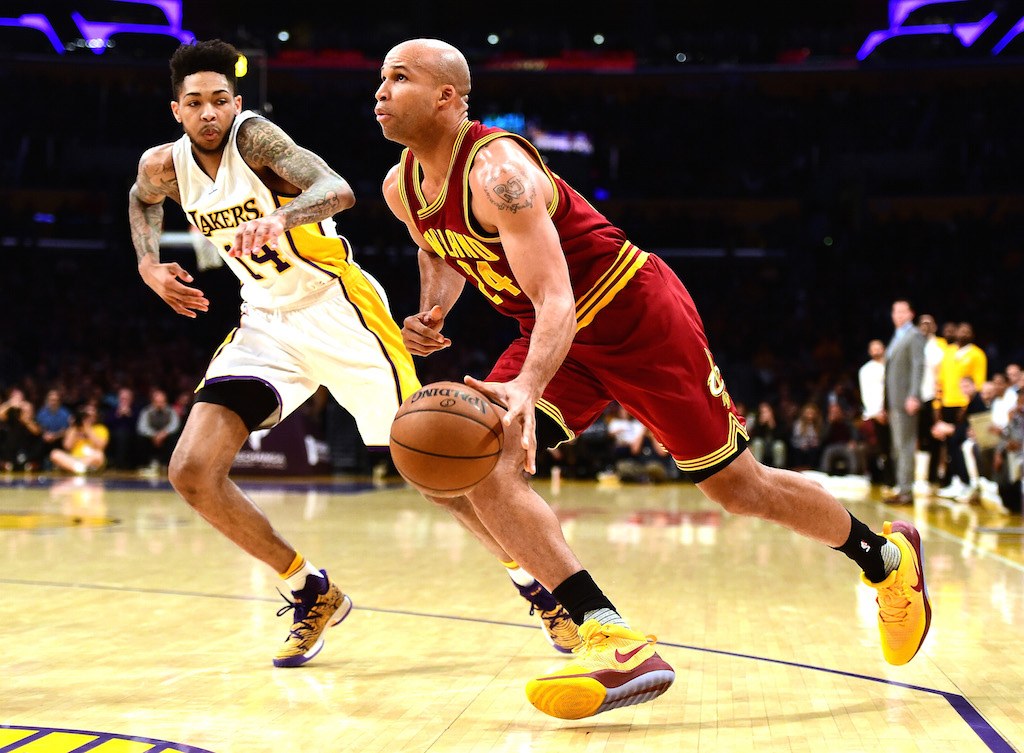 Contract details: in the first year of a three-year, $7,612,500 contract
Richard Jefferson was an unsung hero for Cleveland during the 2016 NBA Finals. Then 35 years old, Jefferson gave the Cavaliers quality minutes at 24 a game. Thanks to his intelligence and composure, he continuously made one big play after another.
While most believed Jefferson planned to retire following Cleveland's championship run last year, the former 13th overall pick in the 2001 draft wasn't quite ready to hang up his kicks. Jefferson and the Cavs agreed to a three-year, $7.6 million contract on July 28, 2016.
8. Kyle Korver 
– $5,239,437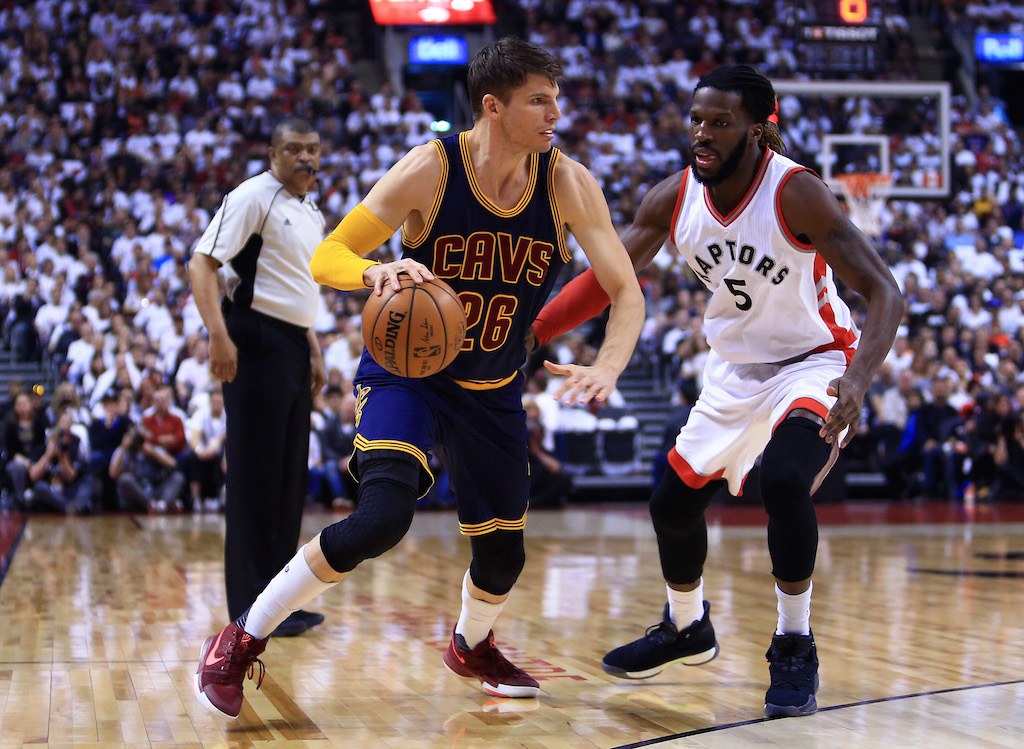 Contract details: unrestricted free agent after 2017
The Cavs acquired sharpshooter Kyle Korver from the Atlanta Hawks in a trade back on January, 7 2017. In 35 regular-season games with the club, the former All-Star averaged 10.7 points per game and knocked down 48.5% of his triples. Unfortunately for Cleveland, Korver has been less effective in the 2017 playoffs.
7. Channing Frye 
– $7,806,971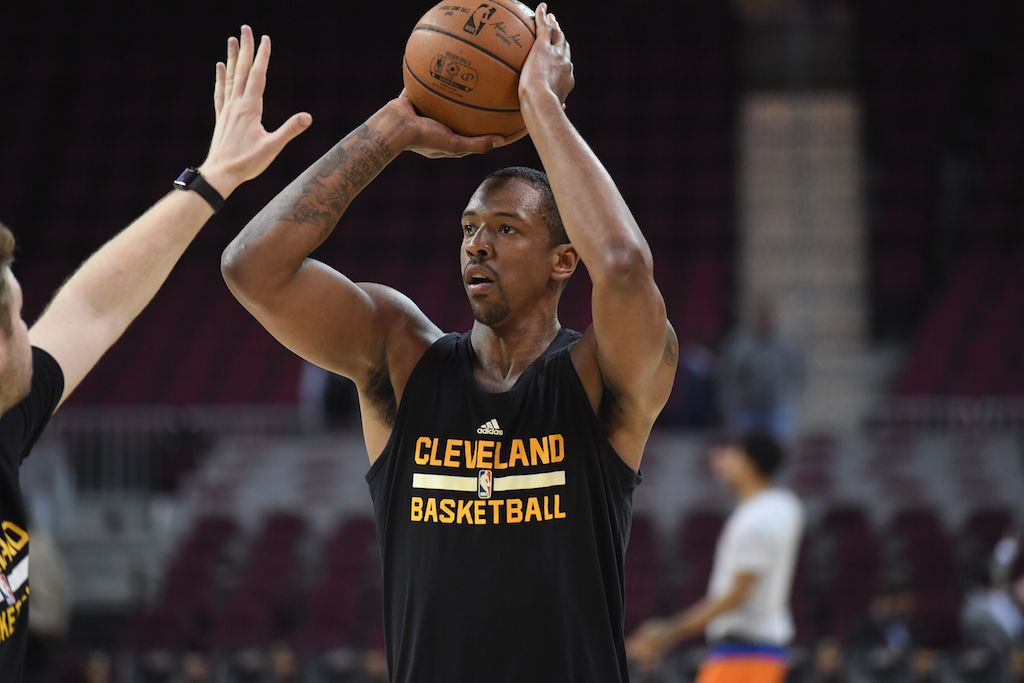 Contract details: one guaranteed year for $7,420,912 in 2017–18
Channing Frye came to Cleveland in February 2016 as part of a three-team deal. As a stretch-big with plenty of attitude and confidence, Frye played extended minutes off the bench and was key in the team's eventual championship run. In the 2016–17 season, Frye averaged 9.1 points in 18.9 minutes per game. He has one season left on the four-year deal he signed with the Magic back in the summer of 2014.
6. Iman Shumpert 
– $9,662,921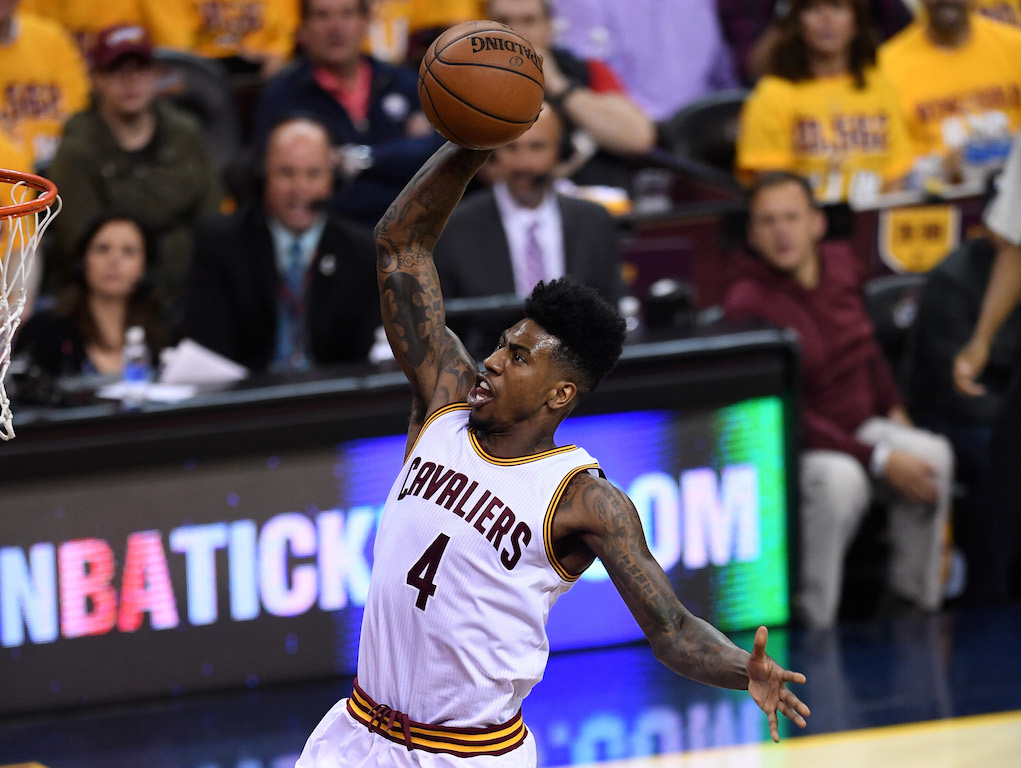 Contract details: in the second year of a four-year, $40,000,000 contract
Iman Shumpert's numbers are never going to pop off the page, but then again, that's not why Cleveland signed him to a new four-year deal back in July 2015. In Shump, the Cavs have an athletic combo guard who can knock down the three, finish above the rim, and provide solid perimeter defense.
In a league that continues to trend toward small ball, this is a vital piece to have on the roster. With the money he makes, you'd expect Shumpert to be in the starting lineup, rather than providing support off the bench. You can chalk that up to his inability to consistently stay healthy.
5. J.R. Smith 
– $12,800,000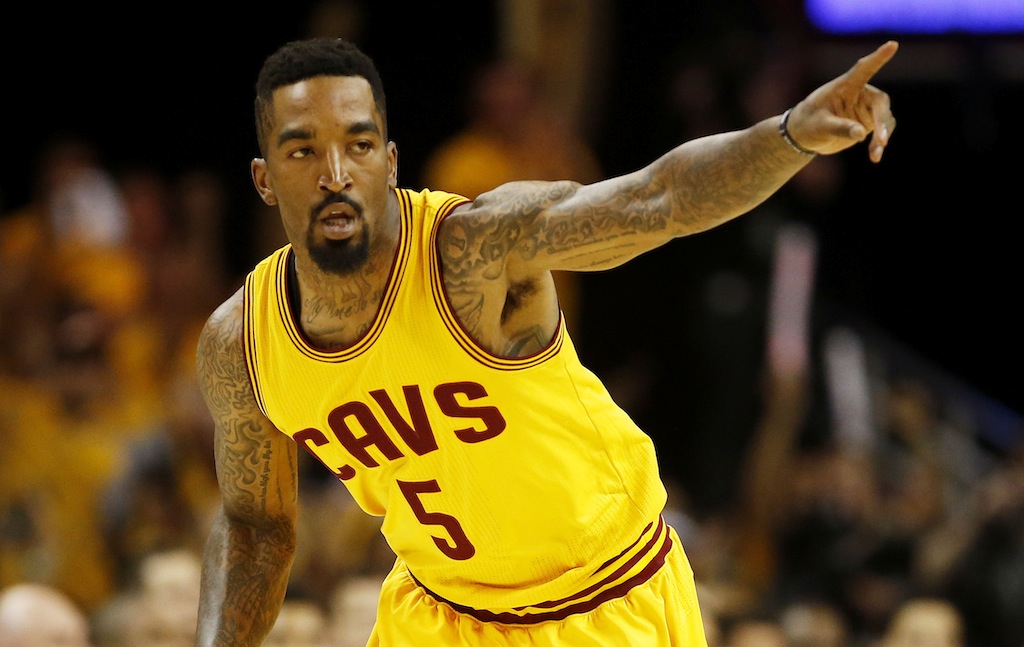 Contract details: in the first year of a four-year, $57,000,000 contract
Whether you love him or hate him, J.R. Smith makes it hard for people not to be utterly fascinated with him. He's like an "NBA Jam" player come to life, literally — well, not literally — catching fire from long range, dropping daggers on the opposition.
This Cavaliers team is at its best when J.R. Swish is hitting shots — and that's a fact. We have a feeling Cleveland feels the same way, as the organization signed Smith to a four-year, $57 million deal on October 16, 2016.
4. Tristan Thompson 
– $15,330,435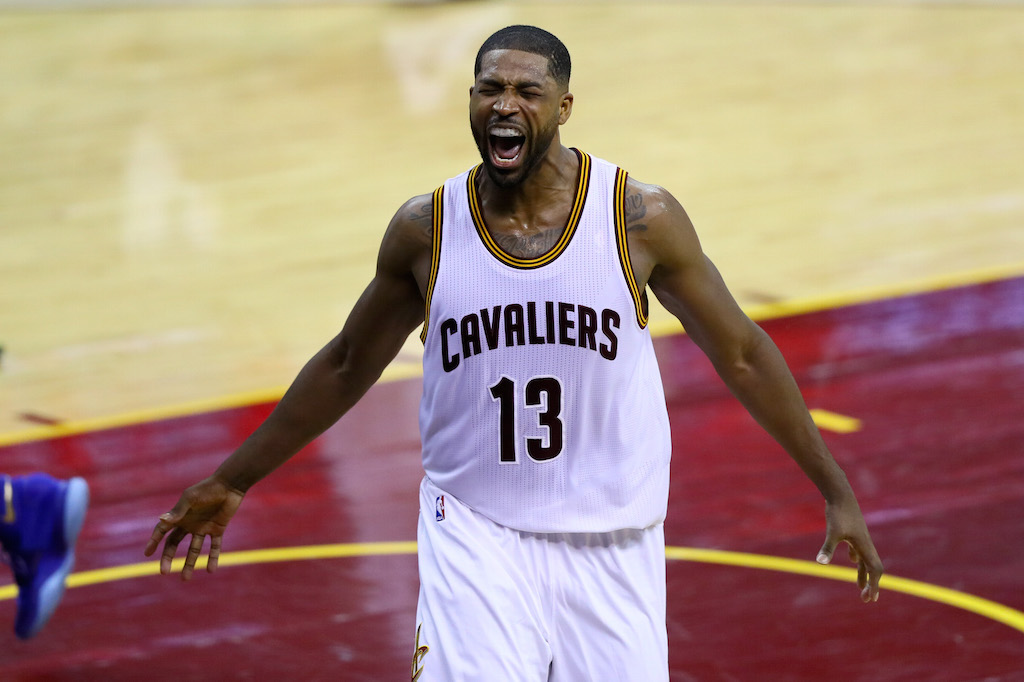 Contract details: in the second year of a five-year, $82,000,000 contract
It's crazy to think that a guy who's only averaging 9.4 points per game for his career is making an annual average salary of $16.4 million dollars. But Tristan Thompson is not being paid for his scoring; he's being paid because he's a beast on the glass (averaged 9.2 rebounds per game this in 2016–17), hustles for every loose ball, and continuously gives the Cavaliers second-chance opportunities.
When you have a guy who's never satisfied, always hungry, and equally reliable, sometimes you just have to swallow your pride and open up the checkbook — something that tends to happen for those who share an agent with the Chosen One.
3. Kyrie Irving 
– $17,638,063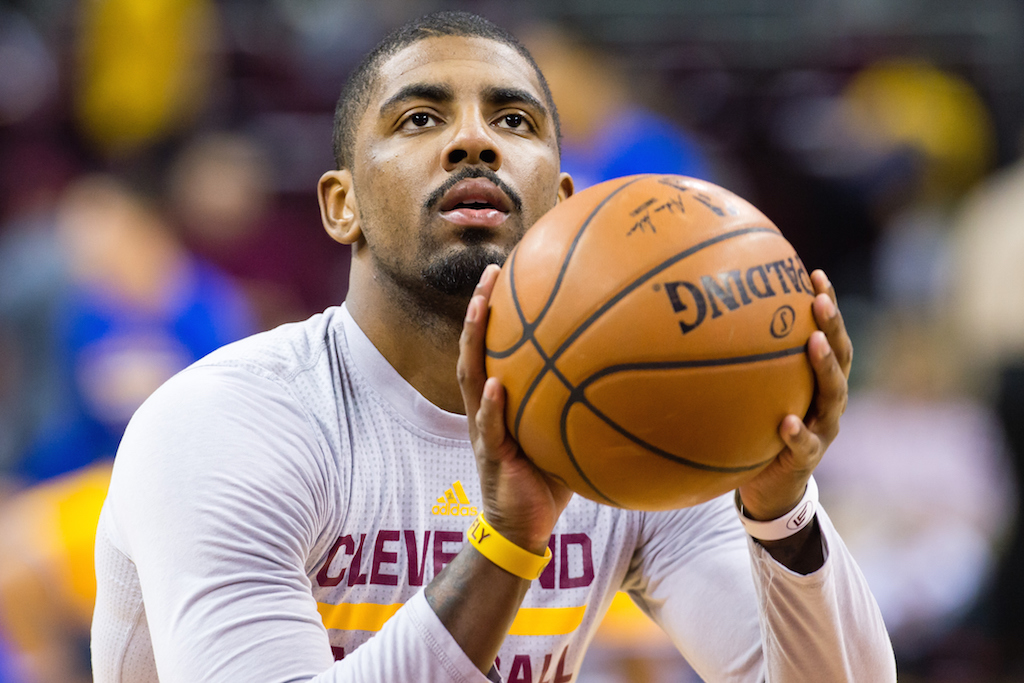 Contract details: in the second year of a five-year, $94,343,126 contract
At just 25 years of age, Kyrie Irving has already established himself as one of the preeminent point guards in the NBA. He has a ridiculous handle, an uncanny ability to finish at the rim, and is a natural scorer. Most importantly, Irving doesn't shrink on the big stage; he elevates his game. And that's exactly what he did during the 2016 Finals.
If Cleveland hopes to retain its crown, Uncle Drew will need to bring it once again in 2017. Unfortunately, against the Dubs, that's easier said than done.
2. Kevin Love 
–

$21,165,675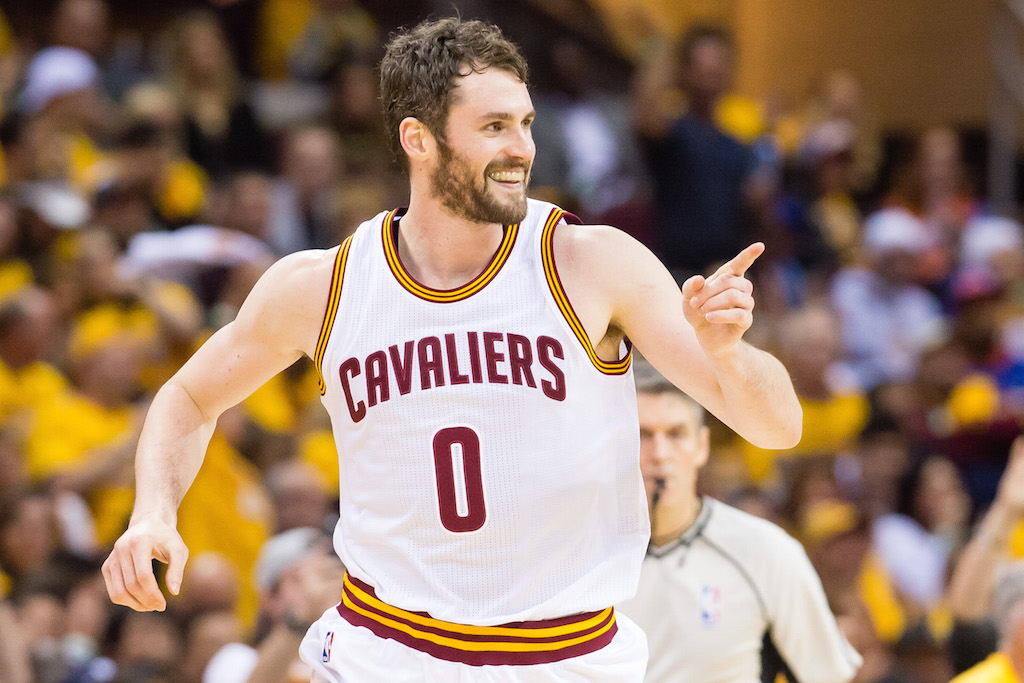 Contract details: in the second year of a five-year, $113,211,750 contract
The Cavaliers are paying Kevin Love a lot of money — a lot of money. Yet, more often than not, he fails to live up to his lofty paycheck. On a team in which he's been relegated to the third scoring option, Love has struggled to adapt, unsure of how to handle his new role or lack thereof. That, however, seemed to change in 2016–17.
This past season, Love played his best basketball in a Cleveland uniform. He averaged 19.0 points and 11.1 rebounds per contest, was selected to his fourth career All-Star Game, and comfortably found his groove within the Cavs offense. Cleveland fans must love this.
1. LeBron James 
– $30,963,450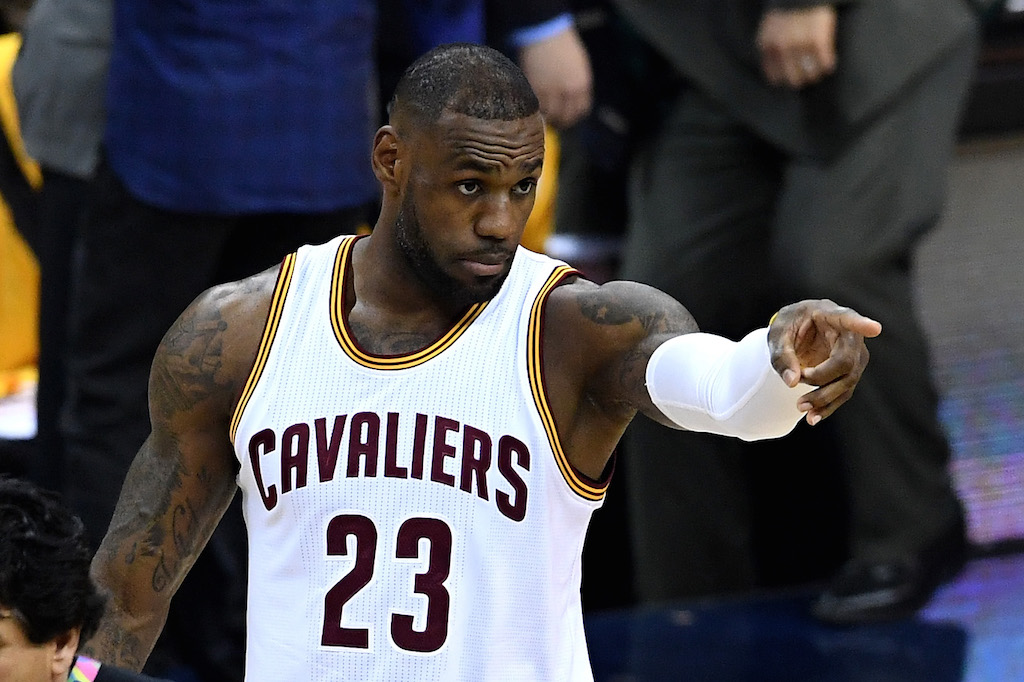 Contract details: one guaranteed year for $33,285,709 in 2017–18
Seriously, what else can you say about LeBron James? The guy is an absolute legend who raised his game to historic heights in the 2016 NBA Finals.
James is the highest-paid player on the Cavaliers roster, and that's the way it should be. Case closed; end of story. The way we see it, win or lose, MVP or not, the kingdom that is the NBA still belongs to LeBron. Long live the King.
Data, salary, and information courtesy of Spotrac and Basketball-Reference..