Clinton Portis Earned a $15,000 Fine for Wearing the Wrong Socks
Clinton Portis is one of the Washington Redskins' last true superstars. In addition to being a great player, he was a charismatic player who let his personality out as much as he could.
By 2004, Clinton Portis had a reputation as an elite running back and a prankster. Neither the Washington Redskins nor the NFL were laughing, though, when Portis earned fines because he wore the wrong socks.
Clinton Portis was one of the NFL's best running backs in his prime
A star at the University of Miami, Clinton Portis burst on the scene in 2002 when he totaled 1,508 rushing yards and 15 touchdowns as a rookie for the Denver Broncos.
The former second-round pick followed that up with 1,591 yards and 14 touchdowns in 13 games for the Broncos in 2003; that earned him Pro Bowl honors for the first time in his career.
Denver traded him to the Washington Redskins in 2004 for elite cornerback Champ Bailey. Clinton Portis took well to Washington and ran for over 1,300 yards in each of his first two years there.
Injuries and a heavy workload — Portis had four seasons with over 300 carries by the time he was 27 — contributed to Portis' career ending earlier than expected. Clinton Portis retired after the 2010 season with 9,923 rushing yards and 75 touchdowns to his name.
Portis had a reputation as a prankster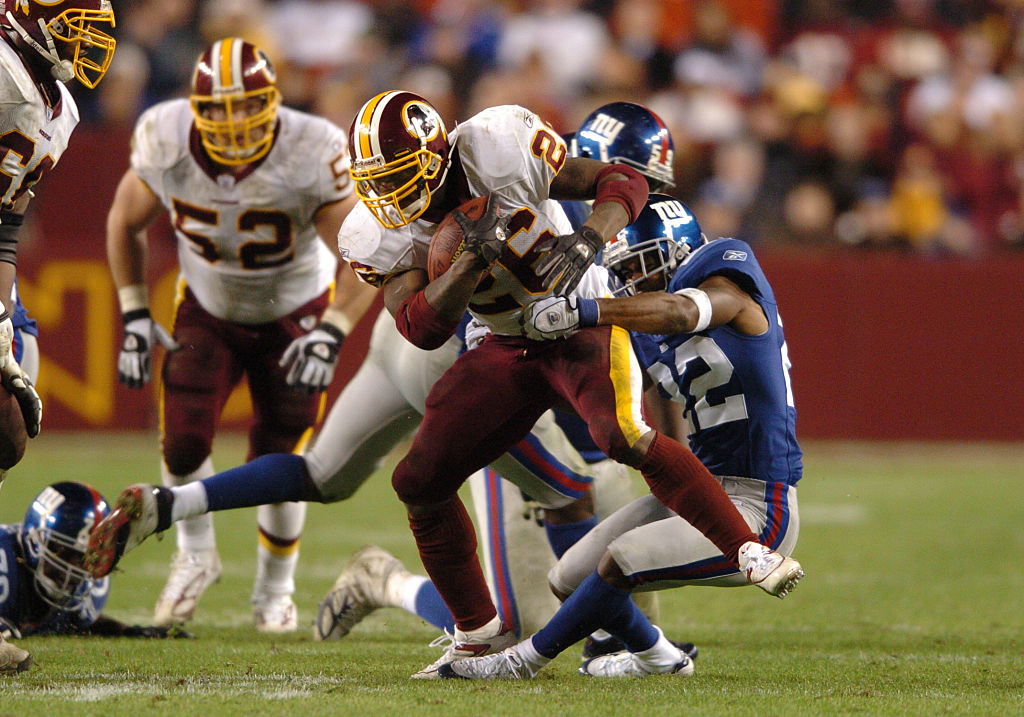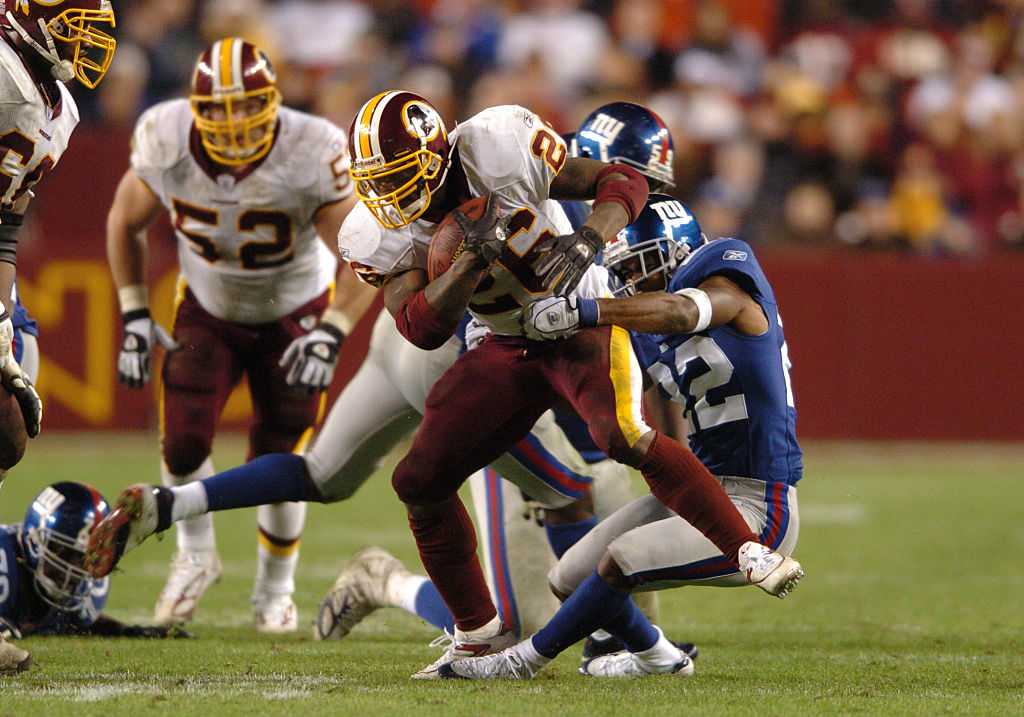 Clinton Portis had a great sense of humor that earned rave reviews from teammates, media members, and fans alike. Portis spent the 2005 season using different aliases and wearing different costumes.
Portis also impersonated Napoleon Dynamite in a viral video.
Clinton Portis was a player made for the social media era. His gimmicks and pranks would have been perfect on Twitter and YouTube.
But as is always the case, Clinton Portis' tendency of going a bit too far landed him in trouble with higher powers … that being the NFL and the mighty fist of the Commissioner's Office, of course.
Clinton Portis earned fines because of his socks
The NFL has very strict uniform policies even to this day. Unless the league says otherwise, players need to wear a certain helmet, specific cleats, everything.
Some of the policies don't make much sense. The Washington Redskins, for example, need to wear white socks even when they wear all-red uniforms.
Clinton Portis didn't agree with this policy. That's why, in 2004, he and teammate Sean Taylor wore red socks to go along with their red jersey and red pants.
In Clinton Portis' first game wearing red socks, he rushed for 148 yards on 31 carries against the rival Giants. Portis repeated the look in an 80-yard, two-touchdown game against the Eagles a week later.
Washington routed the Giants 31-7 and lost 17-14 to Philadelphia.
The NFL wasn't pleased with Portis' outfit. Portis received a $5,000 fine, then a $10,000 fine, and ripped the NFL's uniform policy in a media session.
"I think that is a stupid fine for the simple fact that they want everybody to be the same. This is an individual game, you know. That is the thing that has the league being the No. 1 sport, because different personalities come together as one and people enjoyed that."
Clinton Portis and Sean Taylor found themselves in uniform trouble a year later, too. The NFL fined Portis $20,000 for wearing black shoes, striped socks, and an unapproved eye shield.
Taylor also wore striped socks and received a $5,000 fine.